geekymr.com is reader-supported. We select all the products after considerable research and give unbiased reviews to the readers. We may receive commissions from purchases made via our links at no additional costs to you.
In today's time, everyone has a busy life; they are working hard to earn more and more money but they are not paying attention to their health because of a busy schedule. The result of this is health problems at a young age. If you have no time to go to the gym then don't worry your phone will solve your problem. There are plenty of best fitness apps for android that can help you to get a healthy life. `
Fitness apps use an android phone sensor, if you are traveling, walking, cycling, or swimming these apps record all your activities and display the result. With the help of these best fitness tracker apps, you can monitor your activities without committing extra time to work out.
If you are looking for the best fitness apps free for android 2021 to monitor your every activity, then you can take the help of these best fitness planer apps to know the daily workout report.
Best Fitness Apps For Android
Runtastic is the best fitness tracker app for android for anyone who loves to do exercise daily. The greatest thing about this app is its simplicity and easiness to use.
It monitors your activities by using GPS. It records your running, walking, cycling, jogging route, calories burned, and heart rate very preciously and by using these data it calculated your activities and shows you a detailed graphical representation of it.
Runtastic improved so much in the last few years, now it has water intake reminders, a HIIT workout planner, and a healthy food diet plan.
It has a dedicated portion about push-ups, cycling, pull-ups, sleep tracker, and individual timer. Runtastic motivate you through its motivational audio feedback. Here is a competitive leader board where you see positions and can do competition with others.
You can use this app with your wearable watch. Leave your Smartphone home and track through the wearable. This is one of the best fitness apps for android at present time. Besides these apps, if you eat healthy food and drink mineral water like filtered water from a water filter then you see quick results in the body.
Strava is the best fitness planner app for android. It is one of the best workout apps for android. Its main feature is its leader board where you can compete with another app user.
Strava supports a variety of running trackers, in addition to android wear. It is free but some features are paid and if you buy these features it makes your daily exercise routine more energetic and healthy.
In the premium version, you can use triathlon and marathon training. The free version is also very useful, in this, you can track your heartbeat, cycling route, jogging route, walking distance, etc. This is the best health and fitness apps for android for free.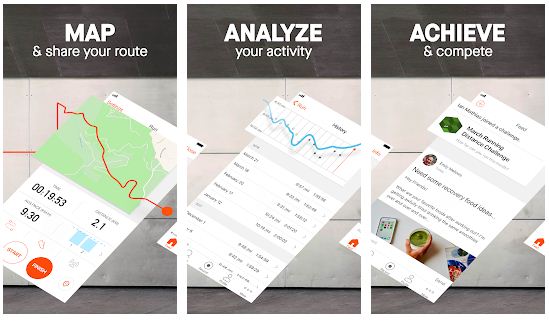 This is the best gym workout app for android phones. If you have a hectic daily schedule and can't go to the gym, then this app is for you.
You can set your custom workout routine for five minutes to an hour and even talk to personal trainers for help. You can download videos of workouts.
It has huge collections of bodyweight exercises. Each exercise is divided into one of four distinct categories like strength, cardio, yoga, stretching. Are you looking best workout app for bodybuilding then you must try sworkit?
Fitness isn't just about squat-thrusts and burpees, and this app explores alternative ways to stay fit by packing in high definition video as an ideal introduction to the ways of the Yogis.
All the routines are under 30 minutes and there are 50 classes available – the Yoga for Runners is particularly recommended if you're a jogger and getting worryingly stiff – and each session is categorized according to the body part you want to focus on
Daily Yoga offers 500+ asanas, 50+ yoga class plans, 200+ guided yoga, pilates, meditation classes plus the largest yoga pose base that suit yogis from beginner to advanced. Not only helps you stay with yoga every day, but also provides health benefits for both your mind and body.
This is best yoga app for android for beginners to advanced.
Need the best personal trainer app, then the home workout is for you. Don't have time to go to the gym than through this app you can do many exercises at home without using much equipment.
They have an exercise for belly fat, buttocks, running, stretching, arms, and a couple of 30 days workout for quick weight loss. It is the best 30-day fitness app.
Its all workout is designed by professionals and focused on specific parts of the body such as abs, chests, legs, and also full-body workout.
This fitness app is an all-in-one fitness trainer and exercises buddy that provides daily workout routines for keeping fit, burning fat, or building muscles without the need for equipment or going to the gym. Home workout is the best workout app without equipment for shaping your body at home.
Developed by Google in coordination with WHO and AHA(American heart association). The main feature of this app is it is totally free app with no in-app purchase you need to do.
This app tracks your activity through android phone sensors and collects all the data. It is compatible with many other fitness apps Runtastic, Strava, etc.
Developed by google so it fully supported by android wear. This exercise app is the best home workout app for android.
You can track your fitness using a point system as well as active minutes. it counts all your body movements as part of your exercise which measures against the recommended amount of physical activity by WHO and AHA.
In this manner, you are able to incorporate workouts in your daily routine such as by taking the stairs instead of the elevator or escalator or catch up with a friend by doing a vigorous activity instead of simply watching a film or getting a drink.
This one of the best fitness apps for android which is free and no in-app purchase. Its offers various types of workout to maintain and make your body flexible and energetic.
This app inspires you by famous Nike personalities like Michael Jordan, Cristiano Ronaldo, Serena Williams or Kyrie Irving, among others.
Provides training for all levels with the help of 160 workouts. It offers three levels of difficulty. It gives 15 to 45 minutes of workout challenges to users.
You can use this app on TV through Apple TV, Chromecast, or HDMI cable. it allows you to keep track of your fitness activities and record other activities like running, spinning, playing basketball, etc. It is like an android fitness tracker app and the best fitness apps for android wear.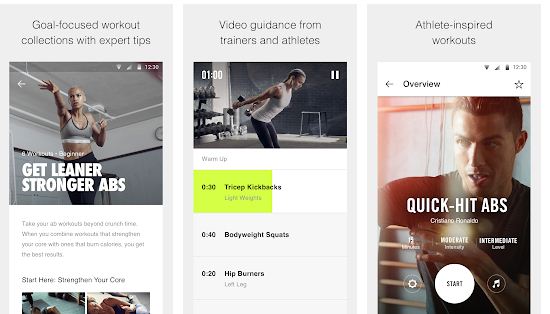 When apps name contains calorie in it, then it would be an app which focuses not only how much calories you burn daily but also its focus on how much calories you take daily. Because calorie burning is not the only way to get a perfect body but also you have to manage your daily calorie consumption.
In the starting of bodybuilding, you must focus on your calorie consumption rather than on weight lifting, running, etc. A calorie counter helps you to maintain your daily calories, so this is the best fitness apps for beginners.
It has huge collections of food data. It has 6 million food items in its bucket and you can manually add any food which you are using. You can add food by bar-code scanner also.
It has 350 exercises to keep your body in shape. It gives you proper guidance on how many calories you should consume in a day. This is the best health tracker app for android.
Work out anywhere, anytime with Workout Trainer – at your fingertips! Whether you like working out at home or lifting weights at the gym, we've got you covered with thousands of free workouts and custom training programs led by expert coaches.
With adjustable difficulty levels, Workout Trainer is suitable for every stage of your fitness journey. Whether you are a newcomer learning how to perform recommended exercises or an experienced athlete training to maintain fitness or break through plateaus, Workout Trainer has helped millions of users sustain a healthy, active lifestyle on-the-go.
A-Pro subscription gives a big upgrade in features, such as advert-free HD workout videos and even more routines to torture your screaming muscles with.
Wager how many days you reckon you can work out, put some money where your mouth is, and get running.
Female Fitness helps you burn belly fat, tone butt, slim legs, trim waistline, and get in shape. Follow the home workout to feel the burn. Keep fit and be a better me!
Keep fit and lose belly fat with workout for women. This best fitness app for women has great training plans to lose belly fat. There are some plans and workout for women which can be done anywhere at any time.
Take a few minutes a day to keep fit and lose weight with our workout at home. No equipment needed, just use your bodyweight to workout at home.
Its workouts are especially focused on reducing that lose belly, tightening those butts, and reshaping your physique to highlight your female assets. As a complete female fitness app, it provides a workout tracker, progress monitor, training videos, calories burned, and coaching tips.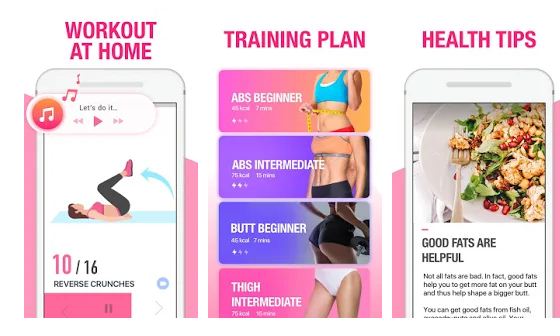 Conclusion
As we know people have less time for workouts so they can't pay attention to their bodies. With these fitness apps, you can maintain a healthy lifestyle. These apps motivate you to walk more. You can use these fitness apps while morning walk so you can major how much calories you have burnt?