To make a video appealing, you need the best video editing software. People are recording videos for their memories or they upload them on social platforms as vlogs. The best video editor should be able to do advanced editings like stabilization, superior organizing tools, able to edit 360-degree footage, Multicam support, audio tools, templates, fast rendering, easy-to-use interface, and more.
Our list contains software for both professionals and beginners. After comparing lots of available video editing software in the market(free and paid), I have created this list for you.
The right video editor helps you to stand out from your competitor by making attractive and cool videos. A well-edited video is essential to attract your audience. Engaging content always increases your subscribers or customers.
According to statista report, YouTube is the 2nd most popular social networking platform. Every day thousands of videos are being uploaded on YouTube and to make your content different from others, you need the best software to edit videos.
10 Best Video Editing Software- Free and Paid
1) Corel Studio – Best Video Editing Software For Professionals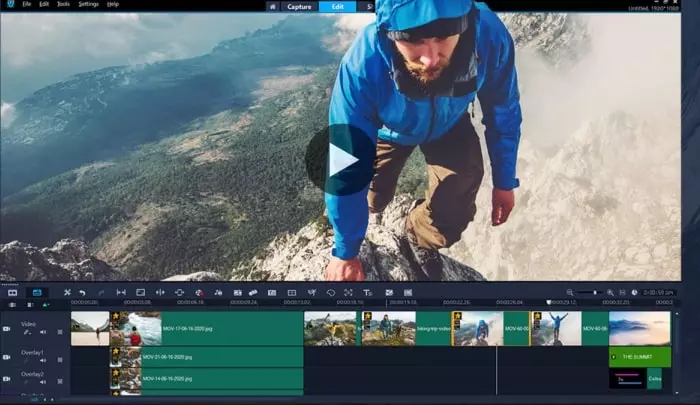 Corel studio is one of the best video editing software available in the market for professionals. It has a wide range of video editing tool that makes editing easy. Corel studio is giving its services since 1990.
Its user interface is simple and well-organized. All tools are in right place so without wasting time finding the right tool, you can start your editing.
Its drag and drop feature makes video editing fun. From its library, you get premium effects, transitions, graphics, sound clips, from the industry leaders. You can do the cinema-quality color grading with Corel studio.
Vidoe masking and enhanced video stabilization with dynamic split-screen editing give a professional look to videos. Its tools are beginner-friendly. Tutorials are available for beginners.
All top-notch features are available in the Corel studio which makes it a tough competitor to Adobe premier. It supports 4K video editing, adds 360-degree video, motion tracking, Multicam, and more.
Motion tracking is an advanced feature that you don't get in all video editors. Motion tracking allows you to focus on a specific object for a particular time interval or throughout the video. In many videos, you would have seen blur faces of people at a particular period that is done by motion tracking. You can also add props to the face to make it attractive.
For any video editing software render speed matters and Corel studio gains full point to render video at high speed. You would love to edit videos through it because of its easy-to-use tools.
This is a paid video editor but its price is fully justified. You get lots of modern editing features at the nominal price tag. You can also claim your 30 days free trial without giving your card details and convert your best life moments into a beautiful memory.
Features
Thousands of templates, titles, and transitions
Color correction
Color grading
LUT profile
More than 2000 effects and filters
Animated overlays and graphics
AR stickers for fun
Mask creation
Motion tracking
Easy and fast rendering
360-degree editor
6-angle Multicam video editing
Screen recording
Import Formats – AVC, AVI, DV, HDV, HEVC2 (H.265), M2T, MOV3, MPEG-1/-2/-4, UIS, UISX, WebM, WMV, XAVC S, 3GP
Export Formats – AVCHD1 (.M2T/.MTS), AVI, DV, DVR-MS, HDV, HEVC2 (H.265), M2TS, M4V, MKV, MOD, MOV (H.264), MPEG-1/-2/-4, MXF, TOD, UIS, UISX, WebM, WMV, XAVC, XAVC S, 3GP, Non-encrypted DVD titles
2) Adobe Premiere Pro
Adobe premiere pro is another good video editor for professionals. This video editing software is famous for its cinema-level editing. Many Hollywood studios use Adobe premiere pro as their video editing software. Its interface is a little bit complex than Corel studio which maybe not be a good thing for beginners.
Adobe premiere is compatible with windows, mac operating systems. From its start, it remains a professional tool to edit videos. It is part of Adobe creative cloud.
Its editing tools are impressive and time-efficient. For professional video editors, it is a user-friendly video editor.
The best thing about Adobe premiere pro is that it comes with an artificial intelligence system. It is named Adobe sense.ai. This AI is developed to make video editing easy.
With Adobe premiere pro, you get intuitive tools to create transitions, edit clips, and design videos according to your imagination. Adobe premiere pro supports 4K and HDR video rendering with 360-degree video editing.
This video editing software handles all video formats easily. It works on Adobe cross-platform system. It means, it can collaborate with other Adobe products so you can use their features in Adobe premiere pro.
In Adobe premiere pro audio mixing is easy. You can easily synchronize audio effects with video. From its audio library, you can choose an audio track. You can export videos in all formats.
In its latest version user can add titles, animations, templates, graphics to the video. Its free trial is also available but it is only for 7 days.
Features
Speech to text
Transcript editing tools
Automatically generate captions
Title and caption styling tools
Tetrahedral LUT interpolation
Label colors and clip names
Faster Scene Edit Detection
Automatic audio device switching
Import footage from any file format
Add Hollywood visual effects
Import formats – 3GP, 3G2, AAC, AIFF, AIF, ASF, ASND, BWF, CRM, GIF, H.264 AVC, HEIF, M1V, M2T, M4A, MP4, MP3, MPEG, MPE, MPG, MXF, WAV, WMV, etc.
Export formats – AVI, DV, DVR-MS, HDV, HEVC (H.265), M2TS, M4V, MKV, MOD, MOV (H.264), MPEG, MXF, TOD, UIS, UISX, WebM, WMV, XAVC, XAVC S, 3GP, etc.
3) Filmora Video Editing Software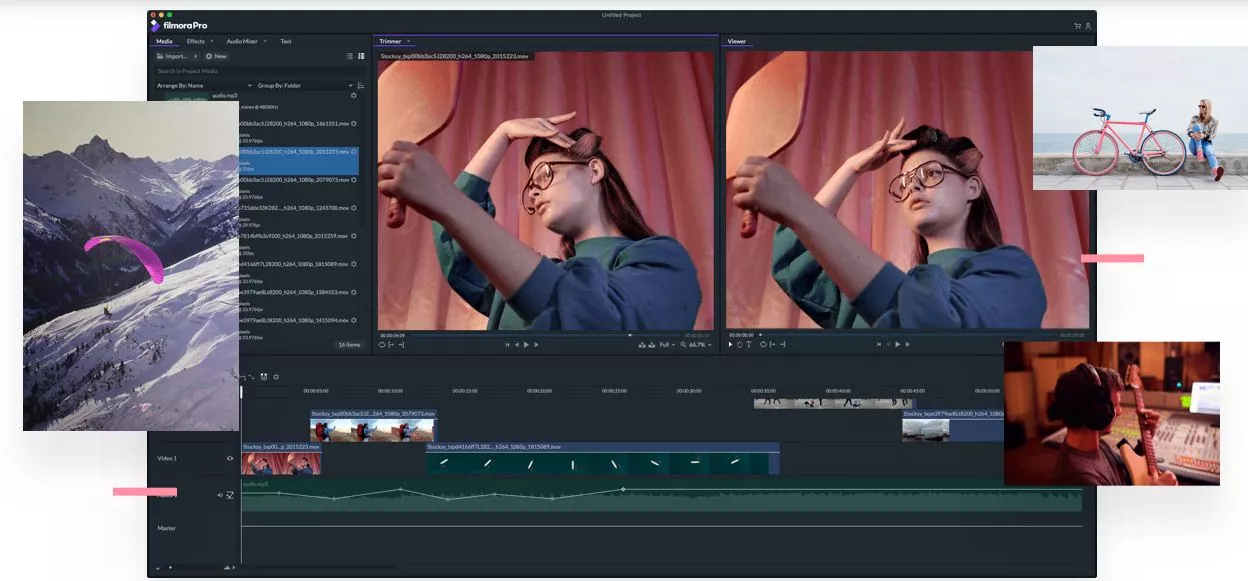 Filmora is a solid and advanced video editing tool from wondershare. This video editing software is specially built for those who can't afford expensive video editors. For beginners and professionals, Filmora video editor is an easy-to-use tool.
Its user interface is simple and easy to navigate. It has one of the best free audio libraries for video editing software. You can choose from among thousands of music effects and songs. All are royalty-free, so you can use them for your YouTube videos.
You can download it for free but in the free version, there is a watermark on the video. It comes with many features like drag and drops effects, filters, audio library, templates, and more.
It comes with a hotkeys shortcut command. For different tools, you can set hotkeys. This process saves your time and you can quickly access any tool with hotkeys. Filmora wondershare video editing software is compatible with both windows and mac os.
Its mobile version is also available which you can download from the play store. If you are a beginner, you won't find any difficulty using it, thanks to its easy mode feature. In its easy mode, you can easily drag and drop templates and themes.
Filmora video editor is an amazing tool that offers infinite ways to edit videos. For YouTube video editing, Filmora is one of the famous video editing software.
Features
Motion tracking
Audio ducking
Color match
Keyboard hotkeys
Green screen effects
Speed control
Color grading
AI portrait
AR stickers
Auto reframe
Social sharing
Import formats – MP4, WMV, AVI, MOV, F4V, MKV, TS, 3GP, MPEG-2, WEBM, GIF, MP3, etc.
Export formats – MP4, AVI, MOV, AVCHD, and MKV, etc.
4) iMovie – Best Video Editing Software for Mac (Free)
For mac lovers, here is a perfect video editing software. Apple movie is a free software for apple mac users. Most of the Mac users would be familiar with it. This software gives more features rather than any other free video editing software.
iMovie is a default video editor for mac users. It lets you create and edit stunning videos with 4K resolution. For beginners, iMovie is a user-friendly tool and its pre-formatted templates make the entire video editing process easy.
If you need to edit video green screen effect then it is an ideal tool for you. Its chroma key feature adds amazing color transitions to the video. Want to add something to the video, just drag and drop it, and the rest would be done by the editor.
You can add titles, change audio tracks, apply transitions, and many more things. iMovie is a great stepping stone for those who shoot their videos on their iPhone and want to edit them for free. Via the AirDrop feature, you can wirelessly transfer files between Mac, iPad, and iPhone.
It is free software so oblivious it doesn't have all the advanced video editing features. It doesn't support motion tracking and feature which is a must-have feature nowadays.
Features
Seamless transitions
Fade audio
Extra-Special Effects
High-Fidelity Filters
80 smart soundtracks
Keyboard shortcuts
Timeline
Green-screen controls
Easy to use trimming option
Reduce background noise
5) Final Cut Pro – Best Video Editing Software for Mac (Paid)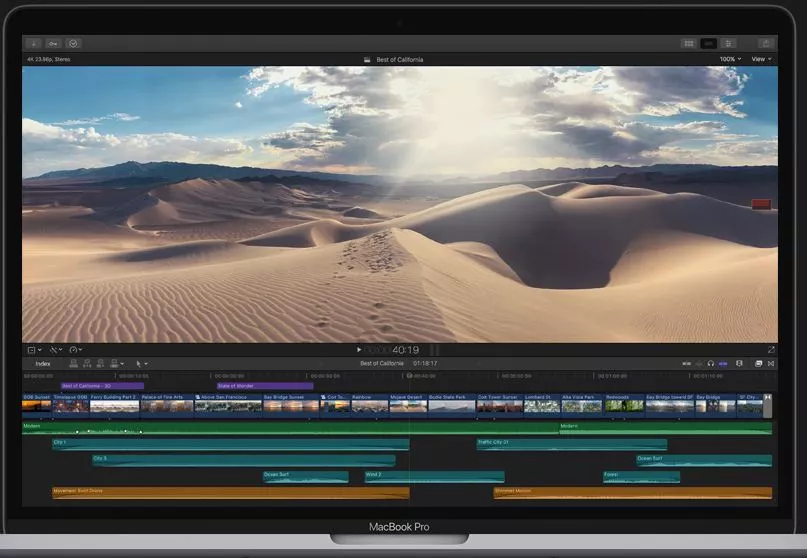 Final cut pro is a professional-level video editing software for mac users but it is paid. This video editor offers professional video editing tools for mac uses. You would have seen that some famous YouTubers use a final cut pro to edit their videos.
It has some awesome features list like multi-cam editing, XML importing, external monitor support, magnetic timeline, etc.
Once video import is completed, you can use its templates, audio, effects, and tools to make the video interesting. It is a little bit expensive so those who want professional-level editing to their videos will only buy it.
This video editor is designed to fulfill all your needs. Without any professional knowledge, you can use it due to its intuitive and user-friendly interface.
The good thing about it is that It supports up to 64 camera angles to edit video with automatic synchronization of the audio waveform. Final touch pro video editor supports touch controls.
Like other video editing software, it has also a 360-degree video editing feature. You can easily render videos in it and the system won't lag. Mac 64-bit operating system with multi-core processing gives a powerful high speed for rendering.
Features
High-performance Metal engine
Motion graphics, color grading
Improved proxy workflows
Smart Confirm analyzes each clip
Custom Overlays to guide the design
Optimized for Apple silicon
Intuitive design
Magnetic Timeline
Advanced Multicam editing
6) VSDC – Best Free Video Editing Software for Windows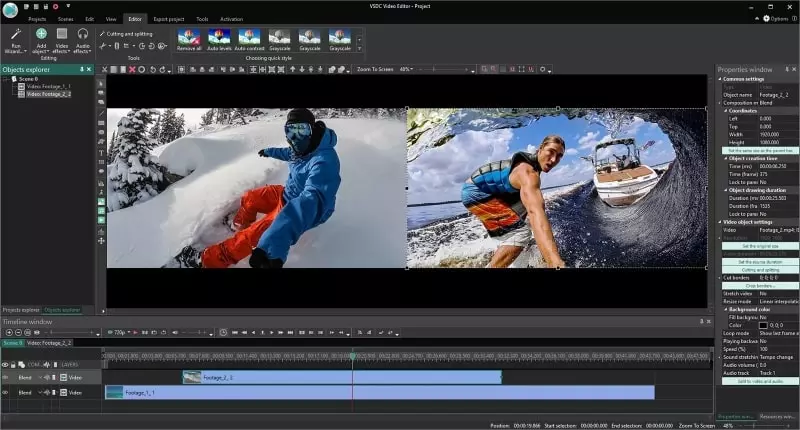 VSDC provides rich functionality with a simple and intuitive design that allows you to edit videos with minimum knowledge of editing. It is fully free video editing software for windows 10 with no watermark.
It is a non-linear video editor in which instead of the coming scene from one after another in the linear sequence we can place the object to any position on the screen in any size.
Masking is another important feature of it. With masking, you can blur, highlight, or hide an unwanted area of the video.
Its image stabilization tool removes a shaky portion of videos and improves video quality. VSDC provides HD and 4K video export. It supports all video formats.
Its other features are visual and audio effects, masking, subpixel accuracy, 4k and HD video export, video stabilization, and direct youtube upload, built-in DVD tool, video file converter.
Features
Full 4K video support
Video masking
Supports all popular formats
Video stabilization tool
Color blending and grading
Convert video formats
Templates and audio library
Screen recording feature
Free video editing software
7) Pinnacle Studio Video Editor
Pinnacle Studio gives you the freedom to create a video like a pro video editor.
With its multi-cam capture options, you can create tutorial videos in which you can record screen and webcam both at the same time.
360 video editing is given in it. Import 360 videos and apply all 360 effects like color corrections, trim footage, control angle, etc.
new powerful color grading control enhances the beauty of video. Colour grading controls include color wheels, LUT, waveform scope, and more.
Not only you can drag and drop your media to the timeline but preciously insert clips with three and four-point endings. mark the in and out points of your clips and identify the location of your timeline of where to place them for the ultimate level of flexibility and precision.
Every Youtuber wants to engage their audience and enhance video quality, with pinnacle studio 3d motion objects and titling studio, you can create eve catching a video with stunning graphics.
It has some awesome features like BlueFX effects, 360 video editing, multi-cam capture, focus on selective color, flip, zoom, spin for flawless transactions.
Features
pro-caliber tools
Incredible effects
Motion Tracking
Blend Modes
MultiCam Editing
Split Screen Video
Advanced Audio Editor
Hundreds of artistic effects
Enhanced Title Editor
8) Lightworks Video Editor

Lightworks' intuitive interface is user-friendly. All its tools are directly accessible from its timeline.
It has a huge set of tutorial videos so any time you face problems in editing the video you can check its tutorial video and learn to form it.
The user-friendly interface is equipped with a rich selection of visual effects, transitions, and superb trimming options which guarantee that each youtube video you edit in light works is going to be a masterpiece.
It supports all popular video formats like 720P, ultra HD, 4K, etc. It is compatible with all operating systems. Exporting file time for light works is very fast.
Whatever the final platform or format you want to create for your video Lightworks has it covered.
Features
Narrative-Based Timeline
Supports all formats
Share media, bins, and edits in realtime
Multicam Editing
Optimized for Speed
Enhanced VFX with Boris
Inbuilt Presets
Royalty-Free Media
Perfect Colour Correction
Lots of LUT Support
Audio Mixing
9) Blender Video Editor
This is one of the best free video editing software available for windows, mac, and Linux. it is open-source software that is free.
From performing basic functions like video cut, audio mixing, adding effects it performs some advanced editing also like video masking.
It can be used for modeling animations, rendering VFX, game creations, movies.
Its main features are live preview, chroma vectorscope, histogram display, audio mixing, syncing, scrubbing, etc.
Features
Built-in video sequence editor
Video masking
Color grading
Live preview
Luma waveform
Chroma vectorscope and histogram displays
Audio mixing
Up to 32 slots for adding video
Speed control
Adjustment layers
10) Openshot Video Editing Software for Free Download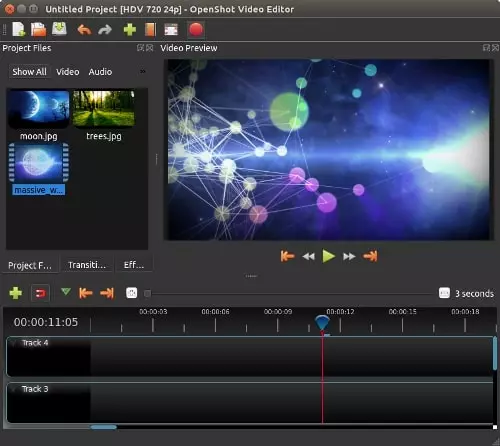 Openshot has more features than iMovie like unlimited layer and audio mixing. In its real-time preview, you can see applied transitions between clips. It is free for windows, mac, and Linux.
Openshot is open source and its interface is easy to use. It is good for clip resizing, scaling, trimming, snapping, and rotation, plus motion picture credit scrolling, frame-stepping, time-mapping, audio mixing, and real-time previews.
Features
Compatible with all operating system
Support all video, audio, and image formats
Curve-based keyframe animations
Drag and drop support
Video transitions with real-time previews
Title templates, title creation, sub-titles
3D animated titles (and effects)
 Frame accuracy
Audio mixing and editing
Conclusion
Now you know which is the best video editing software. To make a perfect video, you need powerful editing tools in a video editor and Corel studio has all qualities to become a perfect video editor. It is within the budget and also compatible with all operating systems. I wrote this guide for both beginners and professionals. Also, both free and paid video editors are included in the list.