geekymr.com is reader-supported. We select all the products after considerable research and give unbiased reviews to the readers. We may receive commissions from purchases made via our links at no additional costs to you.
Day by day WhatsApp is adding new features to increase its users. In starting WhatsApp was a simple chatting app. Later than WhatsApp added some more features like video calls, audio calls, stories, etc. Mostly person who does video call on the net uses WhatsApp video call. You also have used WhatsApp video call so many times. But fewer people know How to record a video calls on WhatsApp?
WhatsApp directly doesn't provide any function to record WhatsApp video calls. But you can record WhatsApp video call through third-party apps. There are many apps which record video call. Screen recording apps also can record video calls. The reason to record a WhatsApp video call for every person may be different.
You can connect with your family and friends at any time with a WhatsApp video call. If you are leaving in another city due to your job or study when you do any video call you feel that you are very close to your family. For those who want to record WhatsApp video calls read this full post and learn how to record a video call on WhatsApp.
2 Ways to Record WhatsApp Video Call
There are two way to record WhatsApp video call
1. Record video call through video recording apps
2. Record video call through screen recorder
Screen Recording Apps to Record Video Call
Play store is full of lots of screen recording apps among those apps I have selected some best screen recorder apps to record WhatsApp video calls. Let's have look at this app.
Its user interface is simple and elegant, which makes it possible to take beautiful screencast videos. This recorder does not require any root to use it. There is no time limit for video and no watermark, so you can easily use your video anywhere.
It records video in HD format. You can pause and resume recording any time during the screencast process. It also records audio from the mic so you can easily mix it with video and this feature is useful if you make any tutorial through your mobile.
Some more features of the app are set to video resolution, bit-rate, screen orientation, etc. In-app, purchase unlock some more advanced features. Magic button feature which records the screen without showing anything on the screen. The overlay front camera gives you permission to record your face with the screen. Your face recording with the screen you can set any place on the screen. Countdown timer, draw on the screen, trim videos are some other features of this app.
With powerful features, this app is also another popular app to record screen. This app is totally free and there is no root needed and no watermark while recording. Recording of gameplay, live videos, live streams is easy with this app. With recording this app also takes screenshots.
You can start recording with the notification bar or floating window and also place a floating window anywhere on the screen. To make a tutorial it also gives the option to record external video. It has a video editor also which can trim video, merge video, change background music to make your video more interesting.
You can record your phone screen without any hassles. Like another screen recorder, it also records external audio from the mic to make a video tutorial. With the front camera recording option, you can add your face with a screen so it becomes easy to explain to another user what is going on in screen recording?
To make the video experience better it can display a mobile screen on a PC or MAC. You can set video resolution, bit rate, and frame rate for your videos. To show where you are touching on-screen during recording enable show touches in the recording. Set countdown before recording starts so you may get extra time to set setting before starting screen. With the shake function, you can start or stop the screen record.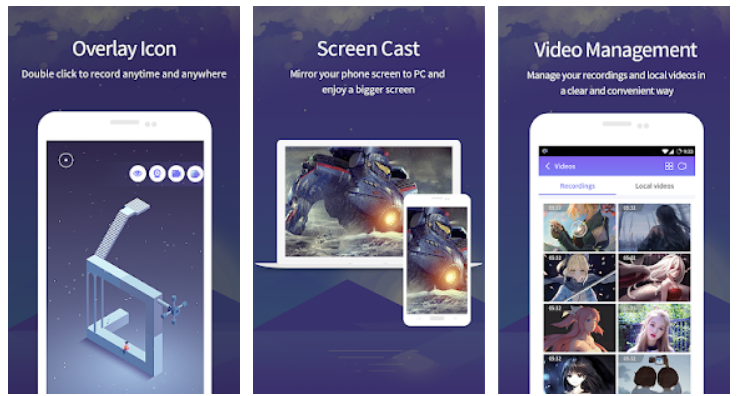 An amazing screen recorder app with a Full HD screen recorder. Users can record videos in high quality. One tap starts and stops video recording makes it easy to use it. You can record video without or with audio. It can record video calls, mobile screens, video games, etc.
The floating button always stays on top so it doesn't make any interruption in the video. It doesn't need root access to record video. There is no time limit, no watermark, free to access. With other useful features, it becomes one of the best apps to record a WhatsApp video call, other features are like manage video quality, front camera preview, touch preview, count down, etc.
WhatsApp Video Call Recording App
There are some apps that are only built to record your WhatsApp video call. Here is a list of a few of them.
To record WhatsApp video call cube call recorder is one of the best apps. The main feature of the app is that it can start recording video calls automatically. You can set permission to start automatic recording for the created list of your contacts. Other than your list it will not start automatic recording.
Another time-saving feature is that at the time of recording shake your phone so the app will mark that all-important. It provides to store your call on google cloud to save your storage. The smart speaker switching function helps you to listen to call privately. You can also do manual recording if don't want automatic recording.
To save storage it deletes automatically old unimportant files from mobile. You can use this app to record Skype or other video call software.
This is another video call recorder with easy to use interface. Recording through the app is simple to open the app and press the start recording option. At the time of recording, a notification appears with start and stop recording. It also provides an editing function for recorded calls, so you can trim or edit video. You can also use this app for screen capture and video editing.
The auto video call recorder records both sides of video and audio effortlessly. It can record video calls of many video calling apps like WhatsApp, Viber, IMO, etc. You can record video calls with or without doing the root of your phone.
The design of the auto call recorder is simple and the interface is elegant and intuitive. It also has a video trim feature. This screen recording app will let you make beautiful conversation Video Call cast videos by providing every feature that you need in a simple and elegant user experience design.