Want to watch a Netflix show, but don't want to renew your Netflix subscription every month? These free Netflix accounts and passwords will help you to watch Netflix for free. In my research, I found several ways to get free accounts from Netflix. Once you start watching Netflix, it becomes an addiction to watch it continuously.
Netflix has its paid subscription plans. Currently, Netflix has shut down its password-sharing features in many countries so you can't use the Netflix password of your friend or family member. But with my methods, you can watch premium Netflix shows for free.
How To Get Free Netflix Accounts That Actually Work?
If you have a Netflix account, you can watch its content for free. But getting a premium Netflix account for free is not as tough as you think. After doing my detailed research, I came up with these 6 working methods to get free Netflix login credentials.
Free Netflix Username and Password Updated Today
To log in to the Netflix app, new users require a username and password. Here I am sharing a list of different usernames and passwords that you can use to watch Netflix shows for Free. I regularly update this list.
| Username/Email address | Password | Added |
| --- | --- | --- |
| sunnydayxs45@gmail.com | ZH>H*Nt306B | Today |
| techgursu87@yahoo.com | rYF3S61nqo | Today |
| bookworem22@gmail.com | vQ6n1<j09cg# | Today |
| travelerradventurer@yahoo.com | 4O1oB4p1Rlk3 | Today |
| musiclovetr33@hotmail.com | @6G44W/;j>V | Today |
| foodiedyelight@gmail.com | P0ZG3x=x4|8/ | Today |
| fitnessfauinatic19@gmail.com | yo>09?/Z42vh | 2 Days Ago |
| natureeoxplorer55@gmail.com | 7di5#H18A | 2 Days Ago |
| artisticspoul27@yahoo.com | z8brjEh9rf5n | 2 Days Ago |
| stargazer88@yahoo.com | WliDs1JA43Dh | 2 Days Ago |
| gamemaster64@gmail.com | 1ShMu4063RI8 | 5 Days Ago |
| petlopver77@hotmail.com | yGq38KfY1q2z | 5 Days Ago |
| cofsfeeaaddict42@gmail.com | 4Y8BEy2DDBc1 | 5 Days Ago |
| movisebuff99@hotmail.com | H7A8mXJG5jA6 | 5 Days Ago |
| diyenthdusiast12@gmail.com | d4PyS9P75qgu | 5 Days Ago |
| fashionifsta25@yahoo.com | YEZ3VXaAa681 | 5 Days Ago |
| greenthufgmb60@gmail.com | Nfg823R8n7n5 | 5 Days Ago |
| historygfnerd73@yahoo.com | 0Tx0KXo1rJYT | 5 Days Ago |
| sciencegrgeek56@yahoo.com | G5X4M2gmI1Ui | 5 Days Ago |
| beachbuyhm44@yahoo.com | E7iJXzC032RL | 5 Days Ago |
| hikingtrahtilblazer@yahoo.com | Hj34ZrO0pZ7x | 5 Days Ago |
| yogazenrvmaster@gmail.com | nD2m5uESfe2V | 5 Days Ago |
| adventureygseeker71@gmail.com | d48OSfq6v2qm | 5 Days Ago |
| happydanrdcer28@gmail.com | IdzX908Y3gtU | 5 Days Ago |
| mysterysodelver17@yahoo.com | Vbl8s471JY9N | 5 Days Ago |
| homecgyhef63@yahoo.com | kNhyx5k67QOc | 5 Days Ago |
| sportsfheanatic81@gmail.com | MATtF2z7CJ12 | 5 Days Ago |
| gardeninfygguru37@gmail.com | 44DX2V0zQbqK | 5 Days Ago |
| poetrylovlder50@yahoo.com | V2vn2Ku34GiH | 5 Days Ago |
| starrynigbkhtsky@yahoo.com | fXW161O39VVX | 5 Days Ago |
| fitnessfreafpk45@gmail.com | n66nzGiqLDX4 | 5 Days Ago |
| animalresceluer22@gmail.com | bP37lnI4Vf6m | 5 Days Ago |
| booknehord101@gmail.com | RGcw6Yw89U8m | 5 Days Ago |
| moviecrthitic78@gmail.com | f59fq2C3X02Z | 5 Days Ago |
| techwhizktlid@gmail.com | jTviE51439nW | 5 Days Ago |
| beachcomfkber66@yahoo.com | fM1kPa9z67NO | 5 Days Ago |
| vintagecolcvlector@gmail.com | R7s33Mw5W4gD | 5 Days Ago |
| artisticscribgybler@yahoo.com | ys3b2ol6OhBg | 5 Days Ago |
| naturephotrfog77@hotmail.com | 3Xezd3iKIfG0 | 5 Days Ago |
| musiccompfgoser89@yahoo.com | Qn5zxVGs4H4I | 5 Days Ago |
| gamerproho123@gmail.com | j40D8WuML1Ho | 5 Days Ago |
| planetexplovorer@gmail.com | 2RoQA8H0yQR2 | 5 Days Ago |
| wanderlustdrleeamer@gmail.com | 3eQyzBG62WwM | 7 Days Ago |
| zenyogiflldow@yahoo.com | 5Q6F1tF7Pm3G | 7 Days Ago |
| diycraftsmavkn55@gmail.com | 22Hwx5IEE9o3 | 7 Days Ago |
| fashionforward24@yahoo.com | i361xigvBIYm | 7 Days Ago |
| historybudkff60@yahoo.com | sN1W95hYJpES | 7 Days Ago |
| scienceentckhusiast@gmail.com | 3509MUcDhEkb | 7 Days Ago |
| beachpartyekdude@yahoo.com | Ofk50K0CE1hw | 7 Days Ago |
| sustainablelifdeer@gmail.com | a8hD9lArk4Ln | 7 Days Ago |
Get Netflix Accounts From Cookies For Free
Every app and website uses cookies to store user information. It helps Netflix to recommend similar content to users. When you open the Netflix site, Netflix's server creates a small file that contains your information and then it saves it on your PC or mobile.
Cookies also help to create a faster and smoother experience when you open the Netflix site next time.
Netflix uses the persistent cookies method to store information regarding your premium Netflix account username and password. So, every time you open Netflix, you don't need to re-enter your username and password.
Whether you are using your mobile, PC, Roku TV, Firestick, or smart TV, this cookie function helps you with a quick login.
This method is very simple. To use this method, you need to add Netflix cookies. When you change your saved cookies with our cookies, you get a premium subscription to Netflix Premium for free. This method will work for only PC users. If you are a mobile user, you can read other solutions to get free Netflix premium accounts. Here is the process to use Netflix cookies to watch Netflix content for free.
Open Google Chrome browser or any other browser that you use.
Go to the Chrome browser extension store and find the Editthiscookie extension.
Click on the install the extension option. It will install it in your PC browser.
Now open the Netflix website.
Now open the Editthiscookie extension. For this click on the cookie icon from the extension list.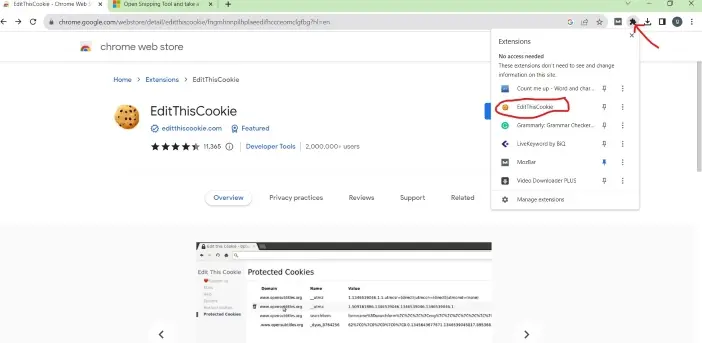 When you open the extension, there is an import option. This option imports cookies for any site and edits them with the existing ones.
If you have Netflix free cookies, you can import them into this extension or email me at – admin@geekymr.com to get free Netflix cookies.
After entering the cookie, you need to refresh the page to activate the cookie. Now you can access the Netflix premium content for free.
Free Netflix Accounts and Password Through Facebook
Facebook is one of the most popular and most used social media platforms. But do you know that you can use it to get free premium Netflix accounts and passwords?
For this method, you need a Facebook account. If you don't have one, you need to create a Facebook account first.
Open the Facebook app on your mobile or PC. On Facebook, there are many groups and pages related to Netflix. On these pages or groups, you can get different help regarding Netflix content. These groups are created to help people who can't afford Netflix subscriptions.
Go to the search feature of Facebook and type "Free Netflix Accounts" "Free Netflix Login Credentials" or "Free Netflix Usernames and Passwords". When you use these search terms, you will get different search results.
Now you need to check every page or group. Here you will definitely get free usernames and passwords for Netflix streaming services. You can try these credentials. You should follow those pages and groups so that when they post new login credentials for Netflix, you can use them immediately before anyone changes them.
Free Netflix Accounts Through Reddit To Use
The next one is Reddit where you can find a Netflix app account for free to use. Reddit is one of the famous forums on the internet. Same as Facebook, you also need a Reddit account to use it.
On Facebook, you have groups and pages to get information about any particular topic, on Reddit, you have a subreddit to share and get information.
In the search bar when you type "Free Netflix Account", you get the suggestion of a subreddit for this search. You can see discussions in any subreddit and read them. Reddit will only show related queries and subreddits to your query so your chances of getting a free account are improved.
You might to check a few subreddits to get answers to your query. On Reddit, moderators are strict so don't spam for free username and password for free Netflix access, they may ban you from the subreddit.
Get a Free Netflix Login Through Discord
Discord is a popular platform among gamers but it is also used to chat by people. On Discord, there are different channels that are created by people. These channels are not as popular as Facebook and Reddit but you can find free login passwords for Netflix free access in these channels.
Login into your Discord account and find a channel related to Netflix services. On Discord channels people share information with each other and help them to get access to premium subscriptions for free.
Use Telegram For Free Netflix Login Details
Telegram is a messaging app but people use it to share movies, shows, and games. Telegram lets you create a channel to connect with your audience.
In my research, When I tested Telegram to find free usernames and passwords for Netflix free access without a credit card, I found some amazing channels that share Netflix accounts. In the below screenshots, you can see the result of one of my search queries. You can try different searches to find different channels for Netflix streaming services.
If you want a Netflix account to watch a single movie or web series, instead of finding an account credential on Telegram, you should ask to channel moderator to give a link to any movie. They will provide you with the Netflix videos, movies, or shows link so you can download them.
Legal Way To Get Free Netflix Subscription
The best way to get a free subscription to Netflix is to buy a mobile data plan that offers free Netflix. To attract customers, mobile operators give different free things with mobile data plans. When you recharge your mobile data, you should check whether they have a free subscription to Netflix in their plan or not.
Maybe currently, your mobile operator doesn't offer Netflix free account but in the future, it may. So, you should check regularly to know about free offers with the mobile data plan. In my T-Mobile account recharge, I got a free subscription to Netflix services. So without spending any extra money, I got a Netflix free new account.
Netflix Plan Details
| Plan | Price(USD) | Video Quality | Audio Quality | Simultaneous Streams | Additional Features |
| --- | --- | --- | --- | --- | --- |
| Standard with ads | $6.99/month | 1080p | 2.0 stereo | 2 screens | – |
| Standard Plan/ Netflix Basic plan | $15.49/month | 1080p | 2.0 stereo, Dolby Digital 5.1 | 2 screens | Extra member slots can be added for $7.99 each/month |
| Premium plan | $19.99/month | 1080p, 4K | 2.0 stereo, Dolby Digital 5.1, Dolby Atmos | 4 screens | Extra member slots can be added for $7.99 each/month |
Related Articles
Can You Use a Free Netflix Account With Sharing?
Previously Netflix had an option to share passwords with family members or friends. But in May 2023 Netflix stopped its password sharing policy for multiple devices.
According to the new password-sharing policy of Netflix, you can't share the password with anyone. But by giving some extra money, you can buy additional subscriptions for others at a lower cost.
Final Thoughts
So, in this guide, I have shared free Netflix accounts and passwords for united states and other countries. Also, I have shared different ways to find free login credentials for Netfilx. There is also a legal way which you can use to find a free Netflix subscription. If any account doesn't work for you, bookmark this page, I regularly update the accounts.
FAQs
Does Netflix Offer a Free Trial Period?
No, Netflix doesn't offer any free trial period. If you want to show any of its shows or movies, you will have to buy its plans.
Can You Get Free Netflix Logins Without Survey?
Many sites offer free Netflix subscriptions after completing surveys for them. These surveys are time-consuming. You can get free Netflix logins without doing a survey by using our above-mentioned methods.
Yes, sharing a Netflix account was legal. But now there is no option in Netflix to share accounts with others on multiple devices. If Netflix finds you are sharing your account with others, they will ban your account.
Are Free Netflix Accounts Safe?
Yes, these free Netflix accounts in this guide are totally safe to use. I tried these methods and accounts personally and then shared them with you.