geekymr.com is reader-supported. We select all the products after considerable research and give unbiased reviews to the readers. We may receive commissions from purchases made via our links at no additional costs to you.
If the students keep their sitting position correct while studying, then they can study without getting tired for a long time. The study chair should be comfortable so that students do not get tired. Let's see which are the best study chair for students in India?
Many children sit in one place for hours and study, due to which they have to face the problem of back pain. With the help of the right study chair, children will also be able to concentrate on their studies and they will not have back pain.
You can move your body easily in a study chair and also due to their comfortable back support you won't feel tired. For students, it is necessary that they get a good comfortable chair and study for hours without feeling any pain.
Why is a Good Study Chair Important?
A good study chair gives many benefits to students when they sit on it. A good study chair maintains your sitting posture and saves your body from any type of pain. The adjustable feature of the study chair adds more comfort to it.
When your body is in relax mode then you can concentrate on study easily. Students prefer long sitting sessions so a study chair with comfortable and breathable cushions keeps your body cool and prevents it from any type of back pain.
Another good thing about the study chair is that it comes with recline back support so when you feel tired during the study, you can move backrest in recline position and can take a small nap on it to make your body refresh.
Check also – Best Gaming Chair in India in 2021
Our Top 3 Pick For Best Study Chair For Students in 2021
List of Best Study Chair For Students in India
1

Green Soul Study Chair For College Students
Green soul chair is built with ergonomic design and highly breathable material is used to make its seats. The green soul is our top pick for best study chair for students. The price of the chair is within the budget of many people and its comfortable seating position won't give you any pain.
This chair is built to give a comfortable and stylish seating position. It has a high curved padded backrest that gives an exquisite seating experience.
Its backrest keeps the spine straight and puts minimal pressure on the spine. The backrest is built with high-quality foam and fabric. On the seat, it has thick molded foam that provides comfortable support.
It eliminates any heat and moisture build-up when you sit on it for long hours. Heat resistance material keeps your body cool.
It swivels full 360-degree and its heavy-duty metal base moves around in any direction easily. It has 5 PU castors that help in the easy movement of the chair. It has a fixed armrest that is built with fiber material and gives proper posture support to the arms.
It comes with 2 adjustment features. You can adjust its height and also it tilts mode feature lets you adjust the backrest of the chair. In the department of comfort, the Green soul study chair for students gains full points.
Check Also – Best Headphones For Study
---
2

Furnichom Comfortable Study Chair For Students
Furnichom chair has the most robust tilting system. The height-adjustable feature of it is effortless even if you are seating on it you can easily adjust the height of the chair. Also, backrest movement is easy and gives full comfortable support to the back.
The armrests of the chair are comfortable and wide in size. It gives good support to hand. Its fiber body has a rubber surface that gives soft touch when you put your hands on it. The installation process is easy.
It has a breathable cushion so when you seat on it for hours you won't feel any heat and sweat issues. Students feel no pain when they seat too much on this study chair. Due to its lightweight design, you can move it anywhere easily.
You can use a Furnichom chair for study and also as a gaming chair or do rest on it. Furnichom Comfortable study chair for students is built to give maximum comfort to students. This chair is a great choice for those students who seat for hours on a chair for study.
Ever you feel tired while studying pull its lever outwards so the chair will become recline and you can do rest on it.
---
3

Cellbell Ergonomic Study Chair For Students
Cellbell ergonomic study chair for students is a combination of style and comfort. You can choose this model for both features. To give ergonomic support to the body this chair is efficiently designed.
The backrest of chair is designed in a streamlined pattern. It creates a sticking visual aesthetic. Line patterns on chairs work like an air passing feature. Air passes through gaps between lines and keeps your back and body cool.
The backrest is covered with skin-like cushions so air passes through this material without any resistance. It helps to maintain the temperature of your body.
Its casters wheels are silent and built with PU material. It can spin 360-degree without any hindrance and its PU material keeps your surface safe from any type of scratches.
The backrest is not adjustable but its curve shape design gives proper support to the back. It reduces the pressure on the back and enhances the comfort level.
Assembly of the chair is easy and you get an instruction guide with a user manual. The chair is quite comfortable for all height people. You get a one-year warranty for it.
---
4

Savya Study Chair For Student
Along with appearance and design, Savya also focuses on the performance of the chair. Its clean and simple design attracts anyone towards it and also in performance department it is a sturdy chair.
Savya is famous for its quality chairs for home and office. They make chairs for all-purpose like gaming, office, study and more. From 2009 they are making chair and regularly they are improving chair quality.
To adjust the height of the chair it comes with a heavy-duty swivel mechanism with a tension control feature. Its heavy gas lift gives long life to the chair's adjustable height feature.
For smooth movement, it uses dual-wheel nylon casters. These castors give smooth movement on any surface. Castors are built with heavy material so your surface is safe from any scratches.
For students comfortable seating position is necessary and its mesh seat cushions with high-density seat padding give a comfy seating experience for hours without pain. It is a budget chair but it has a larger and thicker cushion seat.
It comes with a one-touch height adjustment feature and a tilts adjustment feature for better recline support. It gives you support what you need while studying for hours.
---
5

Study Chair For Students With Writing Pad
Cellbell study chair for students with writing pad is foldable chair. You can take it anywhere due to its foldable design. It has a writing pad that makes the study more comfortable. It saves space in the house when it is not in use fold it and keep it in a corner.
Many people write notes while studying so for those people study chair with a writing pad is a good option. The writing pad is built with high-quality wood material.
The writing pad has a removable feature so you can use it without a writing pad. It uses a metal frame for its body. This metal frame is scratch resistance and coated with powder for long-term performance.
It has 5 inches thick cushions for a comfortable sitting position. It has more welded braces for strengthens and to make the chair sturdy it is built with three welded braces. The chair is comfortable for studying.
---
6

Casa Study Chair For College Students
Casa is a well-known brand for office and study chairs. They make mid-range chairs for students. Its ergonomic design helps you to sit on it for a whole day of study.
The armrest of the chair is built with fiber plastic and it is wide in size so you can comfortably put your hands on it. Armrest length is enough to give proper support to the hand.
The backrest is built with mesh material. This material is a breathable material. Air passes easily through it and keeps your body cool. When you sit on it for hours then due to air circulation you won't face any sweat problem.
Mesh back is in a curved shape so it gives proper support to the back and also flexible in use.
The seat foam is built with high-density material. The seat is soft and when you sit on it you can feel the softness of the seat cushion. The cushion quality is good.
No back-pain issue with Casa study chair for college students. The backrest is designed to give comfortable support to the back.
---
7

Solimo Study Chair Good For Back
Solimo study chair is a good option for those students who have a rigorous study schedule. It has an ergonomic design with a fixed armrest option. You can sit comfortably on it for an extended period of time.
Solimo chair provides a mix of comfort and design through its elegant design and sleek international look.
For a chair good fabric is necessary and a solimo chair is built with high-quality upholstery fabric. Its color doesn't fade in few months. It has a high abrasion-resistance wheel so it doesn't create any noise while moving.
During the quality checking process, the chair has passed 100000 cycle tests easily. It can bear up to 150 kg loads. It has a thick mesh seat. To build the seat of solimo chair toxin-free material is used.
Techno Syncro back tilt mechanism is used in this chair. This mechanism makes reclining easy. Wheelbases are made of nylon for better movement.
---
8

MBTC Study Chair For Students Without Wheels
This chair has unique look among all the chairs in the list of best study chairs for students. Its distinctive design gives a beautiful look to the chair.
It doesn't have any wheels. It has an aluminum body and to make the surface scratch-free it comes with an anti-skid pad. These pads keep the gap between the aluminum body and the surface so no scratches are made on the surface.
The back and seat are built with soft padding material. You can experience full comfort on it. Padding on the backrest gives comfort to the back but the backrest is not moveable so after few hours you may feel pain on it.
Armrests are fixed and covered with soft padding so you won't feel any pain in your arms. Ergonomic seat design keeps back in a comfortable position for few hours.
The best part about a chair is that you don't need to assemble it. Take the chair out of the box and put it where you want it. MBTC study chair is lightweight so you can change its position anytime.
---
9

DAURBAN Study Chair
This is a multipurpose chair. You can use it for study and also as a guest chair. It is built with a durable metal frame for more strength. It gives reliable performance.
For long hours study its ergonomic seat and back will not give you pain. High-quality thick cushion material is used in it. The thigh support seat has bends in a curved shape on the front side. The back is not fully covered with cushions.
Cleaning the chair is not difficult. The seat and back both have a square shape padded design. Durable leather covers are easy to clean and also give utmost comfort to the body.
The modern lightweight design suits most of the interior. Apart from study, you can use it for the guest waiting area. The chair is built with a metal body. 100 kg weight it can hold easily. At the bottom of the chair, it has a nylon skid pad to keep the surface scratch-free.
---
10

HOF Study Chair For Student in India
When you spend long sitting sessions on a chair for study then a good comfortable study chair is necessary. HOF study chair gives good back support. Its padded back provides better support in comparison to other chairs in the list of best study chairs for students.
Push the lever up or downside for height adjustment. It has one more lever when you move this lever in front or back side then you can recline the backrest.
Wheels are strong and durable. Nylon caster and chrome material are used to built wheels. Wheels movement is smooth and can move in any direction easily. It has a single back lock option.
When we sit on a chair long time period then heat build-up is an issue in many chairs but due to its quality leather, it prevents any type of heat build-up. Its seat remains cool.
---
Buyers Guide For Best Study Chair For Students in India
Material Quality
Everyone wants a durable chair. The quality of the chair depends on the material used to build a chair. A quality material makes the chair sturdy and you can use it for years. The design of the chair also depends on the quality of the material.
Plastic is not good for a chair. Plastic is lightweight but it is not a durable material. In few months plastic chair may be broken. Plastic chairs are easy to carry anywhere so some people like this feature of plastic chairs but for long-term use, plastic material is not good for chairs.
The chair which uses metal in their body is a good option. Metal chairs are durable and sturdy. The price of a metal chair is maybe high but in terms of quality, these chairs are a better option than plastic chairs.
Comfort
A study chair should be comfortable. Students sit for hours on a chair so a comfortable chair will help them to concentrate on study. For better study students have to spend long study sessions and if a chair is not comfortable then your child would be get distracted from the study.
When you buy a study chair then your first priority should be a comfortable chair. Adjustable height, seat, backrest, and many other features make a study chair comfortable.
Before buying a study chair you should check whether chair is comfortable or not. Nowadays in the budget range, you would get good comfortable chairs option.
Backrest Support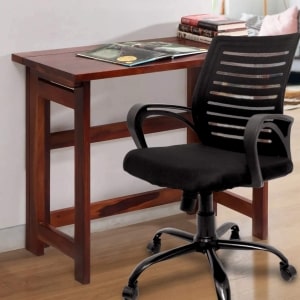 Back pain is a common problem when students sit for long hours on chairs for study. The back pain problem can be reduced by the right-back support of a chair. You can't concentrate on study if you have back pain.
You should buy a chair that has the right backrest position with lumbar support.
Nowadays chair comes with an adjustable recline position. You can set the backrest according to your comfortable position. Most of the chairs in the list of best study chairs for students have adjustable backrest options.
You can also take a little nap on it when you feel tired while studying.
Curve shape backrest is a good option. It maintains your body posture and gives you a relaxed feeling. Tilt lock set recline position on a chair on a particular position.
The backrest should be covered with thick cushions so the back gets proper lumbar support. Comfortable lumbar support is good for the back. Before buying a study chair for students sit on it and check how much it is comfortable for back support.
Armrest
Another important feature of a study chair is the armrest. When students sit on chairs for a long time period then the armrest gives support to their arms. If you get an adjustable armrest chair option then it is good.
If an adjustable armrest option is not available then choose a study chair that has a wide armrest. A wide armrest gives proper support to the arms.
Armrest quality depends on the material of chair. Most chair manufacturers use fiber plastic to build armrests because fiber plastic is durable and also it is comfortable material in comparison to metal.
If armrest has a padded cushion then it would be a great choice. The cushion on the armrest gives proper support to hand. Cushions are soft you won't feel any pain when you keep your hands on them for long hours.
In our list, all chair has wide or padded armrest. You shouldn't buy a chair that has not padded armrest because comfort should be first priority in any chair.
Cushion Quality
Cushion quality is the next factor which you should consider while buying a good study chair. The cushion should be comfortable so when you sit on it, you get utmost comfort. In our list of best study chairs for students in India 2021, all chairs have thick cushion padding for seats and backs.
Thick padding will give you perfect comfort. When you sit for long hours on it you won't feel any pain or discomfort on thick cushions seat.
Wheel Base
A study chair with a wheelbase is always a good option. While studying students need many things like a pen, books, notes, or other things. If your study chair doesn't have wheels then you have to stand up for every small thing.
So, buy that study chair that has wheels because you can move it easily in any direction to take anything. You don't need to stand up every time to pick a pen, book, notes, or other things.
Wheels are made of plastic or metal. Plastic wheels are a good option because it doesn't make any scratch on the floor. The movement of plastic wheels is noiseless. Wheels should be able to move around 360-degree.
Adjustable Height
All people's height is not same. The height of chair should be adjustable so students can set the height of chair according to their height. Adjustable height is a good feature for study chairs for students.
To adjust the height of chair it has come with a lever. When you pull the lever up or down then it adjusts the height of chair. While studying table height should be matched with the sitting position of the student and for it, you need to adjust the height of chair.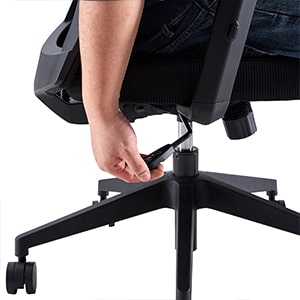 ---
Which Type of Chair is Best For Studying?
A chair that is comfortable in sitting is best for studying. The best studying chair should have an adjustable height and recline feature. Also, its cushions quality should be good and thick so when you sit on it, you won't feel tired in an hour.
Many people buy chairs according to the look of chair but this is not the right method to buy a chair. You should buy a chair according to the comfort of the chair. Students spend long sitting hours on chairs so the best studying chair should be comfortable.
Best Study Chair For Students Comparison Chart
| | | | |
| --- | --- | --- | --- |
| | | | |
| | | | |
| | | | |
| | | | |
| | | | |
| | | | |
| | | | |
| | | | |
| | | | |
| Cellbell Folding Study Chair | | | |
| | | | |
FAQ About Best Study Chair For Students
Is Office Chair Good For Studying?
Office and gaming both chairs are good for studying but due to their high price, they are not in the range of students. In our list, all study chairs are within budget. You don't need to spend much money on it.
Office chairs are comfortable and you can use them for studying. You can use your dad's office chair for the study if they have an extra chair.
How do I Choose a Study Chair?
At the time of buying a study chair, you should take care of few things like cushion quality, adjustable height, chair quality, wheels. All these points we have explained in detail in the above section of the study chair buying guide. Before choosing a study chair, you should check the chair is comfortable or not.
What Is The Best Chair For Sitting All Day?
The green soul study chair is the best chair for sitting all day. It is comfortable and within the budget. You can adjust the height of it. Also, you can change its backrest position and take a little nap on it. Cushions quality is good and due to its breathable cushion, you won't feel any heat from it.
What is The Cost of a Study Chair?
Generally, a study chair will cost you between 3000 to 5000 Rs. This range is a budget range and affordable buy many people. More than 5000 Rs. chairs are also available in the market but they are a wastage of money because of all the good features you will get in below 5000 Rs. Chair.
Final Words
Nowadays to becomes better students have to study at least 10 hours daily. Without a comfortable chair, it is not possible. A comfortable study chair enhances the concentration power of students.
Our list has the best study chair for students. From the list, you can choose a comfortable study chair for you. A comfortable study chair will motivate me to do more study.
These chairs have all adjustable features so you don't feel any pain while studying. The material quality of these study chairs is durable and sturdy. It will last for years in your study room.