You want to connect with your old friend, old colleague, or family member who is not in touch with you for a long time period. Every day millions of people try to find their lost ones.
On the internet, you may see your name, address, phone number, personal details, and more about anyone. People enter their full details on many sites like social media, shopping sites, etc. These people search sites take information from there and show us. How to find someone free of charge?
By doing proper research on the internet, you can get as much information as you need. You can easily find people whom you meet in the past if you remember their name, phone number, address, or anything about them.
Many times, people waste their time with lots of fake free people search sites or end up with fake information. Finding genuine free people-finder sites and methods is difficult. But don't worry, this guide shows free methods to find people on the internet.
How To Find Someone Free Of Charge?
Method 1 – By Email Address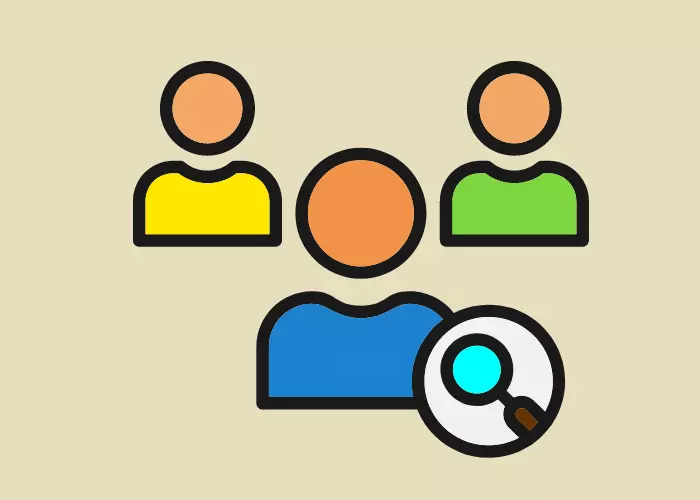 Email address is unique for everyone. No 2 people can have the same email address. Every person has a unique email address so it makes it easy to find people free by their email address.
The best way to find someone free of charge by email address is to use social media. On social media, when you type an email address and search for anyone then it will show search results specific to that email address.
The email address has 2 types of domain names in the email id. A first public domain name like Gmail, and Yahoo and a second private like any company name.
If a person is using a company name in their email address, then it becomes so easy to find them. Imagine, if the email address is abc@example.com then example.com is its company name.
Open the browser and type the company name in the search bar and press enter. The company website will be opened and from there you will get information about the person.
If the person uses a public domain name like abc@gmail.com then you can find its identity from a google search. When you search abc@gmail.com on google it will show all social media platforms and websites where this email address is used.
Method 2 – By Reverse Lookup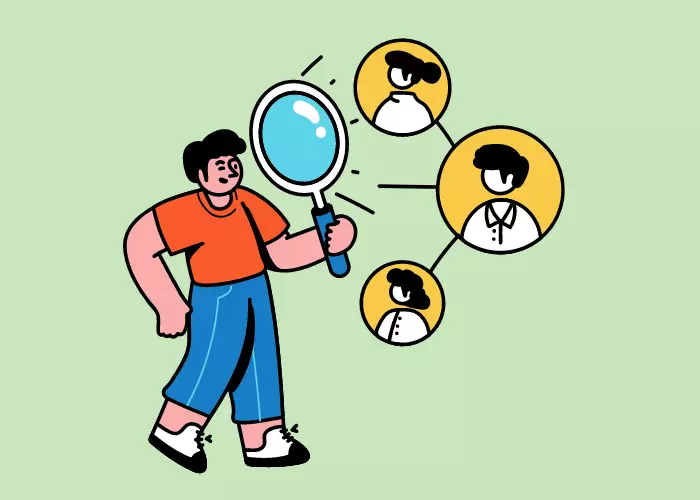 In our life, sometimes we lost touch with our friends, family members, or anyone else. Some people wished they could find them again but you don't anything about their present so it becomes difficult to find them.
But if you have their phone number, you can find information about them by using the reverse phone lookup method.
In this method, by using a phone number, you can find information about the person who owns that phone number. You can also check additional information such as email addresses, social media accounts, etc.
In the reverse phone look service, companies track a phone number and search for information related to that number in the database. If there is any information, it will be shown to the information finder.
To find people through reverse phone lookup, you can use sites like Whitepages or Intelius or you can use phone apps like truecaller. Go to the website, click on the reverse phone lookup option and write the number, and press find.
Method 3 – By Free People Search Engines
Whitepages.com
Whitepages is a known people lookup site. Every day millions of users visit this site to find information. It has a huge database of people.
On its homepage, you can see that it has 4 different categories to find people. You can find people by phone number, name, and address. Address and phone number work on the reverse search principle.
Its 4th category is business search, which gives information related to business.
Whitepages allow you to find cell phone numbers, background checks, relatives, addresses, criminal records, age, traffic records, landline numbers, professional licenses, financial records, and property details.
These whole details are not free. Some basic information is free which you can see. To get the whole detail about anyone, you need to create an account on white pages and buy its paid plan.
Most of the users only need basic information like personal phone numbers, and addresses, which are freely available on whitepages.
To get an exact match of a person, type the zip number of areas with a name so you won't get hundreds of results. Whitepages is a trusted company that gives true information about people. Like other free people lookup websites, here you won't get fake information.
Truepeoplesearch
Truepeoplesearch is a completely free people search website. You can search people here by phone number, name, address, and many other methods. It is totally a free reverse lookup service.
Truepeoplesearch is trusted by millions of readers. Whenever you search for any person on the Truepeoplesearch site, it gives you all the information related to the person. It fetch information system is quick so you don't need to wait for a few minutes.
On many free people-search websites, you need to create an account to find someone. This is a clever way to take your information. On Truepeoplesearch, you don't need to create an account. You can use this site without creating an account.
Once you use Truepeoplesearch, you won't ask next time how to find someone free of charge. Its quick response and detailed result are the main highlights of this website.
Truepeoplesearch uses public records, social media, and other sources to extract information about anything. It doesn't show any irritating ads on its site. Its user interface is clean. On the homepage, you get a search option to find someone. Just enter the name, phone number, email, or home address to get full detail about the person.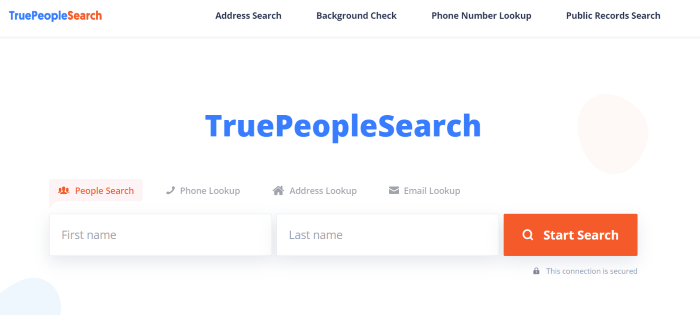 Intelius
Intelius is a next-gen fast people-finding site. Intelius is not a fully free site but its fast free search feature is enough to get basic information about someone. Its free feature doesn't require any sign-up process. Without giving your personal information to the site, you can use its search feature.
Find people by their names. It will ask you to enter the first, middle, and last names of the person. Middle and last names are optional but for better results, you should enter the first and last names of the person. To get more accurate results, enter the location of the person with their name.
Its free feature gives lots of information about a person. You can see the Name of the family member, age, high school detail, current, and previous home address, and companies detail where the person has worked.
If this free information is not enough for you to find someone. Intelius also offers paid search feature. Intelius use public record searches to find out detail about anyone.
Its paid feature has different paid plans that charge money according to search queries. As much as you go for a deeper search, you need to pay more money.
Its $7 search plan provides the email address and phone number of the person. To check the full background of any person you need to spend $40.
Protect your pc from viruses and keep your data safe. We have a special discount deal for our readers on Avast Antivirus.
Been Verified
Been verified is another fast free people search site. You don't need to create an account on it. Its primary quick search feature is free for everyone. It gives many options to quickly search people by their name, address, email, and phone number.
Its basic search feature offers a limited number of information that is enough for most people. Paid plans are for those who need to search for people daily like spy agencies.
When you find someone free of charge on Been verified, you get lots of details about them in the search result. Everything you will know about the person like its city, address, job profile, company name, company address, email address, phone number, age, and more.
If you are getting thousands of search results then you should narrow down the search result by adding a middle name, location, or age in the search bar.
Tineye
Tineye lets you find any person for free. Tineye works like other free people's search engines. It contains all the features of other sites but it has one good feature that other site doesn't offer for free which is reverse image search.
To use reverse image search, you need to upload an image to the Tineye site, and then it will find information about the image and shows you.
If you don't have the image, you can find people by their names and other information. Use a location filter to find people in a specific area.
LinkedIn
LinkedIn is a social media platform that is famous among job finders. On LinkedIn, you can post and search for jobs. People need to create accounts to access LinkedIn. When you create an account, it asks for your personal information. Most people used it to find a job so they give the right information on it.
LinkedIn is the most prominent people-finding website. It has a huge collection of business-related databases. It has an uncountable number of users worldwide.
Its data is more trusted than Facebook's. You can gather information about any people who have IDs on LinkedIn.
If you are finding your old office colleague then LinkedIn is the best search site for you. If the user has kept their profile private then you can only see their name and image which are enough to identify them.
Family Tree Now
Family Tree Now is another good website to find people online. Like other search tools, it also allows you to find information about people by their name, number, adders, or email. It is a free-to-use website. It doesn't charge anything to show information.
Some free people search sites ask you to enter your personal information to show information of other people. The best thing is the Family Tree Now site doesn't ask about your credit card detail.
If you don't find information about someone, you can use its location feature which narrows down the search and increases the chances of finding people.
It shows information from all over the internet like social media and other sites. Its search result shows all the information that you have asked for. If you enter a name in the search bar then you get a list of all related people that have the same or matching name. All this information is shown on the basis of social media profiles.
When you search people through phone numbers, it searches online phone directories and shows results from them. As much information is available on social media and the internet all fetches by this website and shown to you.
No doubt this is one of the popular websites to find people free on the internet. If you don't find information on Family Tree Now, it shows also sponsored searches in the result to get information but those all are paid.
Zaba Search
Zaba search is a good website to find someone free of charge. Zaba search works like a public directory. It collects information about people from different public sources.
Its user interface is simple. On its home page, you see a search field. Enter the name and surname of the people whom you are finding. The search result shows information about a person like a name, phone number, email address, and home address.
Google People Search
Who doesn't know about google? It is one of the most used search engines at the current time. More than 70% of people on the internet daily use google to find answers to any query.
People use Google to do shopping, purchase, and more. Google traces their identity and saves it with their permission. With the help of Google, you may find someone free of charge. If a person is popular then with its simple search feature, you may get all details about the person.
For deep research, you need to type the name of the person in quotation marks. When you find someone with quotation marks, google show result, particularly about that search query, not similar to it.
Along with finding people by their name, phone number, and email address, you can use their images to search for them.
If you have an image of any people and don't know its name. Upload the image in the google image search option. Click on the search image button. Within a few seconds, you will get results that contain information about the person in the image.
Facebook People Search
Facebook is a free social networking site. It is one of the best free methods to search and find someone free of charge. Here you can find your relatives, friends, co-worker, and more. To find anyone, you just need to type its name in the search bar and you get hundreds of ids related to that name.
Apart from the name, you can also find people by their city, phone number, school, or college on Facebook. Every day thousands of people found their relatives and friends on Facebook.
To use Facebook, you need to create an account. Most of us use Facebook, so you already would have an account on Facebook. Facebook also suggests people to you on your personal information. So, you can add them by suggestion also.
Facebook userbase is so much big. All over the world, it has billions of users. Every day millions of new accounts are created on it. It is a huge chance that you will find your old known person on Facebook.
Some people use fake names and fake profile pictures on Facebook. So before making anyone friend on it, you should check their whole information and if you trust them then only make him a friend.
How To Find People Through Social Media For Free?
In the world, social media has the highest number of personal data. We all give our data to social media platforms when we create accounts on them. Name, mobile number, and email are common personal data that every social media platform takes. Some also take our address like job sites.
By using a number, name, and email address, you can find someone free of charge on social media. Most social media platforms are free to use. Just create your account and use them.
If you don't know how to find someone free of charge on social media, here is the process.
First, if you don't have an account on any social media, create an account.
Once account creation is completed open the social site.
Every social media site has a search option.
Type name, mobile number, email, or anything related to that person and press enter.
As a result, you get lots of people's profiles. The person whom you are finding if it is present on that social media, you will get his/her id in the result.
Most people share the same name or surname, so there are chances that you get hundreds of ids in the result. So, it may take time to find the right person.
Facebook, LinkedIn, Snapchat, and Instagram are the most popular social media platforms. On these sites, you can see people with photos and names. Some people also show their phone number and email id in their bio.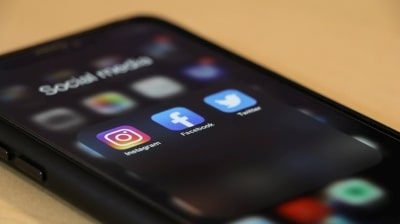 How To Use Digital Footprint To Find People?
Currently, digital footprints are used as an advanced feature to track people's online activities. Many companies silently track all the movement of people online and record it and sell it for people to find sites.
Many people find sites that use digital footprints to find information about people free of charge.
This method works on the footprint people leave on the internet. If a person is online and goes to different sites, it leaves its footprint on all sites or some of the sites. Not all sites track the online activity of the person some respect user privacy.
Should You Use Paid People Finder Sites?
People think that paid sites are better than free ones. But this is not true fully. Most of the free people finder sites give you full information about any person. Every time paid sites are not obtainable.
By using the free people search engine, you can find the personal data of any person. It is the easiest and most useful way. On the internet, you get both free and paid options to find people. If free people finder sites are available then should you use paid people finder sites?
Free people finder sites are good enough to provide you with details about any person but not every time. Sometimes it shows a "no information found" result. Also, free people finder sites use lots of ads on their sites to earn money.
These ads make the user experience worst. Some sites show pop-up ads that become so irritating. Also, only a few free sites update their database at regular intervals. So, there are chances that you may get old data in the result.
Free sites are good if you know how to use them and which one is good. You may use paid sites if you don't want irritating ads and need a good user interface.
How To Find People Free of Charge Using Paid People Search Engine?
As we said in the article free people searching sites are enough to find anyone but sometimes, they take too much time to show information or they don't have information.
Whether you want to find your ex-girlfriend, ex-boyfriend, old family members, old friends or colleagues, everyone you can find on the internet if you have little bit details of them.
If free people search engines are not helpful, you can use paid people search engines.
To find people on a paid people search engine, first, you need to create an account on their sites. Buy their paid plans. There may be different paid plans, you can select the plan as your need.
Paid people search engines use public records, social sites, and other sites to collect data.
Find a person by name and surname, this is the first step in any paid people search engine. But this search query will give many results so if add a location or phone number with the name then you get a limited number in the result which saves your time in finding the people.
Difference Between Paid vs Free of Charge People Finder Sites
Which is better free or paid people finder sites? What is different between both sites? Let's check.
This is a myth on paid people finder sites you get all the information. Some paid sites take the money and show you only basic information that you can find on free search people sites also.
Family Tree Now, Been verified, Intelius, and some more paid people find sites trustworthy. These sites provide real information about the person. These people search sites to gather information from all over the web.
The major difference between paid and free people search sites are their database. Paid sites collect information from a number of available sources on the internet and organize the data into a good pattern. So, when you search for detail of any person, you get them easily.
On the other side, the free people search engine has a limited number of data. These search engines show only basic information about anyone like name, phone number, email, etc.
Sometimes free people search sites also show wrong information. These sites redirect users to paid sites so they can earn referral money. Before purchasing any paid plan on paid people's search sites, always check what information they are offering.
FAQ About How To Find Someone Free Of Charge?
Are Data Of Free Sites Accurate?
Not all time-free sites are accurate but most of the time they are correct. They are easy to use and have a collection of lots of data. You can find full details of any person on free sites. They don't charge anything and also don't ask for your personal information to show results.
How Can I Find Someone On The Internet For Free?
The best method to find someone free on the internet is to use social media. Nowadays everyone has a social media account so it becomes easy to find them. After social media, you may use free people search sites for the best result.
How Can I Find Someone Online With Just a Name?
It is not difficult to find someone online with just a name. You can use any people's search engine to find online them by their name. Whitepages, Truepeoplesearch, Family Tree Now, and many more people search engines are available that are free to use. You can get information from any person on these search engines without giving any free.
Conclusion
Now how to find someone free of charge is not a big question for you. You know the right methods to find people for free on the internet. With a little bit of searching knowledge and by using our methods, you can easily find any person for free. It may take a little time to find information on the internet but in the end, you will get what you are looking for.