Which is the best photo editing app for android?
Several times pictures clicked from the phone camera is not up to the mark even sometimes high-end phones also fail to click perfect picture. Some reasons for not getting a perfect photo are improper brightness, contrast, unexpected things in the background, etc.
With a little tweak in the photo with these best free photo editing apps on an android phone, you will be able to add the change in the photo to make it eye-catching.
Nowadays social media apps also allow users to edit photos before posting. But their features are limited. For better editing of the photo, you should use those photo editor app for android which has great functionality to make your photo stunning like Snapseed, adobe lightroom, etc.
Best Photo Editing App For Android – Free Download
Some apps come with predefined filters, apply those filters and your work is done. Sometimes you need more functions to edit a photo like set brightness, contrast, sharpness, writing text, blur, etc.
Numbers of photo editor apps are available on the play store, among these, I have chosen the best photo editing app for android for you.
Google's Snapseed photo editing app gives tough competition to pc photo editing software with its power pack editing tools. With basic tools like contrast, brightness, etc. it also has a depth of field editor to edit a photo like a professional photographer.
With its QR look tool, you can save some set of effects and later directly use that set on the photo. The selective brush gives you the freedom to apply effects on the selected part of the photo.
Snapseed is not hard to use with editing on a few photos it becomes easy to use the app. This is one of the best free photo editing apps in android free download.
It can edit the RAW DNG file and you can save them in JPG format. 29 tools are included in it like healing, brush, structure, etc with fine and precise control.
With double exposure, you can change the background of any photo. Use it for serious photo editing. Its editing tools are great for selfies and photos which are taken in hurry. It is the best photo editing app on android mobile.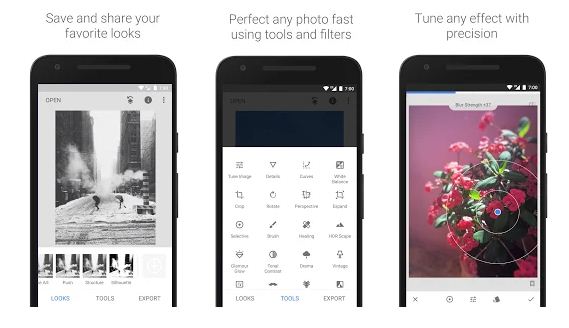 With 500 million install PicsArt is among the top photo editing app in the google play store.
Apply effects at the time of taking a photo with a built-in camera tool. It is free but some extra features are paid for but you don't need to buy that feature. Because you can use free background images, stickers as photo effects share by other PicsArt users.
It's all tools available in brush mode so you can apply them to selective parts of the photo. It allows for making double exposure using layers.
With its cutout tool, you can convert your photo into stickers and share it with the online PicsArt community or with your friends.
Picsart offers more tools for editing like scene mode, stickers, layer adjustment than any other app.
It is the favorite of millions of android users due to the sheer number of editing tools given in it. It is one of the top photo editing apps for android.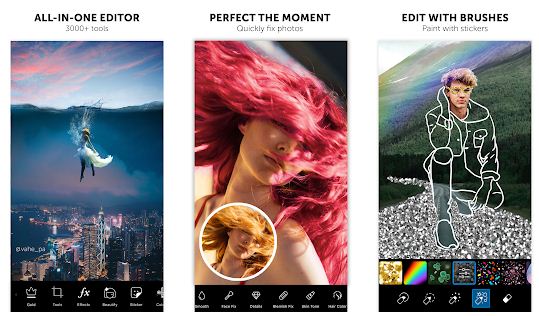 VSCO is an Instagram-like social media app but where Instagram focuses on social media rather than on photo editing, Vsco has more focus on photo editing. Compared to Instagram filter vsco filters gives a classy touch to your photo.
To make it simple vsco shows four tools at once on-screen. Each tool contains a huge number of filters to change the look of the photo.
VSCO has all the high-quality editing tools just like other android photo editing apps.
It offers exposure, contrast, and temperature correction, as well as a very useful alignment tool for straightening horizons.
When you completed editing upload your image on the vsco community or other social platforms.
One disadvantage of vsco is that you can't save photos on your phone. To get a photo only you can do is that email it or upload it to cloud storage.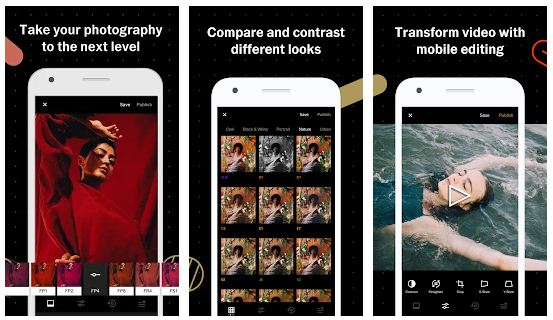 For quick and easy photo editing use the Afterlight app. It has a simple design but with some good photo-enhancing tools. There are 27 fully adjustable filters with 14 guest filters by Instagram users. 77 different frames are available to post photos on Instagram.
It works with a RAW file and it has a set of textures including prism effects, light leaks, overlay effects. Afterlight allows you to upload images directly on social media. It is the best photo editing app for android download.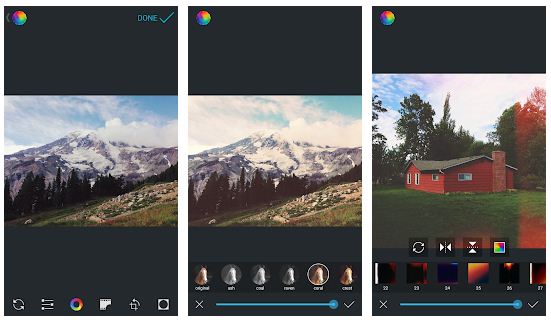 Its user interface is clean and simple to adjust the filters. 110+ unique filters are available to enhance your photo quality.
Its artificial intelligence OpenGL ES 3.0 uploads photo quickly and machine deep learning methods apply effects smoothly on the photo and make the photo eye-catching.
For the selfie photo, it removes blemish automatically with only one tap. To improve skin glow it uses smart skin whiting technology.
With the usual filter like smart skin whiting, remove blemish it has also funk filters, fancy magic effects for a photo.
To convert you into a comic character uses a funk filter like a sin city character. With fancy effects, you can turn your photo into a watercolor fairy scene.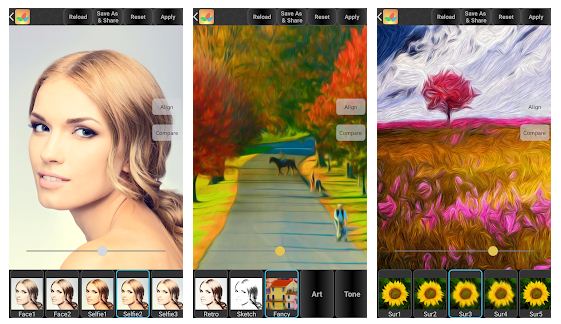 This app focuses more on manual editing rather than filters. Its in-app camera feature allows you to apply live effects on photos to save your precious time. To enhance your photography it has a feature-rich photo editor and creative collage maker.
Apply white balance, saturation in real-time, and make creative adjustments directly from the camera. This app gives you an array of tools to turn your photo into an eye-catching image.
Picture retouch allows you to adjust HSL sliders and RGB channels in the photo. Photo fx applies effects both on the whole picture or the selected part of the picture.
The in-app camera provides a wide range of pro-camera features. Content-aware removals tool crop out unwanted objects from photos.
Radial or liner blur makes focus on a particular part of the picture and blur out the remaining image. After editing besides sharing on social media platforms you can set edited photos as your mobile wallpaper without leaving the app.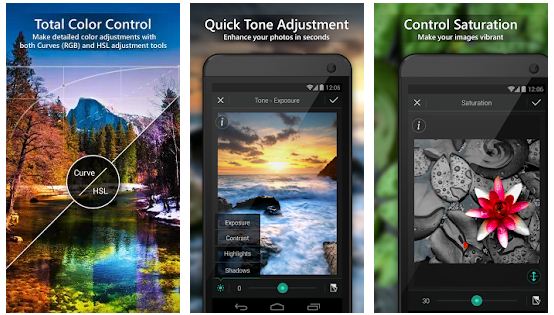 With the adobe lightroom app, you can enjoy the photoshop desktop feature on your mobile. it works with RAW files.
With a slider, you can adjust the light, detail, color, distortion, and grain of your photo. Lightroom CC can be the perfect app for editing images on the go.
Lightroom also provides a robust premium offering filled with advanced photo editing features to take your photography to the next level.
With preset make changes in the photo with a single touch. To change color, exposure, aperture use curves. Clarity and dehaze give new breathe to your photo.
The healing brush removes noise from the photo. Selective adjustment gives freedom to edit selective parts of photos. For RAW editing import, raw images from the camera.
Back up your original photos and edits to access them on other devices, as well as through Lightroom cloud on the web.
Harness the power of artificial intelligence to automatically tag and organize your photos based on the objects or people that are in them. A quick search for "mountains" or "Maria" will surface all the photos with those elements in them.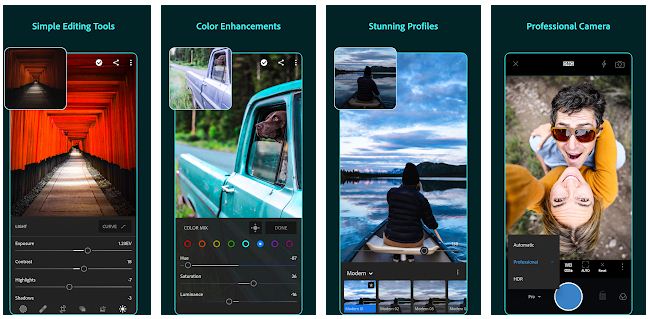 To create a stunning image it has stylish effects, filters, grids, and draw tools. 60 filters are available for editing like Lomo, PINK, Vignette, Natural, Warm, Dew, Dark, Cocoa. Blur background gives you DSLR effects on the photo.
To make stunning artwork mix and blend two images and see results. With body, retouch gets slim body or get a perfect figure. Change hairstyle adds tattoos so many things you can do with the photo editor app.
It allows you to cool glitch effects to the photo. Its effects make your photo eye-catching with Glitch effects, double exposure, photo blender, etc. It is the best photo editor free.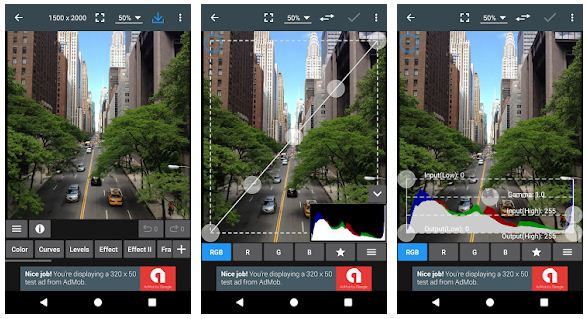 It is simple and convenient for beginners. You can use pixlr for quick editing or for deep image editing. Balance out color in a one-touch auto fix.
Use double exposure to layer multiple photos. In overlay adjust the photo tone or cool it down or add shades.
Its favorite button will remember all your favorite effects. In-app all editing tools are organized into five categories.
These category arrangements make it easy to use for inexperienced users. Overall pixlr is the best photo editing app for android.
It is the most powerful perspective- and lens correction tool. This photo editing app lets you adjust the perspective of your images so that everything lines up perfectly.
With a variety of unrivaled features and awe-inspiring in-app extensions MRRW and 4PNTS, this fine application is the go-to editing tool for sophisticated photography enthusiasts like yourself.
Correct horizontal and vertical lines as well lens distortions for shots taken with adapters, DLSRs, with a GoPro or a drone camera.
With the one-of-a-kind full auto-cropping functionality and the self-explanatory, intuitive user interface, SKRWT is the missing link in high-end smartphone photography.