Nowadays Smartphone batteries are much capable that you can use your phone for a whole day. We all know that when the mobile phone becomes a few months old its battery does not support for the whole day. At that time power bank helps us to use our mobile phone the whole day without any low battery issues. I have made a list of the best power bank in India for mobile.
The power bank is like the best portable cell phone charger, so through a portable cell phone charger, you can charge your phone anywhere. That's why portable power banks have become very important. Now power bank is so slim that even you can carry it in your back pocket easily.
What is Power Bank?
The power bank is a device that stores electronic energy in it and gives freedom to charge your electronic devices anywhere at any time. Power banks are commonly used to recharge small devices like mobile phones, smartwatches, etc. But it cannot charge laptop type such big devices.
Power Bank Buying Guide
Charging Capacity
The most common features which everyone considers before purchasing a power bank are its charging capacity. Its charging capacity measured in mAh(milliampere). In the market, a range of mAh is available in power banks from 1000mAh – 20000mAh.
More mAh means more charging power you get to charge your mobile phones. 20000 mAh capacity power banks can charge your phone up to 3-4 times in a single charge. According to your phone battery you should purchase a power bank, if your phone battery is 3000mAh then 10000mAh power banks enough for you.
Charging Speed
This is the second most important thing at the time of selecting a power bank for your phone. Sometimes it becomes annoying to carry a power bank with mobile phones for a long period of time. So it is better to choose that power bank which supports fast charge. Many companies give quick charge ports for fast charging.
Portability
Sometimes portability also matters for power bank buying guide. Its design should be portable to carry it anywhere. Earlier power banks size was big, but nowadays the size of it is becoming smaller. A Portable Smartphone charger is easy to carry within your pocket.
Which is the Best Power Bank in India For Mobile?
I have tested many power banks and among them, I have chosen the best power bank in India for mobile for you. So many companies offering different types of power banks from low price range to high price range power banks.
But at the time of choosing a power bank, you should not see the price tag on it because low price power bank sometimes makes harms your mobile phone battery. Choose a power bank that performs on all safety features. For price doesn't compromise with safety. let's start the best power bank in India review.
| | | |
| --- | --- | --- |
| | | |
| | | |
| | | |
| DURACELL PB10050 power bank | | |
| | | |
| Ambrane P-2000 power bank | | |
| | | |
| Intex IT-PB16K power bank | | |
| Lenovo PA13000 power bank | | |
| Ambrane P-1111 power bank | | |
| | | |
Mi 20000mAh Power Bank 2i – Best Selling Power Bank in India
In the mobile community, Mi is a known brand. Mi 2i comes with a 20000 mAh battery which is enough to charge your phone up to 3-4 times. It offers quick 3.0 charges which can charge your device faster as compare to other power banks.
It has dual USB support but for fast charging, you can only one port at a single time. For better grip, it has an anti-slip back finish. Exterior material is built by PC+ABS material. It comes with 6 months of warranty.
It has low power charging mode for small devices like a fitness band, smartwatch, etc.
Syska 20000 mAh Power Bank
Syska power bank is one of the best power banks in India for mobile. It uses IC protections which helps to avoid over-charging, under-discharging, and short circuits. This feature keeps safe your expensive devices like mobile phones, tab, etc.
It has automatic hibernation mode so when syska power bank is not working it goes in power saving mode. Switches are soft and durable to work longer. It has BIS certified polymer cells which gives long battery life it.
DURACELL PB10050 – Best Quality Power Bank in India
In the battery department, Duracell always ahead of other power bank. You can charge your power bank while charging your device form power bank, This saves lots of your time to charge both devices separately. It comes pre-charged form factory to make use of simple for the first time.
With Duracell power bank you can charge multiple devices at the same time and use 72 hours extra talk time. 2.4 Amp input provides 2x fast charging. This can charge your iPhone 7 up to 5 times. Best power bank in India for iPhone.
Intex IT-PBA 20K Poly-Best Rated Power Bank in India
Its Li-polymer battery provides high performance by better charge retention. Its battery is BIS certified battery and in comparison Li-ion battery it is slim and lightweight. 20000 mAh batteries charge your phone 5-6 times easily.
It has a classy design and elegant look and eye-catching color combinations. Its LED indicator shows the remaining battery. For security purposes, it uses a quality internal circuit.
2 USB port gives you to freedom to charge two devices simultaneously. It supports fast charging also which helps you to charge your device fast.
Ambrane P-2000 20800 mAh-Best Seller Power Bank in India
Ambrane is the best power bank making company. It makes light weighted and more powerful power banks. Ambrane power bank huge battery capacity of 20800 mAh. It is compatible with a wide range of devices.
With its triple output charge 3 devices simultaneously. It has powerful 'Samsung/LG/APB Li-Ion cells'. With high power storage capacity, it never lets you down a long travel journey because of its this is the best portable power bank in India.
It is highly efficient and protected against overcharge, overheat. With its high storage capacity, it can charge smartphones up to 7-8 times.
Read also – Best wireless headphones for gaming
Mi 2i 10000 mAh Power Bank
Like others, it also has 2 USB ports with innovative design and high output capacity. It offers two-way fast charging which ensures your device works properly through the busiest and longest day. It is 14.3 mm thin so easy to carry in your back pocket.
Nine layers of circuit chip protection and Li-Polymer battery are not only safe but also improve charging conversion rate and stabiles discharging voltage. Its conversion rate is more than 90%.
To operate Li-poly batteries in safe range heat sensitive and temperature control mechanism is used. Double click on the power button to use the device in low power mode. This is my personal favorite power bank and the best power bank brand in India.
Intex IT-PB16K 16000mAh
It supports two USB ports that charge two devices simultaneously. Built-in LED indicators to display the device remaining charging capacity. Power saving mode is a great feature to save battery.
It is only 330 gms so you can take it anywhere easily. It is the best lightweight power bank in India The Li-polymer battery is used for better performance. 16000 mAh battery is enough to support your phone full day use. It is the best power bank available in India under 16000 mAh.
Lenovo PA13000 Best Power Bank in India
Its battery capacity is 130000 mAh and can be easily charged with a micro USB type connector. With long battery life, you can charge your device 2-3 times in a day depends on your mobile battery capacity.
With 2 USB ports charge two devices at the same time. To improve its performance smart power control chip system is used which increased its performance. LED indicator is used in it for display charging. It protects from overcharged, over-discharged.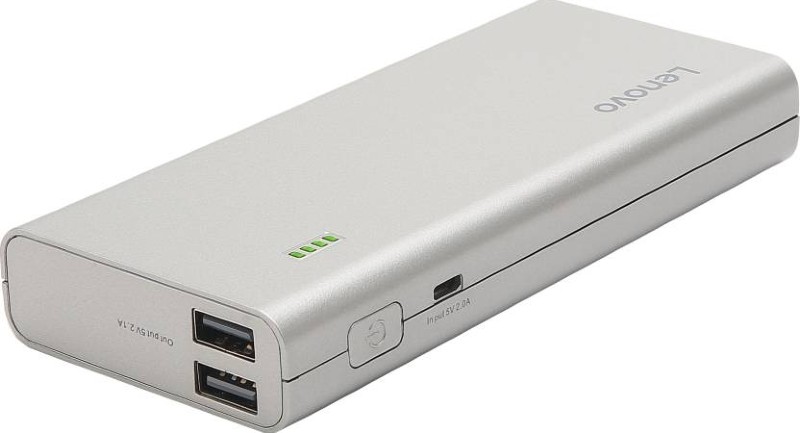 Ambrane P-1111- Best Power Bank in India for Mobile
Ambrane power bank is an octagonally shaped power bank. It provides emergency backup to your devices. With 2 ports we can easily charge two devices. Its advanced chipset makes the charger safe. The white and blue color combination makes it more beautiful.
It uses a Li-ion battery which makes a rectangular form factor. LED panel works as a power indicator. It comes with a one year warranty.
Czar Matrix Slim Pocket Size-Best Power Bank in India For Mobile
It is slim and it easily fits in your pocket. It has a 10000mAh battery capacity with a lightweight of 210 gms. Dual output supports simultaneous charging of two devices. It is compatible with all mobile phones. With Li-polymer battery it gives safe and better-charging options. For slim size power bank Czar Matrix Slim Pocket size is for you. It comes with a one year warranty.
What Protection Should Use at the Time of Power Bank Charging
Power bank work is to give power to other devices. It comes with a Li-ion or Li-poly battery which contains power. When we charge power bank we should take care of some things like
1 some companies don't have safety features of overcharging. So take care that your portable battery can handle or not overcharging.
2 short circuits is another problem, sometimes it starts heating at the time of charging which causes a short circuit.
3 Always use the same voltage charger which was indicated in user manual because low and overvoltage, charger reduce the battery life of power bank.
Conclusion
In this list, I have covered all types of power banks from low price to high price and from low mAh to high mAh battery capacity. Power banks are becoming compulsory in everyone's life. Right power bank makes your phones live higher and gives you the freedom to go anywhere without battery drain issue in mobile phone. So this is the list of the best power bank in India for mobile.
Disclosure: geekymr-The tech zone is a tech knowledge site that receives compensation from the companies whose products we review. We test each product thoroughly and give high marks to only the very best. We are independently owned and the opinions expressed here are our own.