Whether you want to play games or listen to music a headphone is a must-have thing to take a great experience of sound. Wireless headphones are the latest trends in the market.
Sometimes to find the right wireless headphones for mobile or pc becomes a difficult task. To make your work easy we have created a list of the best wireless headphones under 5000 for you.
A good wireless headphone enhances your music experience and calms the mind. The sound quality of these best noise-canceling wireless headphones under 5000 is excellent. In these Bluetooth wireless headphones, you can listen to the song for hours without feeling any pain in the ears.
We have chosen both in-ear and on-ear headphones in this review guide, based on the performance and sound quality of each headphone. After detailed research and talking to lots of users we have prepared this list.
In starting wireless headphones are not in the price range of many people. Due to the high cost, most people couldn't buy wireless headphones.
But now after the development of technology, even in the range below 5000 rs, you have some good choices of wireless headphones to choose from various brands. Due to their sound quality and performance, these wireless earphones are giving tough competition to big-budget earphones.
Our Top 3 Recommendations
Runner Up
Skullcandy Noise Cancelling Headphones
Our Top Pick
JBL Tune 710BT Wireless Headphones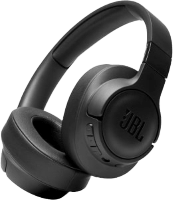 Budget Pick
Boat Rockerz 450 Wireless Headphones
How Do Noise Cancelling Headphones work?
Noise-canceling headphones and regular headphones both are different. There are two types of noise cancellation
Active noise cancellation
Passive noise cancellation
Active Noise Cancellation
Noise cancellation headphones cut down the sounds around you. These headphones work on the active noise cancellation process. The main benefit of active cancellation is that if you are in a noisy environment even you can listen to clear music without any disturbance.
Active noise cancellation reduces low-frequency noise because it has a high wavelength but shorter wavelength sounds like high frequency can't be canceled from audio. For high frequency, headphones should be near sound.
Passive Noise Cancellation
Passive noise cancellation headphones reduce voice by using muffling elements like ear pads, the material of headphones, etc. Headphones use their microphone to cancel noise. The first microphone observes the sound around you and cancels out all the extra noise from music.
Wireless Noise Cancelling Headphones Under 5000 Comparison Chart
Top 12 Best Wireless Noise Cancelling Headphones Under 5000
Wireless headphones are easy to carry anywhere. They don't have wires to be tangled. They are small in size and also you can carry wireless headphones around your neck. At the time of creating this list of best wireless headphones under 5000, we have picked all types of wireless headphones like earbuds, over-ear wireless headphones, and in-ear wireless headphones.
"We have checked various features of headphones (like sound, battery life, Bluetooth range, etc.) and after comparing all headphones we have picked the best wireless earphones and headphones under 5000 for our readers."
1. JBL Tune 710BT Wireless Headphone
Specifications
Type – Over-ear
Color options – 4
Battery life – 50 hours
Foldable design
Weight – 200 grams
Built-in mic – yes
Are you searching for high-quality wireless headphones that offer superb sound quality and impressive wireless connectivity? Look no further than JBL Tune 710BT – a renowned manufacturer of top-notch audio equipment for quality sound. Their latest edition, the JBL Tune 710BT, is a circumaural (over-ear) closed-back headphone that comes equipped with Bluetooth 5.0 wireless and active noise-cancellation (ANC) technology.
But that's not all you get – JBL Tune 710BT headphone also boasts support for multiple high-quality wireless codecs such as SBC, AAC, AptX, and aptX Low Latency, ensuring that your music experience will always sound crystal-clear and true to its original quality.
One of the standout features of the JBL Tune 710BT is its impressive battery life – with up to 50 hours of music playback via Bluetooth. And if your battery does run low, fear not! Its quick charging mode gives 3 hours of power to the headphone with just 5 minutes of charging.
JBL Tune 710BT headphone is crafted with high-quality materials for superior durability and sonic performance, this headphone is part of JBL's BT line, which is known for delivering exceptional sound quality. The 710BT provides an all-around impressive listening experience.
With its dynamic drivers and a closed-back design, the headphone delivers great bass response and detailed mids and highs, with a published frequency response of 18 Hz – 22,000 Hz. Its adjustable headband and earcups also make for a compactable and ergonomic design that's easy to carry around and comfortable for extended listening sessions.
Not to be missed is the right earcup-mounted, practical on-headphone control panel. It has controls for volume up and down, voice assistant, music/call capabilities, ANC and Bluetooth connectivity, as well as an on/off button for the headphones.
Pros
Superior sound quality with great bass response and detailed
Impressive battery life
Multiple high-quality wireless codecs supported for crystal-clear sound
Comfortable and ergonomic design
Lightweight design
Check also – Best Study Chair For Students
2. Skullcandy Hesh – Best Noise Cancelling Headphones Under 5000
Specifications
Type – Over-ear
Color Options – 2
Battery life – 15 hours
Weight – 472 grams
40 mm drivers
Built-in mic – Yes
Skullcandy is a USA-based company that has a good brand name in the global market. The sound and build quality of wireless headphones is the reason people love Skullcandy.
Skullcandy Hesh is the most comfortable wireless headphone under 5000. Its soft cushions give full comfort to years so you can wear them for a long time period.
The design of Skullcandy Hesh wireless headphones gives you a premium feel. It is available in two color options Black and silver.
Due to its minimal attractive design, which is fashionable in appearance, you can easily wear it in public places as well.
It does not look like a budget wireless headphone at all. High-quality material has been used while building Skullcandy Hesh so that it gives a soft feel to the ears after wearing it.
Buttons are given on both sides. It has a dedicated button for sound control, which increases or decreases the sound volume. Where other wireless headphones require a double press or long press to control the sound, Skullcandy Hesh requires a single press to control volume.
On the other side Bluetooth on/off button, so when headphones are not in use then turn off it to save battery. A 15-hour long battery backup is enough for full-day enjoyment.
The headband of Skullcandy wireless comfortable headphones under 5000 is adjustable for different head sizes. The sound quality is great and you won't feel any lag while watching movies or playing games.
What we like – about this noise cancellation wireless headphone is its 40 mm driver which generates powerful sound because of which you will experience a theatre-like sound while watching a movie.
Pros
Earcups cover the whole ear
Comfortable for long-wearing
Bluetooth connectivity is fast
Good bass sound
No sound lag
3. Boat Rockerz 450 Wireless Headphones Under 5000 Rupees
Specifications
Type – Over-ear
Color options – 3
Battery life – 15 hours
Weight – 200 grams
Built-in mic – Yes
boat rockerz 450 is a budget wireless headphone. It looks stylish and it is a lightweight headphone. High-quality material gives strength to its body.
All buttons are placed in the right place so you can access the button easily. Earcups of speakers can be swivel in different directions for comfort use. The Metal slider on the headband do all the adjustment easily.
To enjoy any movie or song bass is an essential thing in headphones, its 40 mm drivers deliver quality sound. You can hear all beats clearly and the vocals are clear.
Its 15 hours long battery life lets you enjoy music anywhere and anytime. The charging time for boat rockerz 450 is 2 hours. If you are a normal headphone user then its battery will work for almost a week for you.
Ear cushions are soft and give a comfortable feeling. In this price range, you won't find other good options for wireless noise-canceling headphones.
The sound is clear and clean so when you wear it for a long time you won't feel any pain in your ears. It is a travel-friendly headphone. Its foldable design makes it comfortable to carry it anywhere.
What we like – Instead of low price boat headphone has good sound and build quality.
Pros
Low price
Built-in mic for hands-free calling
Easy to access button control
Clear and quality sound
Lightweight headphone
4. Philips Wireless headphone Under 5k
Specifications
Type – Over-ear
Color options – 1
Built-in mic – yes
Battery life – 20 hours
Cooling ear cups
Weight – 170 grams
Look wise Philips TASH402BK wireless headphone is simple but quality-wise it is one of the best wireless headphones under 5k in India. Premium quality material is used to build the body of Philips TASH402BK headphones.
The foam on its earcup is soft so when its ear cups cover your ear you won't feel any pain. Watch long movies without pain issues.
Ear cups are filled with cooling gel and this feature you won't find in any other wireless headphones under 5000. It will keep your ear cool during long gaming sessions. Another good part about cushions is that they are washable, remove them from ear cups and wash them, and again put them.
It's 40 mm neodymium acoustic drivers are capable to delivers powerful sound. Its smart passive noise cancellation works perfectly and blocks all the surrounding noise.
Philips wireless headphone is lightweight and you can easily store them anywhere due to their small foldable design.
You can wear it during gym session because it has a sweat resistance design and its IPX4 technology keep it safe from water damage.
In hurry and don't have enough time to charge it. Charge it for 10 minutes and get 2 hours of playing time. No echo during call due to its echo cancellation mic.
What we like – It is built for long gaming sessions and also you can enjoy movies on it.
Pros
Good headphone for gaming
HD sound quality
Sweat resistance design
Good Active noise cancellation
40mm powerful drivers
Cons
Only a single color option is available
5. Oneplus Bullets Wireless Headphones Under 5000
Specifications
Type – In-ear
Color options – 4
Inbuilt mic – yes
Battery life – 17 hours
Google assistance enabled
Weight – 26 grams
When it comes to sound quality, OnePlus can beat many big brand names. OnePlus always try to give better quality wireless headphones on the budget like its mobile phones.
Its little size makes it different from other wireless headphones on the list of best wireless headphones under 5000. OnePlus uses aluminum material to construct headphones, and for this price range, this material is a perfect choice. Due to the small size, when you wear them, from far people are unable to know whether you are wearing headphones or not.
Magnetic feature is used to stick the earbuds in other headphones, but OnePlus went a step ahead in the use of the magnetic feature.
No need to touch the phone to turn off the music, nor do you have to press any button on the headphone, simply remove the earphone from the ears and when the earbuds are attached through the magnet, the song will stop automatically.
You can do more than listen to music with it. It supports google assistance so you can set a reminder for anything. Also, change the music track online with the google support assistance feature.
What we like – It offers an exceptional audio experience and in 10 minutes of charge, it works for 5 hours.
Pros
Powerful bass sound
A 10-minute charge gives 5 hours battery life
Easy to carry anywhere
No sound lag
Fast Bluetooth connectivity
Cons
No option to turn off noise cancellation
6. Crossbeats Pebble – Best Wireless headphones Under 5000
Specifications
Type – Earbuds
Color – 2
Battery life – 20 hours
Type c charging – Yes
Weight – 3.8 grams
Built-in mic – Yes
Crossbeats is a big name in the headphones market. When we talk about good-quality earbuds in the budget range, crossbeats never disappoint us. Crossbeats pebble is its best wireless headphones under 5000 range.
These earbuds will finish your search for good wireless headphones. Crossbeats always meet the expectations of its customers.
Crossbeats pebble earbuds do not disappoint you in terms of sound quality and when it comes to battery, without discharging, earbuds will allow you to enjoy music continuously for 20 hours.
Due to its soft cushioning, you can listen to songs continuously for a long time without giving pain to the ears.
Earbuds are available in 2 colors – Imperial jade and Charcoal black both color look stylish but we like its Imperial jade color which makes it different from crowds.
Crossbeats' sound quality has always been good, and we also get to see the same quality in these headphones. Improved graphene drivers with deep double bass effects have been used to further increase the effect of sound. Because of this, you can listen to every beat clearly.
It has both stereo and mono mode features, which you can change according to your convenience. Due to these modes, you can make phone calls without interruption. Its 40mm drives give you a pleasant, dynamic sound.
The best part about these earbuds is that they have IPX6 certification that means these headphones are water-resistant. Because of IPX6, you can wear them even while doing workouts and they will not deteriorate due to sweat.
Another good thing about crossbeats pebble earbuds is their charging time. It has a type c quick charger that charges earbuds in 60 minutes for 20 hours of performance.
What we like – IPX6 water resistance technology with 20 hours of long-lasting performance.
Pros
Fast charging support
IPX6 water resistance
Enhanced bass technology
Dual microphone for better calling
Secure fit inside ears
Check also –
7. Sennheiser HD 250BT – Best Wireless Headphones in India Under 5000
Specifications
Type – Over-ear
Color Options – 1
Battery life – 25 hours
Weight – 200 grams
2-year warranty
Built-in mic – Yes
If you are a sports person, then Sennheiser wireless headphone is a great choice for you. It fit perfectly in the ears, after that no matter how much your body moves, the headphones do not move from their place.
Quality sound, lightweight, perfect fitting, water resistance, eye-catchy design are some great features of Sennheiser headphones, and all these features are enough to make it our runner-up in the list of best wireless headphones under 5000 in India.
Sennheiser HD 250BT wireless headphone is not just for Sportsman, you can also use it to listen to music and gaming. Due to its superb sound quality, any movement of the enemy in gaming is heard in clear sound without any delay.
Detailed and dynamic sound is the main feature of Sennheiser's wireless headphones.
For a wireless connection, headphones use Bluetooth 5.0 technology and NFC technology. Voice notification works perfectly for pairing status and low battery.
For easy use, it has 3 buttons that you can use to turn on or off the music, receive and cut the call, and on or off headphones. The quality of the buttons is high, which works for a long time without any problem.
Due to its design, even after wearing it for a long time, there is no pain in the ears.
It supports the aptX codec feature. aptX codec works perfectly and removes the latency of sound. For better control, it has a smart app feature. You can set various equalizers for it through its mobile app.
Its ergonomically and robust design comes with different options of earpads according to ear size for the glitch-free audio experience. In a single full charge of 2 hours, it works continuously for 25 hours without any break.
What we like – Superior audio with AAC and SBC codec support.
Pros
Dynamic bass feature
aptX low latency feature
Smart app to control equalizer
Bluetooth 5.0 technology
2-year warranty
Cons
The design could be better
Read also – Gaming chair under 10000 RS
8. SONY Wireless Headphones Under 5000
Specifications
Type – On-ear
Color – Black
Battery life – 35 hours
NFC connectivity – Yes
Built-in mic – Yes
Sony's name has always been famous for making musical instruments. If you have ever used a Sony headphone or speaker before, then you will know about its immersive sound quality.
Sony has earned a name in the music industry with its hard work. It has all types of headphones collection from low range to high range, whatever your need is sony has headphones for it and sony wireless headphones under 5000 are part of its wide headphone range.
SONY WH-CH510 wireless headphone is a great combination of design and performance. In this lightweight design wireless headphone, Sony claims 35 hours battery life which is highest in the list of the noise-canceling best wireless headphones under 5000 rs.
Sony has not done much experimentation in the design of this on-ear wireless headphone and has kept it as simple as possible. If you are looking for stylish wireless headphones then this is not for you. Bluetooth works properly if you are far from the connected devices even you get a clear sound without any lag.
Buttons are placed on one side so sometimes it may be difficult to operate them. The built-in mic works great for calls. It has a 30 mm sound driver that is capable to give competition to other big sound driver headphones on the list.
Besides the button, sony wireless headphones under 5000 work on voice command also so when you are busy no need to touch the button to attend the call. NFC connectivity option is also available. The soft cushion is used to build ear pads for headphones.
What we like – Its 35 hours long battery life helps you to enjoy your traveling without worry of battery drain.
Pros
Swivel ear cup design
Long battery life
Voice assistance command feature
Quick charging
Compact and Lightweight design
Cons
Sometimes Bluetooth gets disconnected automatically
Check also –
9. Realme Wireless Headphones Under 5000
Specifications
Type – Earbuds
Color options – 3
Battery life – 12 hours
Inbuilt mic with Google Assistants support
Magnetic Fast Pair
Weight – 31.8 grams
When it comes to quality, the name of realme comes into most people's minds. Due to its budget price, a good image of the company has been created between the customers.
These wireless earbuds are the most selling product of the realme headphone category in India.
The company has used premium metal to make earbud's bodies.  Skin-friendly Silica has been used when making headphones to avoid any pressure on the ear when you wear them for a long time period.
Dual-color tones have been used to make it stand out from the crowd. Its ergonomic design makes it lightweight and comfortable in use. Magnetic fast pairing technique is used in this earbud so when you need to use it, it gets separated easily.
In realme earbuds, you get an inline remote that has three different buttons to control music, calls, and voice command. By voice command, Google voice assistant can be controlled.
11.2 mm bass boost driver is enough to create powerful bass with Japan Daikoku technology. A lithium-ion battery gives 12 hours of listening time. For wireless headphones under 5000, this battery life is common.
What we like – The song is played through Bluetooth, but the sound quality is like wired headphones.
Pros
Well placed button on the neckband
12 hours long battery life
Seamless connectivity
light and comfortable to wear
Premium feel
10. Fire-Boltt Blast 1400 Over-Ear Wireless Headphones
Specifications
Type – Over-ear
Color options – 3
Battery life – 25 hours
90dB sound with 40mm driver
Inbuilt mic – Yes
Weight – 390 grams
Fire boltt blast 1400 is an all-rounder wireless headphone. It has dual options wired and wireless. It comes with an Aux cable so you can choose how you want to use these headphones. The black color gives a stunning look to headphones.
In the first look, you may feel that headphone is heavy to wear but this is not true once you pick up these over-ear wireless headphone in you get to know how lightweight it is. This product is an affordable wireless headphone from a fire boltt for budget users.
They don't need to do so much advertising for it because its quality speaks.
Fire boltt 1400 is one of the best picks for noise cancellation wireless headphones under 5000 in India.
When it comes to building quality and design, this wireless headphone is second to none. Despite the strong body due to the premium material, it is lightweight. The headband has a cushion that gives a comfortable feel to the head and is also adjustable.
Soft memory foam cushions adapt to the shape of your ears and give a smooth feel while using them. Its cushion headband is many times more comfortable than an aluminum band. Due to its good craft design, the ear enjoys excellent music with comfort.
The 40mm speakers produce 90 DB powerful, crisp, and thumping bass sound. When we tested music, we find active noise canceling works perfectly.
Without any noise distortions, its inner and outer ring produces vivacious highs, vivid midst, and vibrant bass.
Very few wireless headphones under 5000 have the dual option of wired and wireless headphones in the same piece.
For wireless connectivity, it uses Bluetooth 5.0 technology that is fast from Bluetooth 4.0. Bluetooth 5.0 gives a crisp and clear sound.
For a wireless headphone, battery backup is important and fire boltt blast 1400 has a 430mAh battery that gives 25 hours of long-lasting performance while traveling, and also its foldable design helps to keep it in a small place.
What we like – It has Siri voice assistance that can be enabled by long-pressing the power on/off button for 3 seconds.
Pros
Premium build quality
Punchy bass sound
Siri voice assistance
Active noise cancellation
Bluetooth 5.0 technology
Cons
Can't wear for long sessions due to heavyweight
11. Boat Rockerz 370 (Wired And Wireless Headphone)
Specifications
Type – On-ear headphone
Color Options – 3
Battery life – 8 hours
Weight – 170 grams
ergonomically and aesthetically designed
Inbuilt mic – yes
The boat is an India-based music instrument company that was founded in 2016. In a few years, the company has created a good image in the mind of the people with impressive audio quality in low-budget headphones.
This over-ear wireless headphone has dual-tone color options. A combination of black and gregarious green color makes the boat rockerz a unique product in this list. Its minimal design makes the color more attractive.
Due to its padded earcups, the ears don't feel any hard thing on them, and it covers the ear completely so that you can enjoy the sound completely without any external disturbance.
This is the cheapest headphone in a list of best wireless headphones under 5000. If you see its price range, then its plastic body is perfect for this range.
40mm drivers help to listen to bass and treble of music clearly.
Overall Boat rockerz 370 budget headphone is a perfect choice if you can't spend money on big brands of headphones and want a good-looking headphone with immersive sound quality in the budget.
What we like – The headphone has been ergonomically and aesthetically designed for a seamless experience.
Pros
Quick Bluetooth connectivity
Cozy padded earcups
Foldable design
Lightweight headphone
Cons
Battery life is not enough for heavy users
12. Samsung U flex Wireless Headphones With Mic Under 5000
Specifications
Type – In-ear wireless headphone
Color – Black, White, Blue
Battery life – Not available
flexible neckband
weight – 399 grams
Built-in mic – yes
Samsung is a well-known brand in the electronics industry. As much as Samsung is famous for its mobiles, it is also famous for good quality wireless headphones.
If you are searching for a wireless headphone that has good battery life with the finest sound and a good brand image, then we recommend you Samsung u flex headphones.
These wireless headphones are a good choice for workouts enthusiastic because other headphones go off the ear during workouts, but there is no such problem with these wireless headphones with mic under 5000. Once fitted in the ear, it will not come out of the moving body.
A neckband is given to keep the headphones comfortably fit around the neck. This band is flexible so that you do not have any problem getting out of the neck.
The earphone uses a magnet so that when you are not using it and it is hanging around the neck, the earphone gets stuck due to the magnet and does not move at work time.
For color lovers, it has 3 different color options blue, black and white.
What we like – It has a feature button which you can use to record the voice of calling, check s voice and s health feature of Samsung.
Pros
Clear sound
Build quality is good
Bass is deep
Cons
Calling is not clear
Heavyweight
What Are Pros And Cons of Wireless Headphones
Pros
The best advantage of wireless headphones is that there is no issue with tangled wires so you can use them freely.
Due to no wire, they are easy to carry anywhere. they take less space in the bag or you can carry them around your neck.
Nowadays some headphones are coming without a headphone jack, so a wireless headphone is a good option for them.
Unlike wired headphones, you don't need to keep a mobile phone with you to listen to music through wireless headphones.
The sound quality of wireless headphones is good. The clear and crisp sound you get from wireless headphones.
The weight of wireless headphones is not high so you can carry them easily.
Cons
Without battery they are not useful, so you need to keep them charge for anytime.
What Are Pros And Cons of Wired Headphones?
Pros
Wired headphones are an easy-to-use device. Just plug its wire into the mobile phone and they are ready to use.
Wired headphones price is not high. In every price range, you get wired headphones. its price starts from 100 rs.
There is no battery issue with wired headphones. You can listen to music on it for hours.
Cons
The biggest disadvantage of wireless headphones is tangled wired. Wires always get tangled and it wastes lots of time.
There is no wireless connectivity option available for wired headphones so you need to keep your mobile phone with you every time when you listen to music through wired headphones.
Children, pets, in the house, easily damage the wire of headphones. Without wire headphone is useless.
Wired headphones are less stylish in comparison to wireless headphones.
Many times headphone jack in the mobile phone gets damaged due to the wrong insertion of the headphone pin.
Are Wireless Headphones Better Than Wired?
Yes, wireless headphones are better than wired headphones. It is totally worth buying wireless headphones.
Nowadays it is time for wireless headphones because it is easy to use them. They do not have wires, due to which there is always no need to keep the phone close.
There is a myth in people that the sound quality of wireless headphones is not good. There is nothing like this, its sound quality is equal to wired headphones, even in some big brands, wireless headphones have better sound than wired headphones.
In these, you do not always need to keep mobile with you. If the mobile battery is low, then keep it on a charge, you can listen to the songs while walking around the house.
FAQ About Wireless Headphones Under 5000 in India
Which is the Best Headphone Under 5000?
We have compared so many wireless headphones models. At last JBL E55T has come out as the winner of best headphones under 5000. Its 40 mm drivers deliver high bass sound with clear vocals. The best thing about JBL wireless headphone is that it is lightweight so when you wear it, you won't feel any weight on your head and ears.
Which are the Best Budget Wireless Headphones?
Not all people can afford expensive headphones. If you want a budget wireless headphone with quality sound then go with Boat rockerz 450 wireless headphones.
Its affordable price is on the budget of many people. The sound quality of Boat rockerz is good but one disadvantage of it is that it is a little bit heavy so you can't wear it for a long time period.
Should You Buy Headphones or earbuds?
Headphones and earbuds both have different uses. Headphones are good to enjoy movies and games. With headphones, you get a better gaming experience.
earbuds are good to enjoy music. If you are a gym lover then earbuds are the perfect choice for you. Earbuds fit in properly so while gyming you can use them easily.
Can I Connect Wireless Headphones to Laptop?
Yes, you can connect wireless headphones to the laptop. All those devices that have Bluetooth or WIFI connectivity options can be connected to the wireless headphone. On the laptop open the Bluetooth setting and find your headphone Bluetooth name and click on it to connect both devices.
Where Can I Buy Cheap Wireless Headphones?
Nowadays the price of wireless headphones is not high. On online e-commerce stores, you will get headphones in your price range. In our list of best wireless headphones, the price of all headphones is within the budget.
Conclusion
So, we have reviewed the 10 best wireless headphones under 5000 rs in India.
After reading this you may have selected the best wireless headphone for you. Still, you are confused to choose headphones then we recommend you go with JBL Tune 700BT wireless headphones. It's the perfect choice for headphones under 5000 with wireless and noise-canceling options.
Tell us in the comment section which headphones you like most. If you want other headphones to review mention that headphone name in the comment we will love to do a review for you. Share with your friends who need new wireless headphones.