Finding the best true wireless earbuds under 3000 can be challenging. There are so many different options available in this price range that are enough to confuse anyone.
Whatever is your requirement for earbuds, you would definitely get the right earbuds for you from the list. Every earbud has minuses and plusses which we have added with every earbud for better understanding.
With good battery life and portability of carrying anywhere, truly wireless earbuds are becoming the first choice for many people. These earbuds can be operated through voice commands or touch controls. Wireless earbuds come with 20-25 hours of battery life.
We have rounded up earbuds under 3000 with good sound quality so you get a pair that suits your music taste. All these earbuds have portable charging cases that easily can be carried into pockets. Touch control with a physical button makes use of earbuds easy.
Our Top 3 Recommendations
Runner Up
Noise Shots Neo 2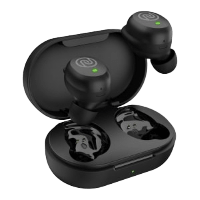 Our Top Pick
OnePlus Buds Z
Budget Option
Crossbeats Urban Buds
Benefits of Choosing True Wireless Earbuds
Compact Size
The first benefit of true wireless earbuds is their compact size. The small size makes TWS portable to carry with you. Whether you can carry them in a handbag or in your pocket.
Anywhere Use
True wireless earbuds can be used for more activities in comparison to wired headphones. Like in GYM wired earphones are not a good option because their wires get caught in the gym equipment.
Tangled Free Use
As the name indicates that these earbuds don't have any wires so you don't need to think about hassling wires. It removes tether from your phone so you get a truly wireless experience. While running or doing a workout session, you can easily use these earbuds without worrying about tangled wires.
Water and Dust Free
Many truly wireless earbuds are built with water and dust resistance features so it becomes easy to use them in any condition. Use these earbuds at the gym, swimming pool, hiking, or during any other activity, it will work perfectly without any issue.
Powerful Sound Quality
Sound quality is the main concern for TWS earbuds but now sound in wireless earbuds is more robust than ever. Without any sound delay, listen to quality sound through it. Nowadays in the price range of 3000, you get quality sound in the truly wireless AirPods.
Freedom To Do Other Works
With wireless earbuds, you get the freedom to talk and walk. Wearing these earbuds, you can do all your work easily. It comes with a voice assistant feature so no need to touch it, just your voice will do all work.
How I Picked Best True Wireless Earbuds Under 3000?
Many people are looking for the best true wireless earbuds under 3000 but they can't find the right pair. They want earbuds with top-quality sound at an affordable price range.
"What things I have considered while picking these earbuds for you?"
While picking these wireless earbuds my main focus was on the sound quality and battery life. Other extra features I looked into them are noise-cancellation, Bluetooth connectivity, quick charging, portable charging case, and voice control option.
After checking all these points, I have prepared this list for you. All people have different choices so, in the 3000 price range, I have tried to cover different models. I paid close attention to all the models.
I have picked 30 different models and after comparing them picked these top 10 truly wireless earbuds under 3000. Whether you want to do it to the gym, call, or listen to music, you will definitely get a perfect pair for you on the list.
Check also – Best TWS Earbuds Under 5000
Best Wireless Earbuds Under 3000 Comparison Chart
10 Best True Wireless Earbuds Under 3000 Review
1. OnePlus Buds Z – Best True Wireless Earbuds Under 3000
Specifications
Color Options – 2
Earbud Battery – 5 Hours
Charging Case Battery – 15 Hours
Weight – 4.3 Grams
Water Resistant – Yes
Low Latency Mode For Gaming – Yes
Special Feature – 10 minutes charge gives 3 hours of battery life
OnePlus buds Z impress us most among all the earbuds we tested. Not only do these earbuds produce sound quality sound with good bass and vocals but also, they are comfy to wear during a long travel journey.
Even during the high-impact workout or running, these earbuds never budged.
Crowdy coffee shops or noisy bus journeys are no more irritating and listen to music without any disturbance because of the OnePlus buds Z noise reduction feature. These earbuds make the noisy environment much quieter and more favorable to listen to music at any place.
The neat and tidy design of earbuds gives a premium feel to them.
Overall sound quality is impressive and its dynamic 3D stereo audio with Dolby atoms provides premium sound. Its panoramic sound fidelity uses the latest Dirac audio tuner that makes your listening experience much more pleasurable.
For calling, it comes with dual-mic noise cancellation. Its noise cancellation is as good as any over-ear headphones. In public places during calls, it cancels out crowd noises.
With 10 mm drivers, it delivers outstanding sound quality. Its stellar battery life with 20 hours of playback gives all-day support. Its 10 minutes charge gives 180 minutes of playback support.
Intelligent touch controls and smart wear detection are other interesting features of it.
Smart wear detection turns on and off earbuds when you wear them. Intelligent touch control changes volume level, attends to and rejects calls, and activates noise cancellation. Touch controls are well-implemented.
It comes with different sizes of ear cups that form a comfortable and snug fit around the ears. It is built with IPX5 water-resistant technology.
OnePlus buds Z is a complete package with a stylish charging case and long battery life makes them up to snuff for nearly any other earbuds under 3000.
Pros
Water, sweat, and dust resistance
Dynamic 3D stereo sound with Dolby atoms
Quick charge supports
Hydrophobic nano-coating
Noise reduction feature
Support Google assistant
Clear call through dual microphone
Ultra-low latency mode for gamers
2. Noise Shots Neo 2 AirPods Under 3000
Specifications
Color Options – 4
Earbud Battery – 5 Hours
Charging Case Battery – 15 Hours
Weight – 4.1 Grams
Water Resistant – Yes
Low Latency Mode For Gaming – Yes
Noise shots neo 2 earbuds are a great way to lose yourself while listening to the music. These earbuds are designed to provide the topmost comfort and convenience.
Noise is a rising star in the earbuds industry. Noise is killing this market with its budget-friendly earbuds. From lowest bass to highest notes it can play anything.
Not only for listening to music these earbuds are also good for gaming. Tripple tap on any earbud would activate the gaming mode. Play PUBG and other games on it without any latency issues.
Hassle-free Bluetooth connection connects it easily with any device. Along with enjoying music on it, you can easily answer any call.
Are you a GYM freak and want to use earbuds during workouts? Noise shots neo 2 are a good companion in the GYM. Its IPX4 rating offers protection from dust and water.
Apart from black, it has 3 more color options Amber orange, Cobalt blue, and Lime green.
Don't want to use both earbuds at the same time, no issue, use earbuds separately. Separate use also saves battery. This feature is good when an earbud has a low battery and you want to use it for a long time period.
Noise shots neo 2 true wireless earbuds have 20 hours of combined battery life of earbuds (5 hours) and charging case (15 hours). Good thing is that it takes only 2 hours to get fully charged.
Like other true wireless earbuds under 3000, noise shots have also touch control on earbuds. Voice assistants feature to control music and call without using a hand.
Pros
4 youth-oriented funky colors
Ergonomically designed with fin tips
Hyper synchronized sound
Gaming mode for low latency
Passive noise canceling is good
Cons
The design could be better
3. Crossbeats Urban Budget True Wireless Earbuds in India
Specifications
Color Options – 2
Earbud Battery – 5 Hours
Charging Case Battery – 19 Hours
Weight – 3.7 Grams
Water Resistant – Yes
Low Latency Mode For Gaming – Yes
Budget buyers don't need to look any further. These earbuds are a good combination of superb performance with a budget price.
These earbuds are available at a significantly lower price. Despite the lower price, these earbuds have remarkably immersive sound with a comfy fit design.
Crossbeats has built a good reputation for comfortable earbuds at a low price. Its sound quality is good, especially the bass segment.
Crossbeats earbuds are ideal for every type of use, especially for those people who need to attend a number of calls in a day. Its microphone quality is exceptional.
Its rival earbuds in the list offer the same features at a high price range due to their brand name. Crossbeats is a less known company but its wireless earbuds quality is superb.
While testing its sound feature, we were impressed by its robust sound with high bass power, clear vocal, and richness of sound.
Crossbeats earbuds are a value for money product. Its slim size securely fits into your helmet.
It is just 3.7 grams in weight so you can imagine how comfortable they are to wear. It is small in size but its powerful performance is no less than any other true wireless earbuds on the list.
Crossbeats urban true wireless earbuds work with both Google and Siri voice assistants.
Durability is a must for wireless earbuds and Crossbeats earbuds have sturdy and durable bodies. It is awarded by IPX6 waterproof technology. You can go into the pool or burn your calories in the gym while wearing these earbuds.
The sound quality of Crossbeats AirPods is fairly accurate. To give breath-taking sound it has enhanced audio drivers. It produces thumping bass effects at high notes, Low notes are crystal clear and you feel as if it is playing inside your head.
Passive noise cancellation technology gives a better experience of calling at a crowded place.
Long battery life is essential in this modern era. Crossbeats TWS earbuds have 24 hours long battery life. It takes more than 3 hours to fully charge earbuds which should be less. 24 hours of battery life gives a non-stop listening experience during traveling.
Crossbeats TWS earbuds come with customizable ear tips. So, you can choose the right ear tip for you for comfortable wearing. LED lights on the charging box show battery status. It also works on Bluetooth 5.0 and instantly pairs with other devices.
Pros
Exceptional build quality
Passive noise reduction feature
Low price range
Full-day battery life
IPX6 water-resistant technology
Stylish and ergonomic design
Google and Siri voice assistants supported
Cons
Charging case quality could be better
4. Boat Airdopes 441 Pro Wireless Earbuds Under 3000
Specifications
Color Options – 14
Earbud Battery – 5 Hours
Charging Case Battery – 150 Hours
Weight – 4.2 Grams
Water Resistant – Yes
Special Feature – 100% charge in only 1.5 hours
Boat Airdopes 441 pro earbuds have marathon battery life. With a charging case, these earbuds play music for 150 hours. With excellent battery life, it has also excellent sound quality.
Earbuds have 5 hours of battery life and take only 1.5 hours due to their type-c charging port. Each earbud has a separate mic but without a noise cancellation feature so for calling purposes, this is not a good option to pick.
These earbuds are specially designed to meet the need of music lovers. Its sports-centric, secure-fit ear hooks have best-fit criteria for ears. Its coaxial acoustic design securely fits inside ears.
Its twist and lock feature keeps TWS earbuds in the same position during running. Each TWS earbud has 6mm drivers which deliver decent sound.
Boat Airdopes 441 pro true wireless earbuds come with the latest waterproof technology. These earbuds work on the IPX7 water-resistant feature. So, you can easily use it at the gym or in the pool. Due to sweat, these Bluetooth earbuds won't fall from the ears.
Its additional earmuffs are a good option for those families in which the same earbuds are being used by many people. Sports friendly design gives sporty look to earbuds.
Boat Airdopes 441 pro has 14 different unique colors. From funky to decent, all verities of color you get. Its charging case has a 2600mAh battery.
The good thing about these Boat true wireless earbuds is that it has an insta wake and pair feature. As soon as the charging case is opened, earbuds wake up and are paired with the connected device so you don't have to wait to connect it.
Its advanced capacitive touch controls are easily enabled with a single touch. Boat Airdopes support stereo sound features. Its CTC button is sensitive so you need to get used to it. Charing case is not big and easily fits in your palm. Boat Airdopes is overall a good earbud for people who are searching best true wireless earbuds under 3000.
Pros
Unique coaxial design for a secure fit
IPX7 waterproof material
150 hours long battery life with charging case
14 Unique funky colors
Insta wake and pair technology
Instant voice assistance
Cons
No noise cancellation feature
5. Philips Upbeat Best TWS Earbuds Under 3000
Specifications
Color Options – 2
Earbud Battery – 6 Hours
Charging Case Battery – 12 Hours
Weight – 4.5 Grams
Water Resistant – Yes
Noise cancellation – Yes
Philips upbeat TWS earbuds have an ergonomic design that easily fits the inner curves of the ears. Soft silicone ear tips enhanced the comfort and stability of earbuds. Under 3000 Rs Philips, upbeat earbuds come with lots of attractive features.
For calling Philips upbeat wireless earbuds are definitely a good pick. For calling, it uses noise and echo cancellation features so without annoying echo sound talk with anyone.
Due to echo cancellation, you always get a clear and undisturbed connection.
Philips upbeat works on Bluetooth 5.0 for efficient and fast transferring of data. It provides a stable connection and works perfectly fine up to the 10m range. The smart and east pairing of Bluetooth with phones is another good feature.
Unlike AirPods, Philips's upbeat true wireless earbuds are small in size. its compact design fits easily inside the ear and you forget that they are even in the ear due to its lightweight.
Philips upbeat TWS wireless earbuds work on mono mode. This mode is useful when you want to use only a single earbud. You can use the right earbud and keep the left earbud in the charging case to use mono mode.
A smart touch button on this Bluetooth earbud allows you quickly do multiple tasks with the earbud. By touch, you can change music, attend calls, skip songs, and activate noise cancellation.
Philips upbeat TWS earbuds deliver HI-FI punchy bass sound. It comes with 6mm neodymium drivers to give a good sound experience.
Philips upbeat TWS Bluetooth earbuds have 12 hours of battery life. On a single charge, earbuds play music for 3 hours or give a talk time of 2.5 hours. From the charging case, you get additional 9 hours of playback time.
At an affordable cost, Philips's upbeat impresses everyone with its punch bass performance and makes it a good competitor for others on the list.
Double press on the earbud to activate Google voice assistant or Siri. By voice assistant play music, make calls, send messages, and much more.
Pros
Noise and echo cancellation feature
IPX4 water-resistant
Ergonomic design for a secure fit
Touch controls on earbuds
Punchy bass sound
Mono play mode
Cons
No option to turn off noise cancellation
Check also –
6. Oppo Enco W11 True Wireless Earbuds For Running
Specifications
Color Options – 1
Earbud Battery – 5 Hours
Charging Case Battery – 15 Hours
Weight – 4 Grams
Water Resistant – Yes
Ai powered noise reduction
Here are the true wireless earbuds under 3000 from Oppo. Oppo wireless earbud is an ideal balance between price and features.
Its first impressive feature is its AI-powered noise reduction technology. This is a highly efficient AI algorithm to keep calls crystal clear in noisy conditions.
It comes with Oppo signature sound that gives clarity in sound and an enhanced audio experience.
Oppo enco W11 true wireless earbuds definitely impress those people who love the punchy bass sound. To get true bass sound, fit earbuds tightly inside your ears.
With Oppo enco W11 TWS earbuds, you get 3 extra silicone ear tips that you can use according to your ear size.
LED light on each earbud show battery status. Aesthetically, Oppo Enco W11 true wireless earbuds look stylish and comfortable in the fitting.
It is available in gorgeous white color. The charging case looks stylish and easily fits into the hand. Oppo Enco W11 is a modern and sleek-looking Bluetooth earbud.
Play music on it for a full day thanks to its 20 hours long battery life with a charging case. This 20-hour included 5 hours of earbuds and 15 hours of a charging case.
Oppo Ecno W11 is able to use during running or GYM because it is water and dust resistant. It comes with IP55 dust and water-resistant certificate which is not the latest but works well. Each earbud is 4.4 grams in weight.
Pairing is not difficult in Oppo Enco W11. Once you pair it with your mobile phone, the next time you open the case it will automatically connect with your mobile phone. Stable Bluetooth 5.0 connectivity is good for a secure connection.
Its intelligence touch control offers all the playback and calling functions. The touch sensor is good so with little touch it wakes up. The sound is awesome on Oppo Enco W11 and mids and highs are clearly audible.
Pros
Ergonomic design with wearing stability
Premium feel in budget price
Durable body with a stylish look
AI Noise cancellation feature
Dust and waterproof
Vocals are clear
Cons
Bass is not much impressive
7. Realme Buds Air Neo Truly Wireless Earbuds Under 3000
Specifications
Color Options – 2
Earbud Battery – 2.5 hours
Charging Case Battery – 17 Hours
Weight – 4.1 Grams
Water Resistant – Yes
Low Latency Mode For Gaming – Yes
Special Feature – realme link app
Realme buds air neo is available in 2 stylish colors white and red. These earbuds are equipped with R1 true wireless chip that comes with Bluetooth 5.0. Its dual-channel transmission technology provides a fast, stable, and powerful Bluetooth connectivity with your phone.
Realme buds air neo true wireless earbuds should be on your bucket list. From design to audio, everything is perfect. Like phones, Realme is also making good-quality earbuds. From normal use to the workout, you can use it anywhere.
These earbuds stayed put inside their ears during jumps or squats at the gym.
Realme has used 13mm bass boost drivers. It provides incredible sound quality. High-quality Titanium and flexible polyurethane are used. It produces a deep and powerful bass sound with a sharp treble range.
Realme earbuds easily fit into your ears and their noise-canceling feature prevents outside noise from seeping inside.
Want to play games, don't worry Realme true wireless earbuds won't disappoint you while gaming. Its super-low latency mode reduces latency by 51% in comparison to other earbuds. Incoming sound is perfectly synchronized with video for gaming and movie. It works as the best gaming headphones for mobile.
Realme buds air neo has an instant auto connect feature. As you open its case, earbuds quickly connect with the phone. The first time, with a single tap phone, is paired easily with earbuds. It is pairable with all Bluetooth-enabled devices.
Incredible touch controls do their work perfectly. Double-tap on earbuds to answer calls or play/pause music. To cut the call press and hold one earbud. Triple tap will play the next song. Long press both sides to activate super low latency mode.
The battery is the main concern for some people when they buy truly wireless earbuds. Thanks to 17 hours of long battery life with a charging case, Realme buds air neo provides a whole day battery backup. Its fast charging takes only 2 hours to fully charge AirPods.
Buds are only 4.1 grams in weight so without pain in the ear, you can wear them for a long time.
Other features in Realme earbuds are a one-touch Google assistant, a Realme link app to manage and customize buds. All these cool features make Realme buds air neo our runner-up on the list.
Pros
13mm Powerful drivers
Super low latency mode
Excellent built quality
Good call quality
Support Google assistant
Incredible long battery life
Realme link app for sound customization
Cons
Not support Siri voice assistant
8. Mivi DuoPods M80 Truly Wireless Earbuds Under 3000 Rs
Specifications
Color Options – 3
Earbud Battery – 6 HOurs
Charging Case Battery – 24 Hours
Weight – 5 Grams
Water Resistant – Yes
Low Latency Mode For Gaming – Yes
If you don't want to invest a high amount on earbuds and still want Apple AirPods like earbuds then Mivi DuoPods M80 is a good choice. It has lots of advanced features like a charging case that shows battery status through LED indicators.
A mixture of bass and treble is good but you can't customize the setting according to your requirements. Ear tips size is a good and perfect fit inside ears. For different ears, it comes with extra ear tips.
Mivi DuoPods M80 has HI-FI stereo sound, which is perfect at this price range. Don't expect a powerful bass from it. The bass is good and vocals are clear so the music experience in Mivi true wireless earbuds is good.
I was amazed at its long battery life. At this low-price range, I was not expecting a long battery. Mivi DuoPods M80 has 30 hours of battery life. After a full charge, earbuds keep playing music for 6 hours, and the charging case will give extra 24 hours of backup.
Mivi DuoPods M80 true wireless earbuds are your best travel companion due to their long battery life.
To connect wireless Bluetooth earbuds to the phone, just open the charging case and it will automatically get connected to the phone. This is not water-resistant but it splashes proof so you can use it in the GYM but not in the pool.
Its super-low latency gaming mode reduces sound latency in the game. Mivi DuoPods M80 has the monopod capability to use a single bud. From look Mivi DuoPods M80 it doesn't look like a cheap earbud.
Mivi DuoPods M80 has an inbuilt MEMS mic to do crystal clear calls. These earbuds support the voice assistant feature and with the mere pressing button on the earbud, you can trigger its voice assistant.
Pros
Easy connectivity
Single bud can be used
Premium look in the budget
MSME mic for calling
Slim charging case with durable body
9. Boult Audio AirBass Tru5ive Pro True Wireless Earbuds
Specifications
Color Options – 1
Earbud Battery – 6 Hours
Charging Case Battery – 30 Hours
Weight – 12 Grams
Water Resistant – Yes
Passive Noise Cancellation – Yes
Are you looking for truly wireless earbuds for office use? In-office people do lots of calls so they need a clear call experience. Boult Audio AirBass offers a crystal clear call experience. Boult has given its 100% to offer the best calling experience in earbuds under 3000.
Boult audio AirBass works on passive noise cancellation. These earbuds block most of the surrounding noise around you. While walking on the street, you can easily talk with other people on the call.
The best thing about Boult Audio AirBass true wireless earbuds is that it has an IPX7 water-resistant feature so you can use them while swimming for 30 minutes. All these are possible through its inner nano-coating.
These earbuds are ideal for the GYM. If it looks dirty, you can wash it.
Boult Audio AirBass produces powerful and punchy low-end sound. Its extra bass features bum bass into the head. Boult Audio AirBass is a meticulously audio-engineered device. Its 6m drivers have the capability to produce 3D acoustics sound.
There is no issue with fitting with these truly wireless earbuds. Boult Audio AirBass has a back strap that securely fits these earbuds inside ears. Do any sports activity while wearing these earbuds, earbuds won't come out a little bit.
Bluetooth 5.0 gives seamless connectivity so during music and calls no interruption of connectivity.
One button controls all functions of the earbud. No hassle to connect it again to the same device. Auto connectivity feature, connect it automatically to the previously paired device. Multi-function button on Boult Audio AirBass activates voice assistant for earbuds.
Pros
The supreme noise cancellation feature
IPX7 water-resistant feature
Securely fit into ears
One-step pairing
3D acoustics sound
Cons
No latency mode for gaming
Doesn't look stylish
10. Noise Air Buds
Specifications
Color Options – 2
Earbud Battery – 4 hours
Charging Case Battery – 16 Hours
Weight – 6 Grams
Water Resistant – Yes
Low Latency Mode For Gaming – No
Another noise true wireless earbud in the list. This is a cheaper option than the previous one. These Noise TWS earbuds have 13mm drivers which are good to give a thumping bass experience.
A bad thing about Noise air buds is that it doesn't have any noise cancellation feature. Noise claims that earbuds provide distortion-free sound during calls but this is not true. Users have mentioned in their reviews that in crowded places sound on call is not audible.
These noise earbuds' size is not big so they fit comfortably inside their ears. Noise air buds have adjustable ear tips for different ear sizes. Its anti-fallout design keeps earbuds in a secure place so you can run while wearing them.
These noise earbuds are rated with IPX4 technology so it means they are resistant to sweat but not to water. So, you can use it during the workout but not for swimming.
Noise air buds support full touch control. No need to press the button hard on the earbud for music and volume control.
Noise true wireless earbuds support fast charging and easily charge through a type c charging port. These earbuds are just 4.5 grams in weight so they feel like feathers inside ears.
No connectivity issue, Bluetooth 5.0 works perfectly. Open the lid and earbuds will be connected automatically.
The sound quality is ok, but not much impressive. Bass is not powerful as other best true wireless earbuds under 3000. The Treble and vocals are clear. Another disadvantage of it is that it doesn't have any gaming mode, so you feel sound latency in gaming.
Pros
The sweat-resistant feature is available
Touch controls feature
Voice assistant support
Lightweight design
The glossy finish gives a premium look to it
Cons
No noise cancellation support
Bass is not powerful
No gaming mode
Buying Guide To Choose Best True Wireless Earbuds Under 3000
When buying the best true wireless earbuds, you need to check several factors of earbuds that can impact their performance of the earbuds. In this buying guide, we have mentioned those important factors which you need to see while buying earbuds.
Style and Comfort
Truly wireless earbuds are small in size so they fit comfortably in your ear. Good thing is that it comes with different ear cups so, you can change ear cups according to your ear size. Some earbuds look like Apple AirPods. Stylish earbuds make a good impression on other people.
Audio Quality
This is the most important feature anyone wants in their earbuds. Most people forgot to check sound quality while buying earbuds. They get busy with checking color, battery life, design, and other features and forget to check audio quality.
People buy true wireless earbuds to enjoy music or talk on the call but the low audio quality of wireless earbuds can ruin your whole experience. Why does anyone wants to waste money on those AirPods which are not worthy to give quality sound?
In our list, all earbuds have good sound quality. You can easily listen to every beat of the song. Balance of bass and treble in earbuds is essential. A pleasant sound experience makes your music listening experience incredibly pleasurable.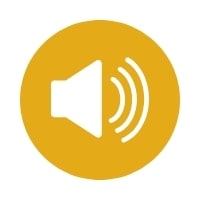 Connectivity Range
For Bluetooth normal connectivity range is up to 10 meters. Some earbuds offer more than 10 meters of connectivity range which is a good option.
Noise Cancellation
Background noise creates disturbance when you enjoy music or talking with someone on the call. If you are at home background noise is not an issue for you but if you are traveling on a train or bus or sitting in any crowded place then the noise cancellation feature helps you.
For peaceful calling and listening to music without any disturbance pick wireless earbuds with noise-canceling features. The noise cancellation option blocks all the background noise around you and gives a true sound experience.
In-Line Mic
If you are buying true wireless earbuds for calling purposes then make sure it has an in-line mic feature. The in-line mic allows you to receive and make calls without any disturbance. With the noise cancellation feature, the in-line mic works perfectly.
Calling Function
Apart from music, earbuds are used for calling. Earbuds are small in size and fit inside the ear so when you speak on the call other voices also mix with your voice and come inside earbuds so other people on the call can't hear your voice clearly.
For a better calling experience, earbuds should have a noise-canceling feature. Noise cancellation clears all outside noise and gives a true calling experience. In our list, most earbuds have noise cancellation features.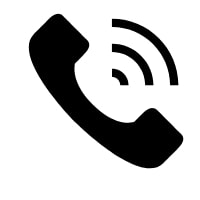 Water and Dust Resistance
The main benefit of true wireless earbuds is that you can carry them with you anywhere. Due to wireless earbuds portability, people carry them into GYM or in the pool.
Water and dust resistant features make sure that you can carry earbuds anywhere.
Some earbuds are sweatproof and some are waterproof. Waterproof earbuds can be taken inside the pool. Sweat-proof earbuds are good for working out. In some cheap earbuds, you may get an outdated sweat-proof design so it would be better to ignore them.
Battery Life
True wireless earbuds work on the battery. Requirements of battery life depend on your daily usages of earbuds. If you are a normal user then 3-4 hours battery life is enough for you. For heavy users, more than 12 hours of battery life is needed.
The good thing about truly wireless earbuds is that they come with a charging case so whenever their battery goes down, you can charge it through the case while traveling.
You should pick the best true wireless earbuds under 3000 with impeccable battery life. A long battery is always a good option. A short battery would ruin your traveling experience.
Charging Case
Very earbud comes with a charging case. The charging case is the main accessory for earbuds. Charging case keeps earbuds a safe place and also charge them.
Most earbuds have 4-5 hours of playback time but due to the charging case, their battery life increases 4-5 times. The charging case should be small in size so you can carry them into the pocket easily.
Warranty
The warranty assures the long life of the true wireless earbuds. In the warranty period, if you face any issue with wireless earbuds, the company will help you to resolve that issue. Warranty is a vital feature for any earbuds.
Under the warranty period, you can use the product without any worry. Good after-sales service makes customers happy. Most earbuds come with one-year warranty life. If you get more than one year then it is good for earbuds life.
These are all things I would check while buying the best true wireless earbuds under 3000 in India. Every people have their own requirements so their buying choice may be different. So in this buying guide, we have covered all the general points which everyone needs to check before buying true wireless earbuds.
Should I Buy Headphones or Earbuds?
Headphones and earbuds have their own use. Both are best at their place which should you pick. Let's see the difference between both of them.
Difference Between Headphones and Earbuds
Portability
Portability matters when you carry headphones or earbuds with you. If you need to carry headphones or earbuds with you every day then they should be lightweight.
In terms of portability, earbuds are more portable than headphones. Truly wireless earbuds are small in size and their charging case easily fits into your pocket. On the other side, headphones are big in size so you need a travel bag to carry them.
Audio
Audio is the main concern when people buy headphones or wireless earbuds. Audio quality depends on which headphone or earbud you are buying. Generally, people think that headphone has better audio quality but this is not 100% true.
Crisp, clear, and powerful bass audio everyone wants. According to the model, audio quality varies so there is no actual comparison in terms of audio quality.
Battery Life
In wired headphones, there is no need for a battery, they work without a battery. On the other side, true wireless earbuds totally depend on the battery. So, you need to keep the charge. Without battery earbuds are useless. There are headphones is the clear winner because they can work in any condition.
Comfort
Comfort is important when you wear headphones or earbuds for a longer time. Who wants an uncomfortable headphone or earbud?
Earbuds are small in size and lightweight so definitely they are comfortable in wearing on the other side headphones are big and more in weight so after a few hours, it becomes uncomfortable to wear them.
After considering all these points, we can say earbuds are a better choice than headphones. But according to requirements like for whole day use headphone is good because earbuds need to charge after few hours so your work gets disturbed.
How To Connect Earbuds To Phone?
You have purchased a TWS earbud but don't know how to hook up earbuds to a phone, so to help you, here is a quick tutorial.
First, if your earbuds support any app then download it. This app will help you to connect earbuds to your phone. In the earbud description manual, you will get the app link.
Now open the case of earbuds. It will activate earbuds. Make sure the green light is blinking on the charging case, it means both earbuds are charged.
Nowadays Bluetooth is by default enabled into earbuds.
Now pick your mobile phone and go to the Bluetooth setting.
Turn on Bluetooth in the mobile phone and click on search new device.
In few seconds, you see list of Bluetooth devices which are near your phone.
Find earbuds name in the list and click on it.
After clicking, it may ask for few permissions, grant all the permissions to the earbuds.
After granting permission, earbuds and phone will be connected through each other.
This is whole process of connection erbuds to phone. Next time when you connect earbuds to same phone, you don't need to do this whole process again. just open earbud case and it will be connected to the phone automatically.
How To Fix Earbuds When One Side Doesn't Work?
There may be a variety of issues that are reasons for one side of earphones not working. We will discuss each reason one by one and its solution.
Check Device's Sound Setting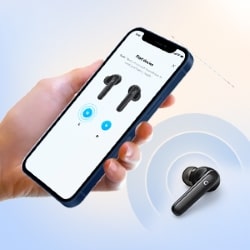 Whether you are using earbuds with a phone or computer, there is a sound balance setting in every device that allows you to adjust the sound for each earbud.
Open setting in the mobile phone and computer and you will see a slider with L and R marks on both sides of the ruler. The slider should be in the center position. If the slider is close to the L mark then the right earbud won't produce sound and if the slider is near to the R mark then the left earbud won't work.
keep slider at the middle so both earbuds will work perfectly.
Water Damage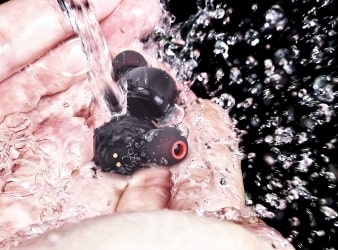 Ture wireless earbuds are designed with a water resistance feature but somehow it is possible that their water resistance feature won't work and the earbud gets damaged by water.
If your earbud is damaged by water then keep it in the raw rice for a few hours or for a whole day. Rice will soak water from the earbud and there are chances that the earbud will start working.
Earbuds Not Connected Properly
It is possible that due to low battery or any other issue, earbuds are not connected to the phone. The wrong connection will cause one side earbud not to work.
Disconnect the device and turn off Bluetooth. Again turn on Bluetooth and pair both devices.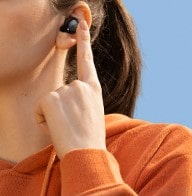 Reset Earbuds
After using all the above methods still, one side earbud is not working the last option is to reset the earbuds. To reset earbuds, press the power button for a few seconds.
FAQ About Best True Wireless Earbuds Under 3000
What Is the Difference Between True Wireless vs Wireless Headphones?
People think that true wireless and wireless headphones are the same. They look identical but there is a little difference between both of them. In true wireless earbuds, there is no option for wire connectivity but in wireless headphones, some headphones come with wire so they can be used as wired and wireless.
Can I Charge One Earbud While Listening Music On Other?
Yes, you can charge a single earbud. This is one of the coolest features of truly wireless earbuds because it gives you the freedom to enjoy music for more hours. In neckband and headphones, you can't use one bud at a single time.
Which is The Best Truly Wireless Earbuds in India Under 3000 Rs?
OnePlus Buds Z is the best truly wireless earbuds under 3000 in India. While we compare more than 30 wireless earbuds in this review guide, we found that the OnePlus buds z is a full value for money product. From sound to comfort, in every department, it gains a full point.
How Many Years Do TWS Earbuds Last?
Generally, if you use TWS with proper care then around 5 years it will last. Like any other gadget, TWS needs care and the right care will give long life to it.
What Are The Comfortable True Wireless Earbuds Under 3000?
OnePlus buds z and Realme air neo both are comfortable truly wireless earbuds under 3000. They are lightweight and their soft silicon ear tips easily fit and give a soft feel to the ears so you can wear them for a long time period.
What Should I Look For In True Wireless Earbuds?
Comfort, audio quality, battery life, warranty, noise cancellation are important factors you should look for while buying true wireless earbuds. In the above buying guide, we have explained in detail what to look for in truly wireless earbuds.
Final Words
So, these are our picks for the best true wireless earbuds under 3000 Rs in India. Wireless earbuds are in trend nowadays. We have picked these earbuds after detailed research still if you have any confusion, you can read our buying guide for better understanding. Undoubtedly, OnePlus buds z is the best choice for truly wireless earbuds under 3000. After reading the article, finding comfortable wireless earbuds in the budget price range is not a big task for you.