Gaming headphones are a vital element for gaming setup and to get a good gaming headset you do not need to spend a high amount. Fortunately, within the budget of 5000 Rs, there are many good headphones for gaming are available but to find them is not an easy task. After lots of research and comparing more than 30+ headphones, I have picked the 12 best gaming headphones under 5000 for you.
A gamer can understand the value of gaming headsets. The headphones I have mentioned in this article are useful for both pc and mobile gaming.
Through gaming headphones, you can clearly hear the voice of the enemy, and also with its mic, talking with friends becomes easy.
If you are a competitive gaming player then a gaming headphone is a must-have thing for you. Along with the best gaming laptop, professional gamers always choose the best gaming headphone. Sound in the headphone can decide a win or lose in the game.
Why Do You Need a Gaming Headphone?
You can use normal headphones to play any game then why do you need gaming headphones. Maybe this question pop-ups into your mind when you think about buying a gaming headphone.
Gaming headphones enhance your gaming experience. High-quality gaming headphones help you to hear all the game sound clearly. This feature gives you more advantages when you are in a competitive gaming scenario.
For gamers, headphones with clear sound and a microphone is a go-to-audio option. This feature becomes important when you play multi-player games. You can discuss game plans with your friends through its microphone.
Gaming headphones come with the noise cancellation feature so it blocks all the outside noise and you get the real sound experience of any game.
When you play any game like PUBG, APEX, Garena Free Fire, or any other than you can make a strategy and decide the next move with your friends.
Difference Between Gaming Headphones vs Normal Headphones
If you have ever used any gaming headphones then you know the difference between gaming headphones vs normal headphones. Still, there are many people who don't know what is the difference between both headphones.
Let me explain in detail….
Normal headphones are used to watch movies, listen to music, talk, etc. When we listen to music then it is not necessary for us to get every little detail of the music.
In games there are so many little sounds that helps player to decide their next move like foot movement of the enemy, gun reloads sound, the difference between smoke and grenade open sound and more.
Best gaming headphones produce these sounds clearly with accurate time.
Gaming headphones come with gel-infused padding. Normally people spend 3-4 hours playing any game. When you wear any headphones for long hours then their padding and cushions become wet.
To avoid this problem gaming headphone manufacture use gel-infused padding, so you can wear it for a long time period.
In any headphone sound is produced by the drivers.
In normal headphones, 40 mm drivers are used for sound but in gaming headphones, 50 mm drivers are used to produce a more powerful sound.
Gaming headphones give 7.1 surround sound for a better sound experience.
While creating a list of best gaming headphones under 5000 reviews I have looked at all these features in the headphone.
Our Top 3 Recommendations
Runner Up
Logitech G 331 Wireless Gaming Headphone
Our Top Pick
Eksa E900 Pro Gaming Headphones Under 5000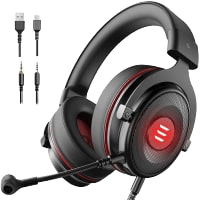 Budget Pick
Corsair HS45 Gaming Headset Under 5000
12 Best Gaming Headphones Under 5000
1 Corsair HS45 Gaming Headset Under 5000
Specifications
Weight – 250 grams
Material – Plastic and metal
Cardioid enabled mic
Custom tuned 40 mm drivers
High responsive audio drivers
High-end noise cancellation
Corsair HS45 gaming headphone fits in the budget of 5000 Rs. All gamers want good gaming headphones with proper noise cancellation technology.
Its lightweight design makes headphones comfortable to wear for long gaming sessions and also neck doesn't get tired. Its surround sound feature gives the best sound experience for a multiplayer game like PUBG and more.
Corsair HS45 gaming headphone under 5000 has a thick cable and it is compatible with all the devices. For gaming headphones, a good quality cable is a must-have thing. To connect it with an apple device you need to buy an adapter.
40 mm drives with surround sound system give a true gaming experience. Corsair always uses the best quality material for its headphones and this feature makes it different from the other headphones on the list.
If you are saving money and investing in the low-budget gaming headphone then one thing to keep in mind is that those gaming headsets don't have quality padding and cushions. Corsair HS45 gaming headset is built with thick padding on the headband and ear cups, so its price is totally justified.
Instead of using typical hard plastic to make an audio cable, Corsair has used a flexible cable that bends in any direction without breaking.
Its high responsive audio driver properly guides you that from which direction audio is coming in the game, so you can sense the movement of the enemy. Gunfire, enemy footsteps, and vehicle sound all sounds are clearly audible.
Pros
Best sound quality with 7.1 surround sound
Detachable microphone
Lightweight and comfortable in wearing
Adjustable steel slider
The cable is long enough
Cons
No LED lights on the headphone
2

Logitech G 331 – Best Wireless Gaming Headphones Under 5000
Specifications
Weight – 570 grams
Material – Plastic
50 mm impressive drivers
Feather-light design
Wireless connectivity
Frequency response: 100 Hz-20 kHz
Want stylish, lightweight, and comfortable wired gaming earphones in the budget then Logitech G 331 is the perfect choice for you. It is a budget wireless gaming headphone under 5000 but it has premium ear pads. Its comfortable body lets you focus on the game.
Featuring a brilliantly balanced Mid and high that offer well sound with decent bass performance. 50 mm audio drivers definitely make a difference in the game sound of enemy movement.
It produces an expansive sound for an immersive gaming experience.
Microphone quality is quite adequate to chat with game friends. Mic thickness is 6 mm that makes sure that your friends hear all your instructions in the game.
To mute the mic just flip it upside and your friends will not be able to listen to your voice and want to talk move the mic downside. No need to detach the mic when not in use.
Its headband is a comfortable fit that is firm not tight so without sacrificing comfort, the headband stays on the head with secure fitting.
Logitech headphone wireless gaming under 5000 for mobile is sleek in look and a combination of black and red gives a futuristic look. An adjustable steel slider increases or decreases the height of the headphone. Compatible with all gaming devices.
The best part about Logitech G 331 wireless gaming headset is comfort. No more pressure on the ears due to its lightweight ear cups. Ear cups rotate to 90-degree for easy use.
High-quality plastic is used to make the body. The red coating on the ear cups gives premium look to the headphone.
Pros
Immersive gaming experience
6 mm thick mic
Compatible with all devices
90-degree ear cup rotation
Incredible sound quality
3 Eksa E900 Pro Gaming Headphones Under 5000
Specifications
Weight – 275 grams
Material – Plastic and metal
7.1 Surround sound
Multi-platform compatible
50 mm drivers
Soft memroy protein earmufs
Detachable noise canceling mic
Sound and comfort are the main primary factors for any gaming headphone and Eksa E900 Pro gets full points for both. Lots of people are using it and for under 5000 this is one of the best gaming headphones from Eksa. Eksa is famous for its gaming accessories.
Eksa E900 Pro ear cushions are incredibly soft and plush. Its cushions lock the sound into the ear.
Due to lots of features weight of headphones increases but here Eksa has managed weight and features brilliantly.
This gaming headset is lighter in comparison to other best gaming headphones under 5000 in the list. When you wear it for a longer time you don't feel any weight on your head. No pressure on the head and neck.
You can twist it without worrying about it breaking. You get the signature sound of Eksa as far as balance and detail.
The Bass in the headphone is a little bit punchier so get proper enjoyment of the song also. Eksa E900 Pro is great for all types of music no matter what genre you listen to or the type of game you play.
This gaming headphone has all the features that a gaming headphone should have. Its 50 mm drivers deliver a powerful audio experience. This is an ideal gaming headset for gamers.
When the headphone is not in use and you put it around your neck then its 90-degree rotation feature for ear cups makes it comfortable to keep them in the neck.
Eksa has used its signature memory foam in Eksa E900 Pro gaming headphones. It gives full comfort to the ears and also covers the whole ear and works as noise cancellation.
The volume control button is given on the right ear cup. Due to the steel slider, it fits in all sizes of heads. The steel slider is made of solid steel so no fear of breaking it.
It has an in-built passive noise cancellation feature that blocks all the outside noise for a better gaming experience. Also, when you move the microphone towards the upside the microphone also works as a noise cancellation device.
Pros
Immersive 7.1 surround sound

High-quality audio drivers

Turn off the mic by flipping it
Easy fit for all heads
Built for all day gaming
4

HyperX Cloud HX-HSCEB-RD Gaming Earphone Under 5000
Specifications
Weight – 24 grams
Material – Plastic and Rubber
Electret condenser microphone
Slim in-line mic for game chat and phone calls
1-year warranty
Customize sound setting
Its black and red color combo gives a cool look to headphones. After seeing JHyperX Cloud HX-HSCEB-RD headphones anyone can say that it is a fantastic aesthetics.
HyperX is especially known for its sound quality. In HyperX Cloud HX-HSCEB-RD gaming earphones HyperX has used quantum surround sound which is powered by the quantum engine PC. This software creates a realistic sound experience for all games.
The best thing about HyperX gaming headphones under 5000 in India is their voice focus directional boom mic. It has an Electret condenser microphone and inline chat is fun with this microphone.
The voice focus feature captures your voice clearly even your mouth is far from the mic.
Now, apart from gaming, you can use it to listen to music also. Lightweight earbuds are specially designed for the longest gaming session. The best part about earbuds is that they are detachable so you clean them if they are dirty.
At this price point, the HyperX Cloud HX-HSCEB-RD gaming earphone in India is impressive sound.
If you are thinking about streaming on YouTube or any other platforms then HyperX headphone is a good choice for you. All these features make it a strong competitor in the list of best gaming headphones under 5000 reviews.
Pros
Lightweight memory foam
HyperX signature surround sound
Voice focus mic
Customizable sound setting
Electret condenser microphone
Cons
Doesn't look like a gaming headphone
5

ASUS TUF H3 – Best Gaming Headphones Under 5000 For BGMI
Specifications
Weight – 289 grams
Material – Plastic and metal
360-degree stereo sound
Good air permeability protein over-ear pads
High-grade material
Flexible and Adjustable Noise-canceling Microphone
ASUS TUF H3 has really nice sound. Fully adjustable for all sizes of ears.
It has an absolutely awesome immersive punchy sound. The sound is loud and detailed. It just has that perfect balance of sound.
You can clearly hear the high and low beat of every sound. It's not a rumbly muddy bass by any means that's the cool thing about this.
It's not muddied you just get that again that perfect sound for any game situation even music or anything like that.
ASUS TUF H3 gaming headphone for mobile is compatible with all the gaming consoles like PC, PS5, Xbox One, and mobile phones. Plug its 3.5 mm jack into any device and start playing games.
With the ASUS TUF H3 gaming headset, you can communicate with your teammates in the game. It has a 55 mm neodymium driver that delivers excellent audio quality with reliable accuracy.
ASUS TUF H3 headphone is compatible with the 360-degree stereo sound that can be enabled by plugging the USB adapter into the PC. Corsair has improved a lot with ASUS TUF H3 gaming headphones.
Want to play the game all day but headphones are not comfortable then try ASUS TUF H3 headphones for mobile. It has comfortable foam padding that fits well over the ear. The noise-canceling feature works perfectly.
The microphone is detachable and unidirectional. It is designed to give better sound quality with high noise cancellation. A lightweight body gives you hours of gameplay without any pressure.
Pros
Punchy sound
Earcup volume control
Comfortable foam padding
Excellent audio quality
In-line microphone with a rotary volume controlle
Check also –
6

Cosmic Byte G1500 – Budget Gaming Headset
Specifications
Weight – 550 grams
Material – plastic
Noise reduction sound card
Ear cups with matte surface and exquisite lines
Colorful breathing LED lights
Aluminum foil flat cable
Jumping into comfort on the cosmic byte g1500 headphones. Ear cushions are very big and very plush, fully pleather top to bottom, inside and out.
They're going to lock in that sound great but again they're going to lock in that heat great as well you can get a little bit spicy in the long gaming sessions.
Now looking at these ear cushions, they're more like foam rather than memory foam so when they sit on your head yeah you do feel them. They don't really sink into your head they just kind of sit there not uncomfortable or unbearable.
it is enough to relieve those pressure points and then they adjust on your arms by the comfortable brackets so the comfort of the cosmic byte g1500 budget gaming headset is good.
It's not stinking cozy for sure when you wear it for a long gaming session then you don't want to get this off your head because it's very comfortable.
When you take the cosmic byte G1500 budget gaming headset in hand, you feel that you are holding a quality product in your hand. The slider is sturdy so when expand and shrink the headband then you don't need to worry about breaking it.
Now in end let's talk about the main feature of the cosmic byte G1500 headphone's sound. The sound on corsair gaming headphones is nice and punchy with full detail. It's just perfectly balanced. It really is even just out of the box you get a really nice detailed sound.
Pros
Powerful 7.1 surround sound
Ergonomic comfortable design
Noise reduction sound card
Vibration feature
Cons
Flip mic mute option is not available
7

Lenovo Legion H300 – Best 7.1 Headphones For Gaming
Specifications
Weight – 320 grams
Material – plastic and metal
Soft and perfectly fitting earcups
Lightweight and built to last
Unique suspension headband
Rotatable PU leather ear cups
Lenovo legion H300 is a perfect dream gaming headphone under 5000 for many people.
Let's start with comfort. The ear cushion has a nice mesh sports material pleather lined on the inside to really lock in that sound. Protected with very nice and soft memory foam. Cushions are breathable so no sweat when you wear them for the long gaming session.
The headband is comfortable and durable as you see they have a little slider that is going to tighten it or loosen it and then again you got that swivel in the ear cups. They move all the way around so again you have no pressure points on this but also going right in line with the comfort of this headset is the build.
Lenovo legion H300 7.1 gaming headphone is made of plastic and iron but it's really durable plastic. The headband is built by metal to give strength to the gaming headphone. It is incredibly durable. It's just like this really nice strong but flexible plastic.
When you are searching for the best gaming headphones under 5000 reviews then first you should make a priority list that what you need in a gaming headphone and what is your budget?
Many people think that virtual 7.1 surround sound is necessary for the best gaming headphones but this is not true, stereo sound is also useful for gaming. Many streamers and pro gamers prefer stereo sound headphones for gaming.
The microphone is detachable here as well this microphone is a little bit smaller so a little bit moldable not much. The size of the microphone is small so it does not reach the front of your mouth and this creates problems for your teammate sometimes as they are not able to hear clear sounds.
Pros
Plastic and metal body
Big size comfortable ear cups
Good sound quality
Unique headband
Budget gaming headphone
8

Eksa E3000 Gaming Headphones With Mic Under 5000
Specifications
Weight – 340 grams
Material – Plastic
Three-dimensional sound effect
Steel frame headband
Anti-static microphone
Beautiful marquee design
The next contender in the list of best gaming headphones under 5000 in India is Eksa E3000 wired gaming headphones. There are so many good things to say about this gaming headset. The comfort you get with Eksa E3000 gaming headphones with a mic under 5000 is similar to expensive gaming headphones.
Ear cups are covered with nice sports material. Inside of the ear cups, it has breathable pleather lined material. It locks the sound inside. Memory foam that is used on the headband, sticks into your head so incredibly cozy.
When we talk about the adjustability of these they slide up and down on little metal arms. So, they go up and down, and then again, the ear cups go in and out.
You got two arms and they both adjust on their own so if you slide it in and out it goes up on one and down on the other so again it's not like that traditional swivel.
It just lets every detail performance on mid, highs, bass, and everything. Everything's performing right and you really get that vibe all right.
The Bass of Eksa E3000 gaming headphones with a mic is balanced not high and not low. Not all games needed a massive amount of bass.
It keeps stating and you can tweak that sound up how you like. Everything is nice and moldable for the microphone. This microphone sounds so good but it really, it's almost like a podcast microphone or something right the closer.
Pros
Overall sound quality is good
Bass is balanced with mid and lows
Easy to wear for a long gaming session
Breathable cushions
Cons
The microphone is not detachable
9

Razer Kraken Gaming Headphones Under 5000
Specifications
Weight – 250 grams
Material – plastic
USB adapter to enable 7.1 surround sound
40% lighter than the competition
Fully detachable Unidirectional microphone
Care-free usage
Next on our list of best gaming headphones under 5000 is the Razer Kraken gaming headset. The frequency range of the Razer Kraken gaming headphone is excellent. This headphone is compatible with all gaming devices.
There are so many things to talk about Razer Kraken gaming headphones. Its soft and breathable fabric feels light and gives full comfort to the head and ears. Memory foam sinks into your head for better comfort and griping.
To sense the movement of the enemy you need an immersive 7.1 surround sound system. Razer Kraken is built with surround sound technology.
When you invest in Razer Kraken gaming headphones then you know that you can't go wrong.
The headphone is just 250 grams in weight and due to their ultralight design, they are designed for all-day comfort. Ear cushioned is in an oval shape for a better sound experience. Adjustable headband provides maximum flexibility and twisting and bending don't harm the headband.
Pros
Ultra-lightweight
Cardioid microphone
Oval ear cushions
All-day comforts
In-cable audio control
Cons
Surround sound is only available for the windows 10
10

Bengoo Gaming headphone
Specifications
Weight – 272 grams
Material – Plastic
Long flexible mic
Clear sound operating strong brass
Headset integrated onmi-directional microphon
Surrounding stereo subwoofer
The next gaming headphone is a really good budget option from Bnegoo. I am really impressed with the Bengoo gaming headset. Overall, they're very simple primarily plastic and stuff for the construction but they are lightweight in return.
It doesn't feel flimsy at all. It has blue LED light around the ear cup that gives a proper gaming headset look to the headphone. They feature 50-millimeter neodymium drivers and the ear cups themselves are a mesh but they're nice and thick.
It provides great padding and a great seal on your ear overall both the microphone and the cable on this headset are removable which is really nice to see. It has built-in volume control plus a mic mute button on the back of the left ear cup. The gooseneck mic sounds really good.
The end ear cups also rotate 90 degrees for a better fit on your head. With these really thick cushioned ear pads and the overall plastic construction. The lightweight body feels really nice.
What really surprised us about this gaming headset under 5000 besides the great microphone quality is the neutral sound signature overall, it's not trying to do too much. It's not trying to push the base. Of the fact where it gets over muddy bass is nice, tight, and punchy.
Great audio and spatial awareness overall. Bengoo is doing some great stuff in the audio space with this gaming headset.
Pros
Multi-platform compatible
Surrounding Subwoofer
49-inch long cable
Skin-friendly leather material
Cons
Drive size is small only 40 mm
11

Fire Boltt Gaming Headphone For PS4 Under 5000
Specifications
Weight – 550 grams
Material – plastic
7.1 Virtual Surround Sound
Multi-platforms compatibilities
Easy-to-use volume adjustment
RGB gradient light
Fire boltt gaming headphone for PS4 is our pick for the best gaming headphones for ps4 under 5000. Audio of this with balanced bass and treble gives a realistic feel to the music.
Ear cups have plush memory foam and it works like a noise-canceling feature. Lights on the headphone give a fun element to it.
This gaming headphone for PS4 is equipped with a built-in USB audio sound clip that provides surround sound. Under 5000 this headphone is providing 50 mm drivers and this is a good thing.
The cable is thick and the plug is gold-plated. This type of plug is famous for reducing sound issues in gaming headphones. The volume control wheel on the cable allows you to increase or decrease the volume of the game and teammates.
The wire is enough long so you won't find any problem connecting it with the pc. You can easily move your chair around the pc without a shortage of cable. This headphone is not only built for the PS4 you can use it with any device you want. It is a multi-platform connected headphone.
The microphone is loud and clear. Your teammates will be able to hear your clean voice. The mic is movable and you can flip it around 120 degrees. When you flip the mic, it stops recording your voice and works as noise-canceling equipment.
Due to the good feature in the budget price this headphone is giving tough competition to the branded headphones in the list of best gaming headphones under 5000 in India.
Pros
In-built USB audio sound chip
Plug and play headphone
One key mute function
Ergonomic design with LED lights
Cons
Not compatible with Xbox one
12

GW Sades Gaming Headphone
Specifications
Weight – 200 grams
Material – plastic
Strong brass & isolation
Quality sound production
Durable microphone
GW sades gaming headphone looks durable but when you pick in hand then you feel that it is a lightweight product. It has 50 mm drives for surround sound and on listening you can feel that drivers deliver perfectly balanced sound.
The bass is not much high so mid and low tones are clear. Due to low bass, you won't get distracted when you hear a gunfire sound in the game.
The noise cancellation feature blocks all the outside sound so when you are at a match-winning point you won't hear any background noise. The microphone is clear and teammates will never complain that your sound is not audible.
GW sades gaming headphone has a comfortable and soft headband with padded ear cushions. You won't face any heating issues with these ear cushions if you wear them for all-day gaming.
This is a wired gaming headphone and it won't stop you from taking a full gaming experience. Its 50 mm drives to enhance the gaming experience.
The microphone is not detachable, so if it is not in use then you have to flip it or move it upside. But good thing is that on flipping it stops recording your voice. Its wide frequency range captures your voice clearly.
Pros
Durable design
No setup required to connect any device
Voice sensitive microphone
In-line control on the cable
Buying Guide For Best Gaming Headphones Under 5000
Comfort
Normally a gamer spends 4-5 hours or more than it daily on playing games. When you wear any headphones for such a long time then you may face heating and sweat issues with the headphone. To protect yourself from this issue gaming headphones should be comfortable.
To make any gaming headphone compatible company uses soft padding in the headband and breathable cushions for ear cups. Uncomfortable gaming headphones will ruin your gaming experience.
Nowadays companies are using liquid cooling gel in the headphone to make them more comfortable. This feature prevents heating issues. When you wear headphones for a long time period then liquid cooling starts it working and keeps headphone material cool.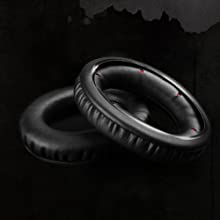 Adjustable Headband
The size of the head for all people is different. An adjustable headband helps you to adjust the headband according to the size of your head. To adjust the headband companies, use two types of material plastic and steel.
An adjustable headband built with plastic material is not a good option. They may break any time when you put more pressure when you pull it for adjustment. A steel slider is a perfect option for it. In the list of best gaming headphones under 5000, all headphones have a steel slider for durability.
Compatibility
There are various devices to play games like PS5, PS4, Xbox one, mobile phones, PC, Nintendo Switch, and more. All headphones are not compatible with all these devices. When you buy any gaming headphone then must check in their description that headphone is compatible with which devices.
Most people buy gaming headphones without seeing the compatibility feature of the headphone and later they regret it. Before buying a gaming headphone, you should think that on which devices, you are going to use it.
Some people use PS5 to play games, some use PC, some use Xbox and so on. Some gaming headphones are specially built for a particular device like for PS5 only. Before buying make sure that headphone is compatible with your gaming device.
Sound
Whether you are playing a game or listening to music, the sound of a headphone must be good and clear. Sound quality depends on the drivers of the headphone. A bigger driver means better sound.
For gaming headphones, the minimum driver size should be 50 mm. Most headphones come with the surround sound feature. With surround sound technology you can hear all the small detail of the game clearly.
Type of Connection
Different devices use different connection types. Before buying gaming headphones see the connection type of your device. Mainly 3.5 mm jack, wired or wireless USB, Bluetooth are the main connection types available for any gaming device.
If you choose a gaming headphone that has a wrong connection port then your valuable money would be wasted. Your gaming headphone would become a showpiece in your gaming room.
Play station has all types of connection ports so you won't find any issue with the play station.
Not all but a few gaming headphones will only run on the laptop or computer if their software is available on the PC. Without software, you can't access all features of the gaming headphone.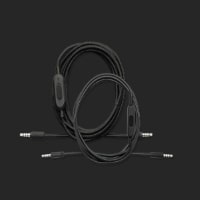 Microphone
For gaming headphones, a good microphone is essential. Your teammates are able to hear you through the microphone. When you talk microphone captures your voice and sends it to your teammates. The microphone should be avoiding the other noise in the room.
Material
If you want that your gaming headphone works for years without any damage or crack then their material should be of high quality. Most gaming headphones are built with plastic material. A good quality plastic will make headphones strong and also increase the life of the headphone.
To make headphones comfortable leather is used in headbands and earcups. Soft leather material gives a comfortable feeling. If the quality of the leather is not good then in a few months leather would be torn.
Weight
Weight is another important factor while buying a gaming headphone under 5000. Gamers wear headphones for a long time period so the weight of the headphone should be less.
Lightweight headphones are easy to carry anywhere and also they don't make any pressure on the head and neck. Lightweight headphones are always good for gaming.
Wired or Wireless – Which are The Best Gaming Headphones?
People are divided on this question some prefer wired and some prefer wireless gaming headphones. For us, wired gaming headphone is a better option.
In wireless headphones, you may feel a delay of sound by one second or less than it. Maybe you are thinking that this is not a major sound delay but when you are playing any game and you are at any crucial point of the match then this delay creates a lot of problems.
Sound in wired headphones travels very fast without any delay. You get better sound clarity in wired gaming headphones.
Closed or Open Gaming Headphones – Which is Good For Gaming?
Closed gaming headphones are built with big size ear cups around the speakers. Due to big size ear cups, whole ears are completely covered by the headphone so outside noise doesn't come into the ears.
Open gaming headphones don't cover whole ears. In open gaming headphones, you get muffled sound. In open headphones, outside noise will not be blocked by the headphones.
Closed headphones are good options for gaming. It blocks all outside noise so you can enjoy games and also your teammate won't listen to your surround noise. in closed gaming headphones, you get real experience of gaming.
Are Gaming Headphones Worth It?
Gaming headphones are definitely the right pick for your gaming setup. To get a good gaming experience with a gaming PC, you need good gaming headphones.
Gaming headphones capture all the small details of sound in the game so they are worthy to use. Gaming headphones are built with soft cushions so for long gaming sessions, you can wear them comfortably.
What Headphones Do Pro Gamers Use?
Most pro gamers in India use HyperX Cloud series gaming headphones. These gaming headphones are comfortable in use and their high sound delivers all game sound without any delay. Mortal, Shreeman, and many other YouTubers use HyperX gaming headphones.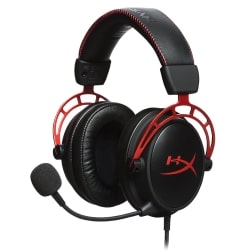 Which Gaming Headphones Should You Buy?
Which gaming headphones should I buy is the usual question when we think about buying a gaming headphone. Nowadays neckbands and earbuds are the latest trends but for gaming, headphone is the only right choice.
In the competitive scenario, the good audio output should be the main preference for gamers. Along with delivering high-quality sound, gaming headphones should come with high-quality microphones as well. To communicate with teammates in the game quality microphone is necessary for gamers.
HyperX stinger gaming headphone is a good gaming headphone option under 5000 Rs. It comes under the budget of many gamers. This headphone will improve your gaming experience and also helps you to enhance your gameplay.
FAQ About Best Gaming Headphones Under 5000
Is Noise Cancellation Feature Good For Gaming Headphones?
The noise cancellation feature is good for gaming headphones. The noise cancellation feature blocks all the outside noise. When you play any game then you need to concentrate on the game sound. Enemy footsteps, gunfire direction, and more sounds are important for the game. Noise cancellation helps you to concentrate on this sound without any distraction. For gaming headphones, noise cancellation is a must-have feature.
Is 7.1 Better For Gaming?
7.1 is the surround sound feature. The surround sound feature gives a true experience of gaming. With this feature, you can hear every beat of the sound, every up and down.
Which Gaming Headphone is Best Under 5000?
When I have created a list of best gaming headphones under 5000 then I have compared lots of gaming headphones and last I reach the conclusion that HyperX cloud stringer is the best gaming headphone under 5000. Its powerful sound with a comfortable body design gives you a true gaming experience.
Can I Use Normal Headphone For Gaming?
Yes, you can use any normal headphones for gaming but normal headphones are not built to give a gaming experience. They are built to enjoy music so when you use them for gaming then there is a chance that it can miss small sounds of game-like footstep and more. You can't decide from which side the enemy is coming, so it would be better if you choose gaming headphones.
Is 5.1 or 7.1 Better For Gaming?
7.1 is better for gaming. It gives a surround sound experience so with gaming you can enjoy movies also on it.
Is Dolby Surround Good For Gaming?
Yes, Dobly surround sound is good for gaming. Dolby sound gives a better sound experience.
Final words
Now after reading the article you can decide that which is the best gaming headphones under 5000. I have covered all the topics related to gaming headphones. HyperX cloud stringer is our top choice for gaming headphones under 5000 in India. These all are budget gaming headphones. If you have any suggestions related to gaming headphones then please post them in the comment section, I would happy to see them.