When you turn on an HP laptop and its screen is totally black it becomes problematic to work on it. HP is a well-known brand to sells premium laptops at affordable prices. A black screen on HP laptop is a common error that is faced by many HP laptop users.
In this error, the laptop remains in the running condition but due to the black screen, you can't do any work on it. Its keyboard remains in working condition, CPU fans keep on working, and indicator lights blink normally.
We have a detailed article that shows how to fix HP laptop black screen error. Most of the time, it will be solved by fixing the software issue, if not then repairing or replacing hardware is the last solution. You will surely find the best way to fix the black screen issue from these fixes.
What Causes Black Screen on HP Laptop?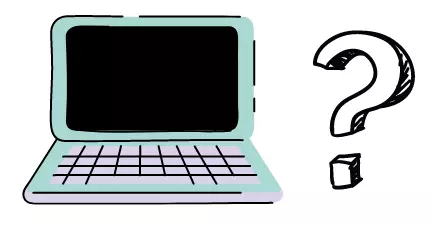 When you turn on an HP laptop but its display is black, what will you do? Before going to solve the issue, first, you should know what is the cause of HP laptop black screen. If you know the reason, it becomes easy to fix the black screen error in the HP laptop. Here are some common reasons.
Graphics Card Issue
Graphics card comes in every HP laptop. The Graphics card makes sure that every visual on the laptop screen is awesome. Loose connection of Graphics card causes black screen on HP laptop.
Outdated Graphics Driver
The Graphics card works with graphics drivers. HP releases driver updates from time to time, if you have auto-update enabled, the driver will be updated as soon as it detects a new update.
If you haven't turned on auto-update, you need to do it manually. People forget to update graphics drivers. An outdated graphics driver won't work with its full potential and becomes the reason for the HP laptop is on but black screen.
Overheating
Every HP laptop has a fan that cools down its temperature. But when there is no room for proper ventilation, the laptop's heat remains inside, and the temperature increases.
People keep laptops on their laps, bed, table, or any other place where they feel comfortable. Frequent changes in the place disturb ventilation.
When the laptop reaches a high temperature, its component stops functioning properly. You get HP laptop black screen error when it gets overheated.
Virus In The Laptop
Viruses not only cause a black screen on HP laptops but are also responsible for major problems in the laptop.
A virus gets easily come into the PC when you click on an infected link or download an infected file. The virus corrupts the graphics driver files.
To browse the internet securely and safely, you should use a robust and powerful antivirus like McAfee or any other.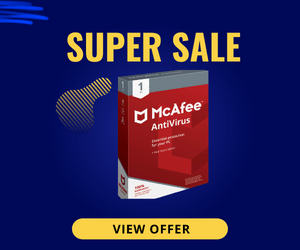 Windows Installation Issue
Proper installation of windows is required to work properly in every part of the HP laptop. If you are going to install windows 11, check its requirement first. Maybe your HP laptop won't support it so after installation laptop won't work properly.
Check the HP support page to know about the proper installation process of windows. Incomplete or wrong installation can result in an HP laptop on but screen black.
Faulty Power Supply
The laptop is an electronic device and needs electric power to work. If the power adapter of the laptop has any fault, the HP laptop screen won't turn on properly.
Display Issue
If your HP laptop screen turns on and goes black after some time, you need to check its display. If the display has a hardware issue, it won't be fixed with software fixes and you need to call an expert.
Check also – Black Screen When Turn on Dell Laptop
How To Troubleshoot Black Screen on HP Laptop?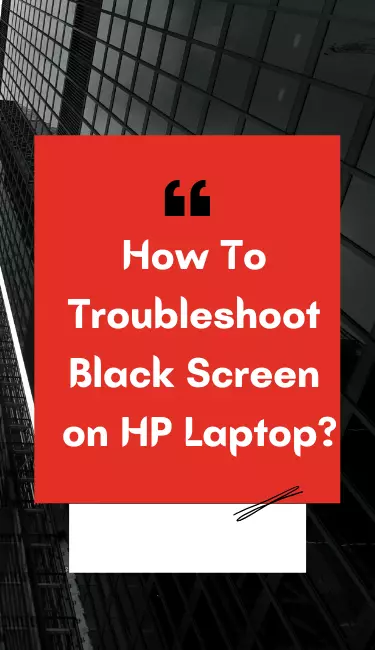 Solution 1 – Force Shut Down Laptop
Force shut down is also known as a hard reset laptop. You can easily fix the black screen on HP laptop with force shut down. Force shut down is different from normal shut down. Here are steps to do a force shut down.
Remove all connected peripherals such as printers, power adapter, Bluetooth connectors, and USB.
Now press the power button for around 20 seconds and keep it pressing until the power light closes. It will shut down the laptop.
Remove the battery of the laptop.
There may be battery remains in the laptop, you need to drain it. For it press the power button for 1-2 minutes. It will drain out all remaining batteries from the laptop.
Place the battery in the battery case and connect the laptop to the power cable.
Now it's time to turn on the laptop. Press the power button and turn it on. It will fix HP laptop black screen.
Solution 2 – Start In Safe Mode
When a black screen on an HP laptop occurs, it will turn on every time with a black screen. No matter how much time, you restart it.
HP laptop black screen is a quite common issue. Every HP laptop has a safe mode booting feature.
When we turn on any laptop into safe mode, you can access its limited features. In safe mode, there are high chances that a black screen won't appear. So, you can change or fix the window setting.
If your laptop is on, turn it off.
Turn on the HP laptop and press the ESC key till you don't see a startup menu.
Now press F11, and it will begin the system recovery.
Now you will "choose an option" screen. Select troubleshoot from it.
Click or select the "Advanced options" tab.
Select "startup settings".
It will prompt different safe mode settings.
Press F4 to enable the safe mode with minimum functions. If you want to access the internet during safe mode press F5.
Press F6 to restart windows in safe mode with a command prompt. But it is not recommended for everyone. It requires a lot of knowledge to access windows through a command prompt so an IT specialist should only use it.
Now select restart. It will restart the laptop in safe mode.
Solution 3 – Reboot or Update Graphics Driver
If HP laptop screen turns black, an outdated or faulty graphics driver could be the reason. Rebooting the graphics driver will fix HP laptop black screen.

If nothing is visible on the laptop screen, use the hotkeys combination. Press "Windows + Ctrl + Shift + B" keys together to reboot the graphics driver. By restarting the graphics driver, you can fix the Black screen on HP laptop.
If reboot won't work, update the graphics driver. HP laptop has a black screen after turning it on means it is working on an outdated graphics driver. You need to update it. Boot HP laptop into the safe mode to update its drivers.
Solution 4 – Disable App Readiness
There are many services that can be turned off and won't affect the performance of the laptop. App readiness is one of them.
People turn off app readiness to fix the black screen HP laptop error. Here are steps to disable app readiness.
Open the search bar and type "Services".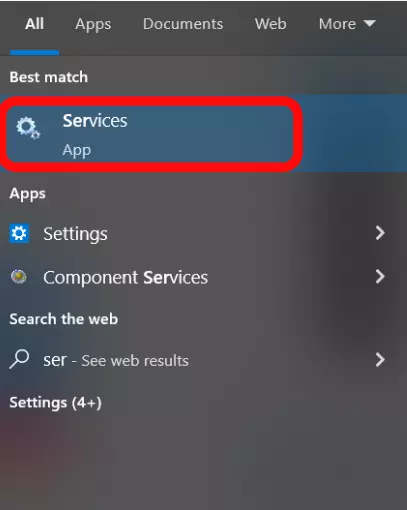 Now click on the services tab as shown in the photo.
In the services windows, find "App readiness".
Right-click on the App readiness and open its properties.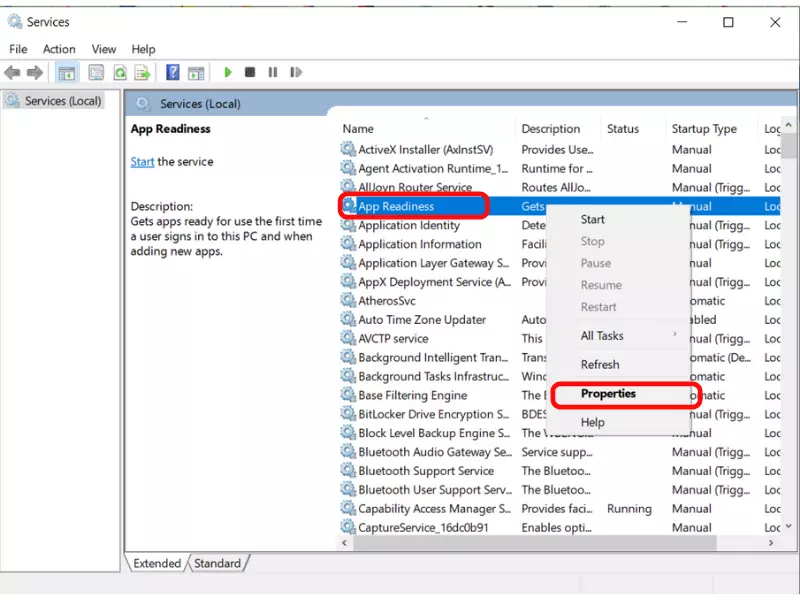 From the App readiness property, select the general tab.
In the startup type selection box, choose "Manual".
Now click on apply setting and save it by clicking on OK.
Solution 5 – Restart Explorer.exe Process
Open task manager on the laptop. Either you can open it by pressing right-click on the taskbar or open it by pressing Ctrl + Shift + Esc together.
There are many tabs in the task manager. Click on the Details tab, if you are a windows 7 user, you will see the process tab.
Now go to the Explorer.exe item in the list.
Select it and click on the end task button.
In most cases, black scree goes when you end the explorer.exe task. Still, if you are seeing a black screen on an HP laptop, our next solutions will definitely remove this error.
Solution 6 – Connect an External Monitor
This is a 100% solution to fix the black screen error on HP laptops. For it, you need an external monitor.
On the second screen, you can view all functions of the laptop. You can update the graphics driver from there or restore the laptop to the last done changes.
By using an external display, you can perform any function. Till the black screen error won't be fixed, use an external monitor as your primary screen.
Solution 7 – Disable Fast Startup
Fast startup is used to do the start and shut-off process quickly. But there is a problem with it.
When you use fast startup, it won't close all running processes fully. Some processes are closed partially which affects the performance of the laptop.
If there is any update that will be installed when you restart or shut down the laptop. But due to fast startup, updates won't be installed fully and a partial update will damage the windows operating system.
So, if you have enabled fast startup, follow these steps to turn it off.
Select all control panel items.
Go to the power option and click on it.
In the next window, see the left side column and click on "Choose what the power button do".
Now click on "change settings that are currently unavailable".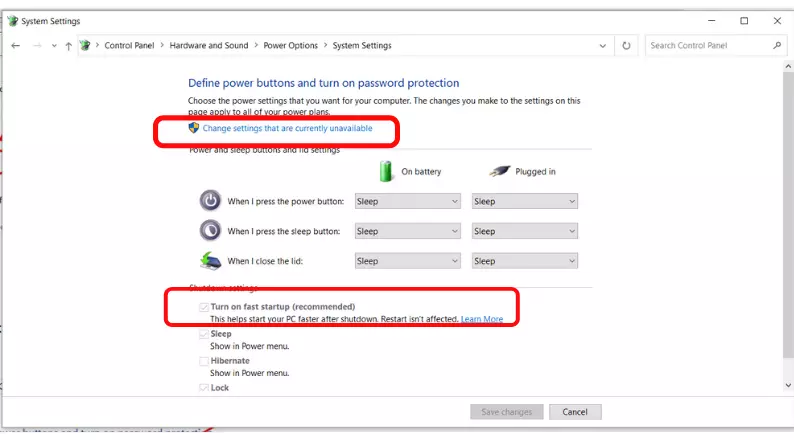 Here you see "Turn on fast startup(recommended)", uncheck it and save changes.
Now restart the laptop and the black screen won't occur after the restart.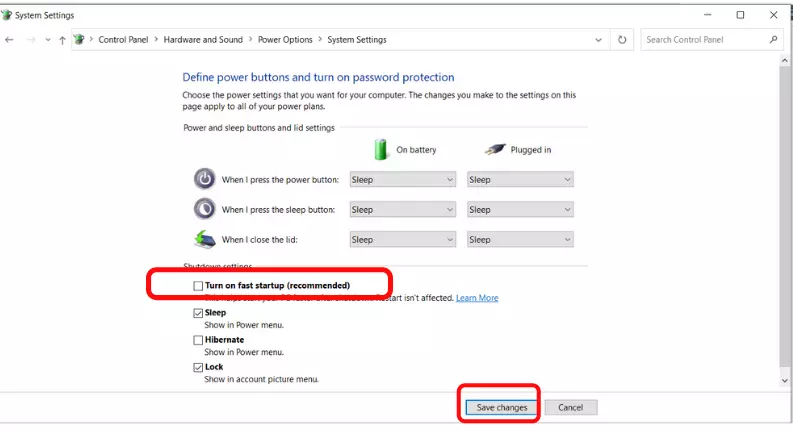 Solution 8 – Set The Brightness
If you have mistakenly low down the brightness of the HP laptop, anything won't be visible on the screen and it looks like a black screen.
This is a small mistake but it costs you enough. You try to find solutions of black screen on HP laptop but no one will work because there is no problem with the display.
It has an easy solution. You just need to increase the brightness of the laptop. Either you can increase it from the function key or go to the display setting and increase it.
Solution 9 – Reset BIOS
Unwanted changes in the BIOS setting can be the reason for the HP laptop turns on but screen is black. Reset BIOS settings to their default setting will fix the black screen error.
To reset the BIOS setting, turn on the laptop. When you see the HP logo, press the F12 key. Keeps pressing it, till you don't see the "entering setup" message.
Go to the BIOS setting option and choose the default BIOS setting. Click on save and exit. Restart the laptop, you won't see any black screen there.
Solution 10 – Undo Recent Changes
Undo recent changes to fix black screen error on HP laptop. Every laptop has a restore point. When you choose to restore the HP laptop at the selected point, it removes all data that is added after the restore point and also undo all changes.
You will lose some data in this step, so perform it carefully. If the current date and restore point date have a long gap, we don't recommend doing it.
Open the control panel.
Go to the system option and click on it.
See the left side of the new window. There is a "system protection" option, click it.
Now click on the "system restore" point.
If you have any restore point, it will be shown there.
Choose a restore point and click on it and click on finish to perform restore.
Solution 11 – Factory Reset or Reinstall Windows
This is the last option if all other options won't work for HP laptop screen goess. It will erase all data from the laptop and install a fresh copy of the windows.
Either you can install windows by any windows iso file or use the factory reset feature to erase all its data or take it to the service center, they will install a fresh new windows operating system.
Black Screen on HP Laptop After Update
HP releases updates for their laptops. These updates are made to increase the performance of the laptop. You get notifications on the laptop to update your system.
If auto-update is turned on, the laptop will be updated as soon as it receives updates. Sometimes you need to do it manually.
Unfortunately, sometimes updating laptop drivers go wrong and the laptop shows a black screen.
If you are having this issue, try the below steps.
First, turn off the laptop.
Press the power button for a few seconds to turn it off.
Disconnect the power cord (battery) of the laptop.
Now press the power button for 5 seconds. It will turn on the power light of the laptop for a few seconds and then the light goes down.
Restart the laptop with an external keyboard into the safe mode and remove all recent updates.
Laptop Screen Black But Still Running
A VGA cable connects the motherboard of the laptop to its screen. It controls the voltage changes so the screen performs normally. This cable may loose or broken which causes a black screen. This is inside the laptop so our attention doesn't go to it.
To check the cable, you need to open the laptop's back cover. It is a technical task so if you don't know how to do it, it would be better to take the laptop to a service center to repair or replace the VGA cable.
Read also – Troubleshooting Hisense Roku TV Black Screen: Expert Tips and Tricks
Frequently Asked Questions
What Does The Black Screen on HP Laptop Means?
If you are seeing a black screen on the laptop, it means there is any software or hardware issue. Most of the time it causes due to minor issues that can be solved by yourself. Use our above solutions to fix the black screen issue.
Why Is My HP Laptop Running But Screen Is Black?
The laptop screen is black but its parts are in running condition means the windows system is crashed. Due to a crash, there is no display on the screen. This problem also occurs when the laptop overheated. Due to overheating, the laptop screen turns black.
How Do You Fix an HP Laptop That Turns on But No Display?
There are many solutions to fix a laptop that turns on but has no display. You can try BIOS reset, graphics driver reboot, connect external monitor, disable fast startup, and more. All solutions we have discussed above in the detail.
What Does a Black HP Computer Screen Mean?
Either the screen hardware is not connected properly or there is some malfunctioning in the software of the laptop or computer. A black screen restricts the use of the computer. A black computer screen doesn't mean the computer is dead. You can fix it easily.
Conclusion
Here in this article, we have added amazing solutions to fix the black screen on HP laptops. By using these solutions, you can get rid of the HP laptop's black screen error. You can try to reinstall windows but do it when it is the only last available option.