In this digital era, people are more socializing with random people on social media platforms. Omegle is a famous place on the internet where you can chat with strangers and make new friends. If you have been using Omegle for a long time but now finding Omegle alternatives to get a different experience, you are at the right place.
After the pandemic, Omegle gained popularity so much. People weren't allowed to go outside so they choose online video call platforms to make new friends. There are many sites like Omegle that exist but people don't know about them.
Sometimes these strangers on the video call become friends or more. So, you should only visit trustworthy Omegle alternatives. These sites are the same as Omegle so you can use them easily. Try these sites to get a new experience.
What Is Omegle?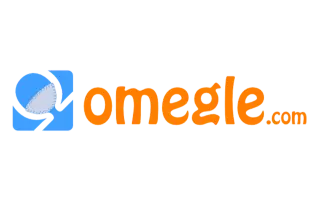 Omegle is a stranger video chat app. Omegle connects 2 random people from all over the world through text, video, or both. Omegle is totally free and it doesn't need any registration to use it.
On Omegle, you may find people according to interest or randomly. Add interests in the interest box and it will connect you to the people according to your interest. If you don't add any interest, it will show random people.
Most users on Omegle prefer to do a video chat. Here you can talk with a stranger on the video call. If you aren't comfortable, you may select its text chat method.
Here you can do monitored and unmonitored chat. Monitored chat is good because it filters out all explicit contents and reduces the risk of any wrong activity. For kids monitored chat is recommended.
On Omegle, you may enter a nickname, age, location, or personal information but it is not advised to enter real info. Anyone can steal, your info and misuse it so always gives fake info on it. Without adding personal info, you can socialize on the Omegle.
On Omegle "You" is used for yourself and "stranger" is used for the second person on the call. All content related to video and text chats is stored on its server. Also, you can take a screenshot of the conversation.
Why Do You Need an Omegle Alternative?
While Omegle is popular and here you can do video calls with strangers then why do you need an Omegle alternative. The main reason is Omegle is overcrowded now. Most people know about Omegle, sometimes its server gets down.
Another reason is you don't have any control over what will appear next side on the screen. Sometimes in the monitored content section, some unappropriated things occur on the video call that you can't see with your children.
You would have seen many content creators' accounts get banned on YouTube due to non-allowed content on the live streaming. So, people use Omegle alternatives.
What Are The Best Omegle Alternatives?
Every site on the Internet has its alternative, the same happens with Omegle. There are many Omegle alternatives on the internet but which one you should use. What are the best sites like Omegle? Don't know, don't worry, here are our top 15 picks for Omegle alternative.
Proving itself one of the best Omegle alternatives for a long time. Tinychat allows you to talk with strangers without any registration just like Omegle.
Whether you want to kill your spare time or want to make new friends or find a romantic connection, Tinychat is a perfect site for you. It quickly connects you to the people with HD video and audio call quality.
With Tinychat, you can talk on a video call with a large number of people from various nations. It doesn't charge anything for the video call. Its highlight included features are live video chat, live voice chat, and text chat.
By just clicking, on the call, Tinychat allows you to connect with the people as per your interests. Not only you can build your friendship with the people but also, you can learn lots of different things like their culture, know about their countries, etc.
Tinychat offers you to connect with safe people. You just need to open the website and start video chat. Tinychat also has some premium plans that offer more features.
On its homepage, on the right top side of the screen, you get an instant room option. You can use it to create a room to talk with strangers on the live video call. Also, it has people near you search filter to find people around your area.
Chatroulette lets you find people with similar interests. Chatroulette is a good Omegle alternative. But unlike Omegle, here you need to register to use it. Rules are strict on the Chatroulette so the chances of misbehaving of people are less.
Chatroulette is making it easy and safe to meet new people from every corner of the earth. When you connect on the call button, it will connect you with random people inside the Chatroulette website to do a casual video call.
You can talk with strangers one-on-one anywhere in the world. When you enter into the website, it asks for permissions for the webcam and mic, if you don't give permissions, you can't proceed further into the website.
Besides normal video chat, on Chatroulette, you may find romantic connections to start your love life. Content of the video calls are regulated on Chatroulette but still, you shouldn't give your personal detail to any stranger.
Chatroulette is safer than Omegle. On Chatroulette, they have moderators that filters outs wrong content. If someone doesn't like your behavior, they can disconnect the call and can complain to Chatroulette.
Chatroulette has an optimized video calling feature so you get a fast and HD video calling experience. Chatroulette is a good option who are searching sites like Omegle.
If you want to do video calls with random people for free, MeetMe is for you. MeetMe is a great tool to discover new people around the world. With its live video call feature, you can meet local people nearby you or people from another side of the world.
MeetMe offers to explore the random video calling world in a new and fun way. MeetMe provides all solutions of video calling with random. People get an unforgettable video calling experience on MeetMe.
Once it finds a perfect match for you, you can start a video or voice chat with it. Also, you can do text chat. MeetMe is a house of interesting people.
People find their dating partners on the MeetMe website. Unlike Omegle, MeetMe has apps for Android and iOS platforms. Due to the app, MeetMe has a larger user base. MeetMe offers login through a Facebook account.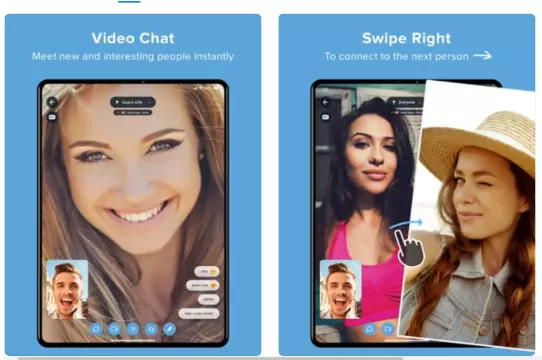 Meet authentic and real people to do video calls. Chatrandom is for those who are willing to make new friends. Sometimes, a stranger becomes our best buddy on the video call.
Chatrandom provides the experience to talk with random people. Its video chat feature has a seamless talking experience. On Chatrandom, you can talk with people from different regions and languages. Chatrandom connects people from random countries.
Chatrandom gives different options to connect with other people on the video call. You can select people by their gender. If you want to restrict video calls by language use its language feature.
Chatrandom shows you the profile of the people. When you like anyone's profile, swipe right to do a video call with the user. To connect the call, you should have a profile on the Chatrandom website. On its app, every time you will get millions of people online.
It will show you people based on your interest. Chatrandom has good ratings on the play store and app store.
With Yubo find instant video matches and discover tons of interesting people to explore different cultures. But there is a restriction, first, you need to become friends to do live video calls.
On Yubo, you can add or remove friends by swiping the screen left or right. When both people like each other do a right swap on the screen they can talk via Instagram or Snapchat. Yubo is totally free to download. Registration is free on it. There are in-app purchases that you can buy if you like them.
Yubo can be considered a dating app. Because without becoming friends, you can't talk with each other. It is not the best Omegle alternative but it shows people all over the world. If you are shy then start with a text chat.
Privacy and safety features on the Yubo are high. Users get banned if they do any suspicious activity. It shows people on the basis of their interests. On Yubo, you get friends' suggestions from nearby places or anywhere in the world.
On Yubo, you also get free filters for your face. These filters make video chat more interesting. Yubo allows you to share live YouTube streaming. Unlike Omegle, on Yubo, you have options to play games with someone on the video chat.
On the Emeraldchat home page, you see "Emerald is the new Omegle" and they are right. Emeraldchat offers all features of the Omegle with some more advanced video calling features. Emeraldchat is an advanced Omegle alternative.
It has an improved random matching algorithm so you only get people similar to your interest. On Omegle, you sometimes get people from different interests but it won't happen with Emeraldchat.
Your age should be minimum of 18 years to use Emeraldchat. Here on emeraldchat, you get one on one text chat, video chat, and group chats features.
With its Emerald gold premium membership, you get some cool additional features. It costs only $3.89 per month. In Emerald gold, you can select gender, priority matching, and a no-ads experience.
Emeraldchat provides a high-quality video calling experience by using minimum data. If mobile data is not working and taking a long time to connect choose a WIFI connection. To use Emeraldchat, first, you need to create an account on it.
Faceflow offers an anonymous live video calling platform. Unlike Omegle, here you need to sign up and create your account.
When you press, the start button on the Faceflow Omegle alternative, it connects you to other people on the call. FaceFlow has an exciting work of online chatting. Faceflow has a user-friendly interface. You can select a room on it where you want to talk with strangers.
You can add a person in your friendliest if you have ever done a video chat with him or her. It allows doing group video chats. Along with video chat, you may also do text chat on the side screen of the website.
It allows you to login through Facebook or email id. Without creating an account, you can't use Faceflow. Login to your account and tap on the video call button to start video calling with strangers.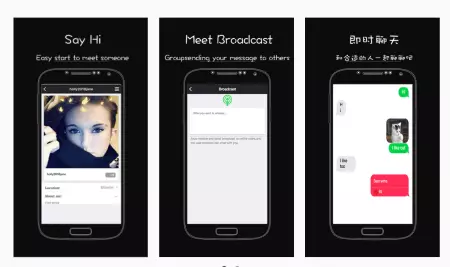 Searching sites like Omegle for a video chat with strangers? WhisperIM is here to help you. Do fun video chat with other people. Send a "Hi" message to start the conversation.
Do one-to-one live video chat on the WhisperIM and starts creating new relationships with the people. WhisperIM takes care of the privacy of people.
To use WhisperIM, you need to download it. There is no web version available for it. WhisperIM is a woman-oriented Omegle alternative. So, if any woman uploads pics or video content on the WhisperIM, they get extra rewards.
Women's safety is the priority of WhisperIM. The WhisperIM platform is under surveillance so when some send an offensive message, they block their IDs.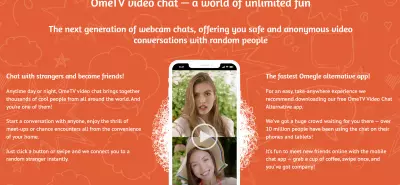 Another straight video chatting website like Omegle. Omegle is a free random video call platform for everyone. Here you can receive and send audio and video files to other people on the call. Here you get lots of room, you can select anyone and starts chatting.
You can continue with OmeTV by logging through Facebook. OmeTV offers next-generation webcam chat. Safety is its highest priority. Anonymous video calls on OmeTV are safe and secure.
Anytime in the day, you can connect with the people on the video call. Starting a conversation is not tough on it, you just need to connect a call.
Maybe you find your soulmate in any random video call. Send emojis on the video call to make it more interesting. OmeTV is the fastest and most secure Omegle alternative website.
The next site like Omegle is Camfrog. On Camfrog, you can enjoy clean and bot-free chats. Its user interface is not complicated.
Site navigation is simple. Its machine algorithm is good so it quickly connects people with the same interests. You just need to download Camfrog for free and create an account on it. Here you can talk with random strangers instantly.
Similar to Omegle, here you need to give permission for the microphone and camera to use its video call feature. Camfrog takes care of all the reporting of bad activities and takes appropriate actions. It creates a safe environment for users.
Camfrog offers some interesting features that other Omegle alternatives won't offer. Camfrog has diff chatrooms that are specially designed to chat with disabled people. This helpful feature makes Camfrog a good alternative to Omegle.
From Camfrog virtual store, you can send virtual gifts to your friends. Also, you may impress new people by sending gifts to them. But these stickers are not free. On Camfrog, you can change the background of the text chat.
Camsurf is a true web-based video calling site like Omegle. You only need to open the website to start video chatting with others. Select your gender and click on the start button to do a live video chat with strangers.
Camsurf gives a fun environment to connect with thousands of people from all over the world. People on the Camsurf need to follow their community terms. Otherwise, its community reporting system will report your account.
Camsurf is not a heavy website. It loads quickly and its video calling option connects you with the right person within seconds. Enjoy great HD quality video calls on the Camsurf. You can set language and location to get connect with people only related to your locality.
Every time, here you get thousands of users online. When you want to talk with someone, just click on the Next button. On Camsurf, it is so simple to make new friends.
Chatville offers an anonymous video calling platform. Open the app, select gender, and hit the enter button. It will connect you to the room where you can chat and video call with strangers. Chatville is a lightweight site, so you can use it with a mobile or computer.
Chatville is the best Free Omegle alternative. Like Omegle, Chatville allows you to connect with random people on the video call. You can easily talk with them.
People who are shy to meet with anyone can meet anyone virtually through websites like Omegle. Its filtering mechanism is perfect where you can filter people as your interests. Like Omegle, here you don't need to register yourself to use its service.
Chatville has peer-to-peer connections so you can securely send any media file on it. You can choose a room where you want to do conversations. It shows the opposite gender person in the chat.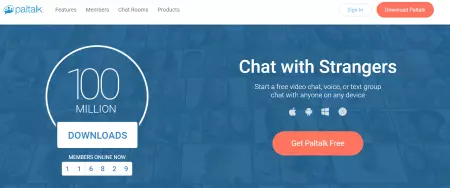 Paltalk is available for windows, mac, and android platforms. Paltalk has more than 100 million downloads. You can download it for free from its official website.
Paltalk has some awesome features that make it a worthy Omegle alternative. Here you can browse its 5000+ public chat rooms to talk with strangers. In these chat rooms, you can do unlimited video calls.
Outside chat rooms, calls, and messages are someone who is totally private. Only you can see them. In the public chat rooms, you can post videos from the YouTube shorts and MediaPal so in the chat group anyone can enjoy them.
To make video calls more interesting, it allows sending gifts and snickers.
Fruzo is more than a video chat app. It is a dating app that connects potential matches on the video call. On Fruzo, it is easy to make connections on the video call just like on Omegle.
On Fruzo, you can create friend lists so anytime in the feature, you can talk with previously talked to people easily. Friend lists keep people in your touch. Also, Fruzo allows uploading pictures of users. In its picture section, you may see unlimited pictures from any user.
On the search bar, find connections by entering location, age, gender, or any keyword. Want to get updated with any profile, follow it so you will get all the notifications regarding any changes in the profile.
ChatRad is a video calling platform that lets you connect with unknown people. Here you meet new people on every video call. It filters out people's lists according to your interests. Use your webcam to talk with random people.
ChatRad instantly connects you with random people on the video call from all over the world. Here you can socialize your free time to make new friends.
Chartrand has millions of userbases that make it a good Omegle alternative. ChatRad and Omegle both are open-source networks. It will show you any random people from its directory who is currently online.
Frequently Asked Questions
Is Omegle Safe?
Omegle is not totally safe. Here you don't have any control over whom you will meet on the next side of the screen. You may have a chance to talk with anyone from all over the world. You won't know what will appear on the stranger's camera. So, it is advised don't do any wrong activity on the camera otherwise it will give you trouble.
How To Check If Mic Is Working on Omegle?
For Omegle mic and webcam are essential. Without them, you can't talk with anyone. To check the status of the mic, move the cursor on the mic button. Gives permission to the mic so it can work during the call.
How To Check Your Omegle History?
Omegle doesn't save the history of any chat. But if at the end of the conversation, if you have saved the log then you can see it any time. You will get a chat ID and URL to see chat in the feature. By default, Omegle won't have your history.
Conclusion
In text, you can't find people is fake or real but on video call, it becomes easy to identify fake IDs. Omegle is most famous site to talk with strangers but if you are searching sites like Omegle, this guide is for you. While doing video call on these sites, you should protect your identity. Only tell people about you in the detail when you have trust on them. To get the best Omegle alternative, you don't need to check every site. Our guide shows you genuine alternative of Omegle.