After the huge success of TikTok, short videos are in trend. Every social media platform is allowing its users to upload short videos. YouTube is popular for its long video content. Since its launch, YouTube is the house of every type of video. You can learn anything from YouTube videos. YouTube videos are a great source of entertainment.
But to compete with TikTok, Instagram, and other short video apps, YouTube has allowed users to upload short videos. If you don't know how to upload YouTube shorts from PC, this guide is for you.
YouTube shorts is a good way to increase followers quickly. When you upload YouTube short videos, add #shorts in its description so YouTube will recommend it to the people. Read the guide to know more about the YouTube shorts upload process from the PC.
What Are YouTube Shorts For?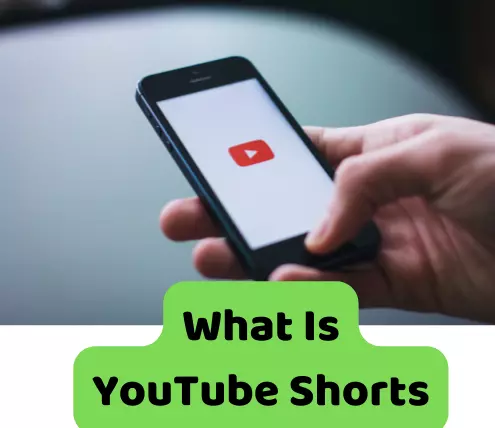 YouTube shorts is the name of the short video section on YouTube. The length of YouTube shorts is generally between 15-30 seconds but recently YouTube has increased the length to 60 seconds.
YouTube shorts are created on mobile. It is in vertical form. From mobile phones, it is easy to shoot YouTube shorts. Through the YouTube app, you can upload it directly from your mobile phone. For PC, the process to upload short videos on YouTube is different.
YouTube provides different editing features when you create shorts. Add music, set the speed of the short, add animated text on video, etc.
People can share, like, and comment on YouTube shorts. YouTube shorts is a new way to make YouTube channels popular.
Why Do You Need To Use a PC To Upload YouTube Shorts?
There is no direct button on the YouTube PC to upload short videos. But you can upload YouTube shorts by using the same process that you follow to upload regular videos on YouTube from a PC. If the video length is less than 60 seconds, it would be considered a short video.
It is easy to create and upload short videos on YouTube from a PC but in some conditions, you may want to upload short videos from a PC. Not all people use mobile phones to create short videos, some use DSLR cameras to improve the quality of the video.
Also, on the PC, you have different software options to edit videos in different styles. The quality of DSLR videos is high and when you edit them on PC, they look great.
To upload those videos from mobile, you need to transfer them to mobile through PC. This process takes time because high-quality videos are big in the size.
How To Upload YouTube Shorts From PC?
Before uploading a video on YouTube as YouTube shorts make sure it follows these points.
Video orientation should be vertical and in the ratio of 9:16.
The length of YouTube shorts is a maximum of 60 seconds. So, if you are uploading any video as shorts, keep its length less than 60 seconds.
In the title and description, use the #shorts tag so YouTube will consider it as YouTube shorts and make it available for its appropriate users.
Step 1 – Create a Short Video
First, you need a short video. You may create a video on any topic you like. You should check what types of videos are in trend. Create a video on the trending short so it will become popular quickly. Use your mobile or DSLR camera to create short videos. Once you create videos, edit them to make them attracting and engaging.
Step 2 – Open Browser and Login

Now on the PC, open the browser. You can choose any browser to upload YouTube shorts. Now open YouTube. If you are already signing in to your YouTube account, you will see a create button in the top right corner of the screen.
If create button is not visible, it means, you are not signed in. You can create an account through Gmail or any other email id.
Step 3 – Upload Video
Once you logged in to your account, you can see the different settings on the left side of the screen. Now create button is visible in the top right corner.
Click on the create button." Upload" and" Go Live" options are there. As you can see there is no dedicated button to upload YouTube shorts videos from the computer. So, people think they can't upload YouTube shorts from a PC.
But they are wrong. The upload button will upload both regular videos and YouTube shorts videos. But as per video length, it will classify the video as a short or regular one.
Step 4 – Write Title and Description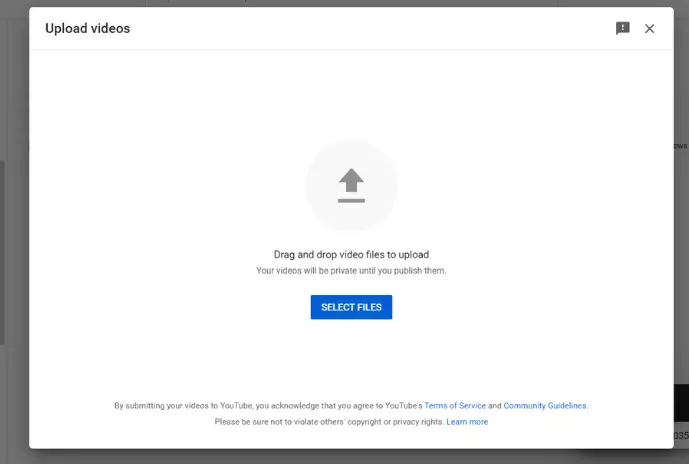 Now when you click on the upload button, it will give you an option to upload a video file. Click on the select file option and choose a short video from the PC.
The next window will appear where you can write the title, description, and tag for the video.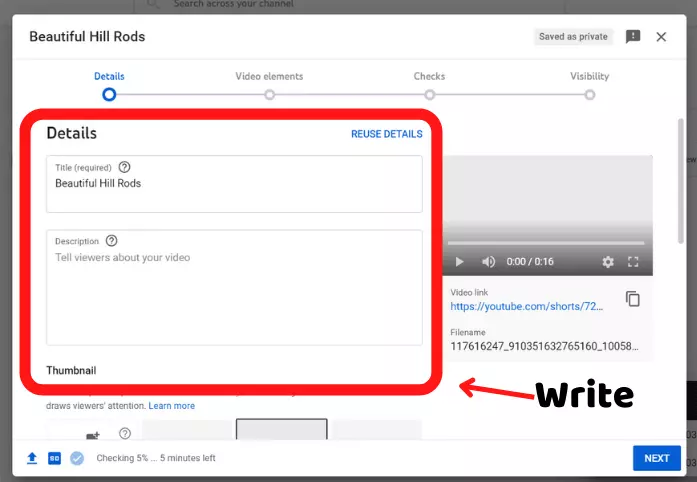 YouTube recommends using the #shorts tag in the title and description of the video. When you add a #shorts tag, YouTube considers it as a short video. You can also add other tags related to your video. Right tags help to make videos popular.
Write an appropriate title and description for YouTube shorts.
Step 5 – Finish Upload
You can set thumbnails for YouTube shorts. Also, there would be some setting that helps to reach video an appropriate audience. Once you are ready with all settings, click on the done button and the video will start uploading. You can set a scheduled time to upload the video.
Are Shorts Good For YouTube Channel?
YouTube has adopted the YouTube shorts feature to compete with other short videos platform. Creating lengthy videos is a time-consuming task. But creating shorts videos are easy and quick. If there is no direct revenue from YouTube shorts then why are they good for your YouTube channel.
YouTube shorts are good to grow channels quickly. If your shorts are engaging and give some valuable information to viewers, people will subscribe to your channel. There are many YouTube channels that only upload YouTube shorts and due to shorts videos, they got millions of subscribers.
The benefit of short videos is it describes long content in a short time. So, people like it and share it with other people. There are no ads on YouTube shorts so people love to watch them.
How To Upload YouTube Shorts From Mobile?
It is quite simple to upload YouTube shorts from mobile. Here you can shoot a short video directly from the YouTube app. You get cool editing features in the YouTube app. Let's see the steps.
Open the YouTube app on the mobile. At the bottom, there are 5 different options. At the center, it has a plus sign.
Click on the plus and it will show 3 different options.
Create a short
Upload videos
Go live
Select create a short option if you want to make a video from the mobile app. If already you have a video in your mobile gallery then click on the upload videos option to upload it.
When you click on the create a short option, a YouTube camera screen appears. Here you see some options.
At the top, there is a progress bar to show the length of the shorts.
Add sound option, which gives permission to pick the right sound for the shorts.
On the right side, you can reset the video from start, change video timing, and select filter.
By default, the short video length is 15 seconds, you can increase it up to 60 seconds.
At the bottom, it has a red button, to shoot the video keep the button pressed till it completes a circle.
You can create videos with multiple small clips. Just press and release the red button to create a click. In the end, all clips will be merged into a single clip. When you are done with recording, click on the checkmark button at the right bottom corner.
On the next screen, you can add an edited video. Here you get text, sound, filter, and other options. Tap on the Next button.
In the end, add a title and description for the video. Use the #shorts tag with the video. Choose visibility and select the appropriate audience for the video. When you are ready, click on the upload short button.
Can I Earn Money From YouTube Shorts?
Yes, you can earn money from YouTube shorts. You won't get any direct revenue from YouTube shorts but YouTube has some funds for short videos which it distributes to its creator if they fulfill all requirements.
Another way to earn through YouTube shorts is brand coloration. If you are a popular creator and your YouTube shorts are getting views thousands, you can contact brands to promote their products and in the favor, you can charge money to them. This is the best method to earn money through YouTube shorts.
Frequently Asked Questions
How Do I download YouTube Shorts?
There is no direct option on YouTube to download short videos. But there are many third-party apps or sites which allow downloading YouTube shorts. Copy the link of the short video and paste it into the short video download site. These sites also give features of converting YouTube videos into MP3.
Should You Post YouTube Shorts on Main Channel?
You must post YouTube shorts on your main channel. It increases engagement of the YouTube channel. If YouTube shorts are related to your channel's main content, they will like by people, and channel growth increases.
Can Anyone Post YouTube Shorts?
Anyone can post YouTube shorts. You just need a channel to upload YouTube shorts. Just log in with your email ID and your channel will be created on YouTube. Now, you can post any type of video and shorts on it.
Do YouTube Shorts Get More View?
Yes, nowadays YouTube shorts are getting more views than long videos on YouTube. YouTube is promoting shorts videos more than long videos. Many big YouTubers are not happy with this decision of YouTube. YouTube should create a separate section on the app for YouTube shorts videos.
Conclusion
Short video's popularity is increasing day by day. So, YouTube also has entered the short video field. People are uploading shots with YouTube mobile app but they don't know how to upload YouTube shorts from PC. So, to help you to upload short videos here is the article. Every step is explained in the detail with photos in this article.