We all know that YouTube is the world's largest video-sharing platform. On YouTube, we get all the latest tracks in video format. Sometimes we want to download the audio version of any video from but it is not possible through YouTube directly. Then how to download music from YouTube on the phone or computer?
There is a number of online music streaming apps to listen to music but most of the good apps are paid.
Some videos are only available on YouTube. Their audio tracks are not available anywhere for example cover songs of any video. In this article, I will show you how to download music from YouTube?
There is two way to download music from YouTube. The first method is download from online websites and the second method is download from offline software.
Which method should you use to download audio from YouTube? You should go with online website options to download music from YouTube to mp3. Because the main benefit of online websites is that they don't use any space in your memory card.
How To Convert YouTube Video To Audio
Step 1 – Find the video or movie you want to download or convert into mp3. Now copy the video URL from the share option in the video or you can copy the URL from the address bar of the browser.
Step 2 – Now open any website from the list which is given below and paste the URL in the text box. Now click on the download or convert YouTube video to mp3 option. After clicking on the convert button your video is ready to download.
One thing to keep in mind at the time of downloading YouTube videos from any website if a website is taking more time in comparison to regular downloading time then avoid those websites because they are doing an unconventional moneymaking practice like cryptocurrency making. They will take much time in converting video and also drains the phone battery fast.
10 Best Websites to Download Music From YouTube on Phone or Computer
Sometimes apps and computer software that convert YouTube video to mp3 may bring viruses into your devices. To avoid viruses and make your device safe use this website to download audio from YouTube. With the help of these websites, you get to know How to download movies and music from YouTube on your phone or computer.
Vubey
Vubey provides the most simple way to download a YouTube video from the website. Its interface is so simple and clean.
It has just a one-page interface and a fast YouTube video to mp3 conversion rate.  With Vubey you can download video from any video streaming website besides YouTube.
To convert YouTube video to audio there is a simple process. First search video on YouTube which you want to download. After getting the video from the search result copy the URL of the video from the address bar or through the share button.
Now paste the URL in the video URL text box which is shown in the photo below. After pasting the URL select audio quality.
Now click on the Convert to mp3 button and wait for few seconds. After completing conversion you will get a download link then click on that link and download the audio file of your video.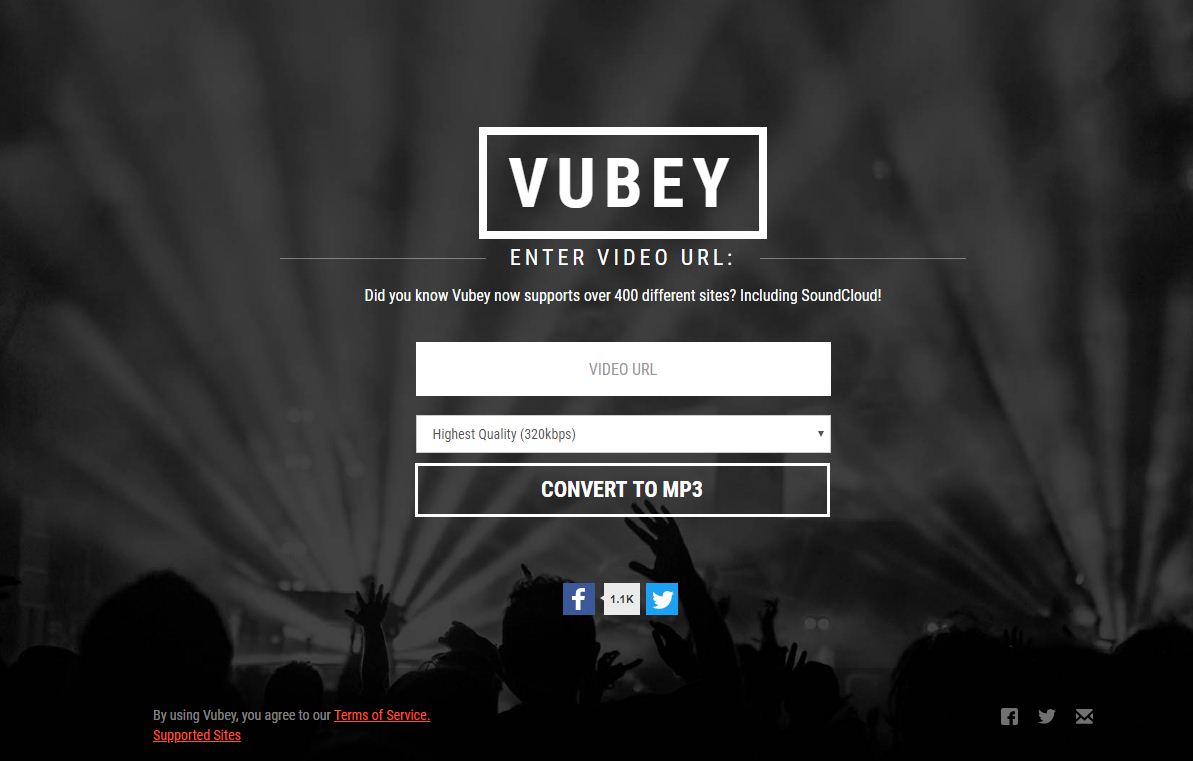 Vidtomp3
Like vubey, it is also a simple website that converts YouTube videos to audio files. It is one of the best websites to convert YouTube flash video to mp3 audio. Vidtomp3 requires no sign-up to download the video.
All you need to do is copy the required URL of the video and paste it into the text box.
Now click on the GO button and wait for a minute until they convert YouTube audio from the video. After converting you will get a download link through that you can download an audio file of that video.
This website is very fast to retrieve the flash video file and extract the audio file from the video. Download music from youtube for free with vidtomp3.

Flvto
Listen to video tracks in audio format with the help of flvto. You can convert a video file in mp3 320kbps format or any other alternative format. After downloading store it in your music library and listen to it anywhere without the internet.
Besides YouTube, it also converts from most of the famous sites like Vimeo, Facebook, and more. Download music from YouTube in mp3 is very simple with flvto. Copy link of any video and paste it into the input filed on the flvto website.
After pasting chooses the file format in which you want to download the audio file and click on the convert button.
When the converted file is ready then click on the download button to download the audio file. The best thing about this website is that aside from mp3 various other formats are available to download the audio file and you can directly send these files to your email.

ClickMp3
If you are searching for a platform that can download videos from famous social sites like youtube, Facebook, Instagram, and Vimeo then try ClickMp3.com. It gives options to convert video files into audio with a variety of formats like Avi, mp3, mp4, MOV, wav, Ogg.
Full HD quality video download option is also available on this site with a youtube video converter into audio. To download the video paste the URL in the text box and press the download option. Now save it to direct in your phone or computer.
Dripy
It can let you record and convert video files easily. Drippy can convert video to audio from YouTube and any other social media platform.
It offers various features like real-time conversion, ID3 metadata tags, high-quality formats, and much more.
In the record audio function, it has a time feature where you can set the time duration from where to where you want to record or download audio. This function also helps to make ringtones. Download music from YouTube on android in various formats like 256kbps, 192kbps, and 320kbps.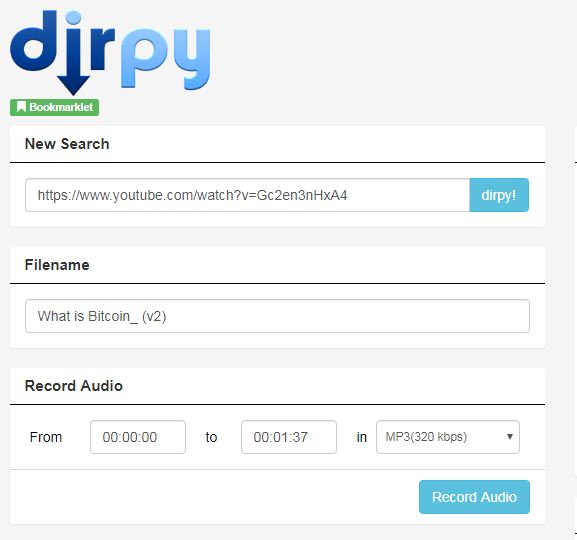 Listenvid
Listenvid is a free online media conversion application. OnlineYouTube allows you to download and convert video to common formats. To download a video copy the URL of the video and paste it into the text box and hit the download button.
After completing its conversion process you can download an audio file of the provided video.
Apowersoft
To instantly grab YouTube to mp3 use apowersoft. It gives freedom to the user to choose the desired format to download audio from mp3, aac, wav, etc.
With the help of Apowersoft, you can convert local video also. In its search box simply type video keyword and hit the search button to search video online, no need to go to YouTube to search for video. This is compatible with various web browsers like google chrome, safari,  firefox, opera, etc.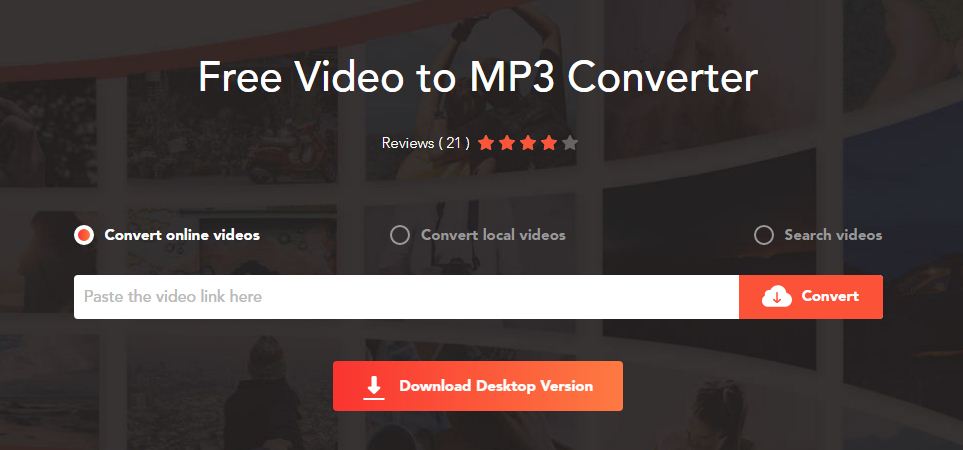 2conv
Fast and easy to use youtube video to audio converter 320 kbps. Allows you to convert YouTube video to mp3 format. You can keep this audio file in your memory card and keep them with you wherever you go. 2conv also provides a software download feature for the computer.
This site doesn't require any registration from the user. To use its service just copy the URL and paste it into the text box. Press the convert button and wait for a minute. It gives various options to convert video mp3, mp4, mp4HD, avi, aviHD

Point mp3
Like other video converter site design of point, mp3 is also simple. The quality of converted audio is very good on this site. You get uninterrupted audio quality.
It also provides browser extensions for chrome and firefox browser to make easy for the user to youtube video to audio converter free download.
From its browser extension, you don't need to copy the URL of any video just visit that page of the video, and the extension will show the download option. It also offers a flash download. It is a multi-platform mp3 converter and makes it easy to download music from youtube.

YouTube Multi Downloader
The main advantage of this YouTube downloader is that you can download multiple YouTube videos in a single click. You can download the entire playlist or channel at once by putting a link in the text box.
With the help of the entire playlist download option, it becomes easy to download many videos in a quick time. This is one of the best youtube videos to audio converter.
Is it Legal or illegal to Download YouTube Videos?
The answer to this question is yes or no.
Most of the songs on YouTube are copyrighted. You can't use these songs in any place without the owner's permission.
To use the song for your personal use in your YouTube video or anywhere else you can contact to song owner and make the request to give you permission. If you are lucky you will get permission.
The artist posts videos on YouTube to earn money. So it is fully up to artists that they will permit you or not.
Some music video is free on YouTube which you can use your video for the background. Some video owner gives it to free everyone. Anyone can use it but with a simple condition that gives song credit to them in the descriptions of the video.
Conclusion
So that is the list of the top 10 websites to convert YouTube video to audio. Now you don't have any doubt about how to download music from YouTube. YouTube is the most famous video-sharing site and many new singles songs releases on this every day. Convert YouTube video to audio online and save it for offline use.