geekymr.com is reader-supported. We select all the products after considerable research and give unbiased reviews to the readers. We may receive commissions from purchases made via our links at no additional costs to you.
If you are reading this article then there is a chance that your mobile internet stops working. Don't worry here in this article I am going to tell you 15 reasons why mobile data not working?
Nowadays mostly all mobile users use the Internet from mobile data or WIFI on their mobile phones. Without internet connections, mobile is only used to call or capture photos and we know that smartphones are not only made for calling or taking pictures.
Instagram, Facebook, YouTube, TikTok are common social media apps which we can find on any smartphone. All these apps run through an internet connection.
With no internet connection, we can't imagine our day because we are habitual of uses of these apps. But when mobile screens show an error message mobile network not available then it feels like mobile is useless without an internet connection.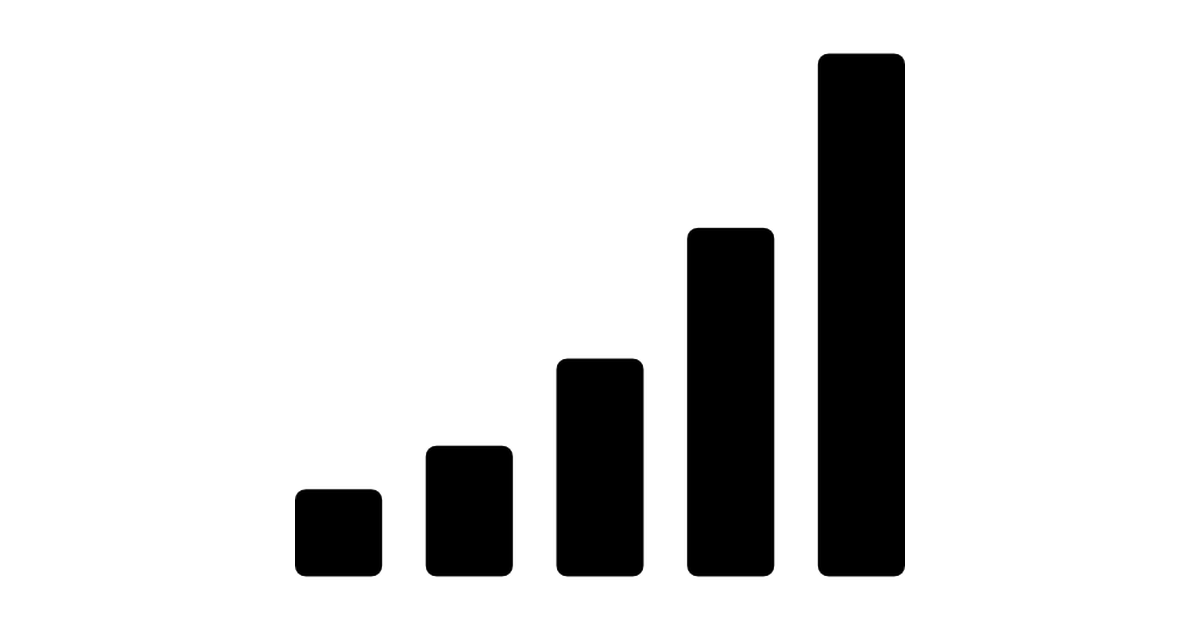 Most people use the internet through WIFI when they are in the office or at home. But when WIFI is not available then the only option that is accessible to use the internet is mobile data.
When I face a problem that mobile data not working on my smartphone then I did research and find out all the possible ways to mobile data problems.
Solutions For Why Mobile Data Not Working
I know how it feels when a mobile network not available error message comes. This is not a big problem there may be a chance that you did some setting changes in mobile phones. Although whatever may be the reason here, I am showing you all the possible solutions to the network problem.
Mobile Data Limit
Mobile data limit is the most common reason for problem cellular data not working.
When we buy any new phone then in some smartphones by default limit has been set for mobile data. Some users also set a limit for their mobile data but they forget after setting it.
When the uses of mobile data go to beyond that limit then the internet stops working. And when you open any social media app then you see that the internet may not be available message because they are not getting internet connection due to the mobile data limit.
Now go in setting and check if your mobile data limit is on or not. If you don't know how to turn off it then check the below solution.
Solution: Go to the setting of your mobile phone. Now search network and connections options and open it. In that, you find a data limit or data usage option. From there you can turn off your data limit if it is enabled.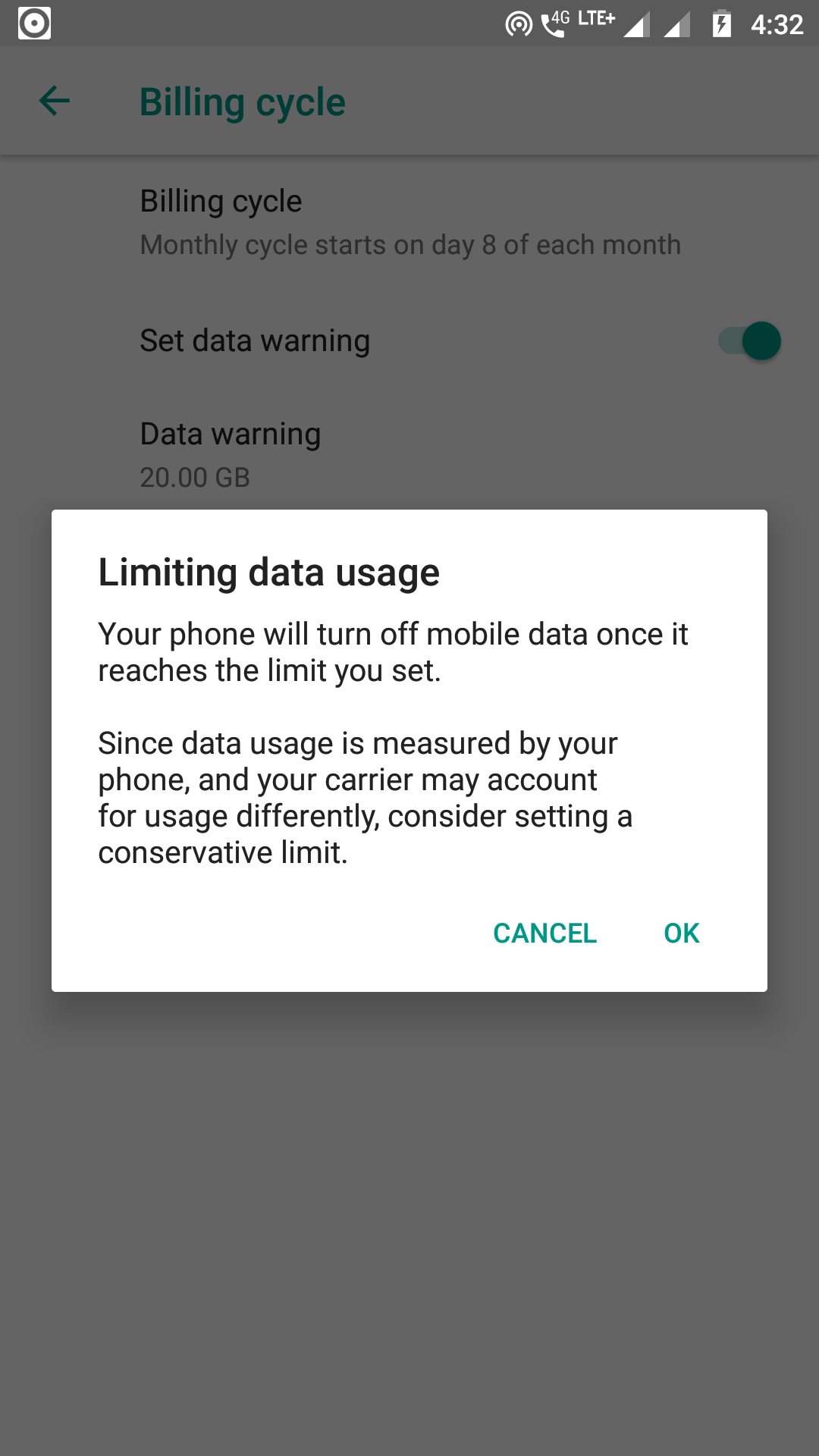 Clear Phone Cache Memory
If you don't know what is the use of cache memory then in short, I explain to you. Cache memory is used to speed up your mobile speed.
When you open any app then your phone processor makes a cache memory file for that app and next time when you open that app then the processor opens that app from cache so it takes less time to open.
But recently in a few devices like Samsung galaxy note 10, mobile data not working problems occur due to cache memory of it.
There may be some problems with cache memory setting so cellular data, not working problems occur in Samsung devices.
Solution: the Best way to clear cache memory of the mobile phone is to remove cache memory from the recovery mode of your phone. There are many articles on the internet on how to clear cache from recovery mode. You can read that article and remove the cache from mobile phones.
Read also – Best photo editing apps for android
Reset APN Setting
APN means access point name and it works like a gateway between your mobile phone network and the internet. APN is necessary to access the internet on mobile phones.
In APN there are many settings like IP address of phone, gateway, port number, and more. There are different APNs are installed on the phone by default by your network operator. Your network operator chooses the right APN to run the internet on your phone.
Sometimes APN settings may not work properly so you should reset your APN.
Solution: Reset APN is a simple process. Go to phone settings and search for mobile connections/ wireless connections/ wireless settings/ network settings. Now choose the APN setting and tap on it. You find the reset APN option there click on it and reset it.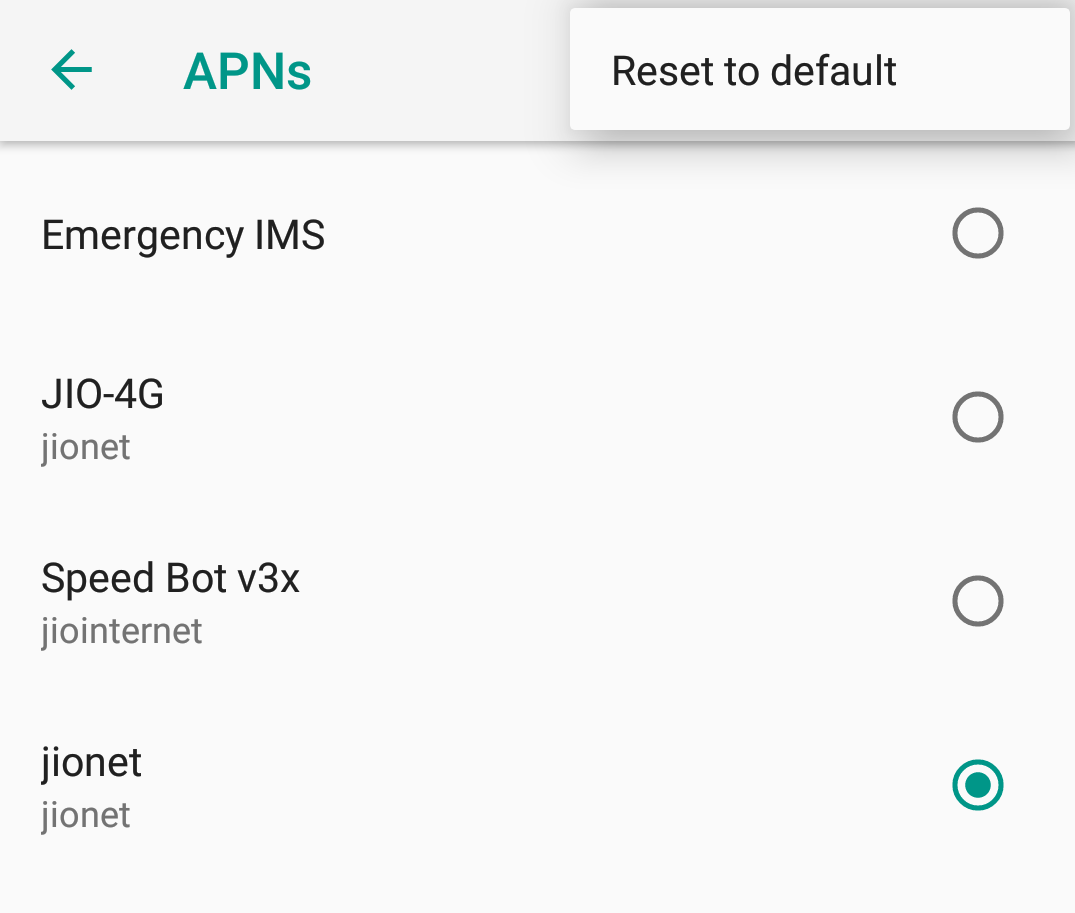 Restart Smartphone
This may be stupid in listen but this solution works for many smartphone problems. Whenever we face any problem it is mobile phones then our friends say that restart your phone once. In many situations, this solution works for may mobile phone problems.
Mostly when someone changes their sim in mobile phones then they see an error message that mobile data is not working.
Because when we change the mobile sim then the network operator sends a new setting message and asks to restart mobile phones. That time if we forgot to restart mobile phones then we see this error.
Turn on Airplane Mode
This solution works the same as restart your smartphone. Turn on airplane mode sometimes solve network-related problems.
When you turn on airplane mode then your device is disconnected from your network operators and you don't get any network signal. You can't do any call or message while your device is on airplane mode.
Also, there is no internet access when airplane mode is activated.
When you turn off Airplane mode then the mobile network starts the process to connect with the network operator. In this process, all network services are refreshed so if there is any problem with the network that may be resolved. Now your mobile data starts working fine.
Check Mobile Data Usage For Apps
In the phone setting, we can change data usages for all apps. We can set which app will access mobile data?
If any app is showing mobile network not working then go in setting and check whether you by mistake restrict mobile data for that app or not. If mobile data access is disabled then turn on mobile data access.
Change APN Protocol
As I said earlier that reset APN to start mobile data. But if reset APN does not work then you should change the APN protocol of your mobile phone. This is unfortunate that all mobile phones don't have a change APN protocol setting option.
If your phone supports change APN settings then choose different APN settings and check that mobile data working or not. You can choose between IPV4 and IPV6 for APN protocol.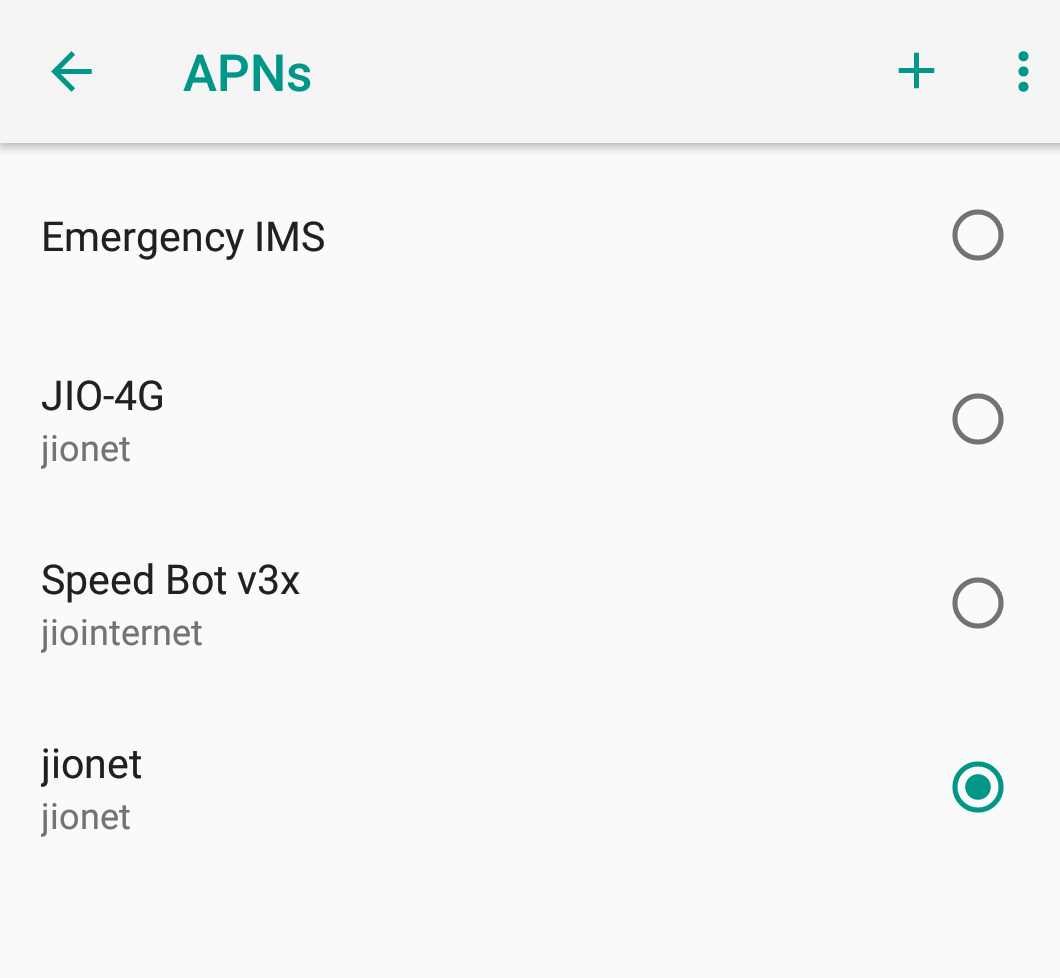 Set Manual APN Setting
Sometimes due to some system updates in mobile phones, APN settings may be changed. Due to changes in the APN setting, you may face problems accessing the internet.
To set APN manually go to mobile network option in setting and find APN setting option. Now click on the '+' sign which will add a new APN setting.
APN settings are different for all mobile phones. It may differ for all phones. You may call your network operator and ask them to give you an APN setting. Also, you can search on google for an APN setting for your network operator. A search query for APN settings is like T-Mobile internet, Samsung galaxy note10 internet, etc.
Reset Mobile Network Connection
This is simply a solution but helpful.
This method will work only with those mobile phones which run on the CDMA network. Nowadays not all mobile phone works on CDMA network so this trick is useful for only a few mobile phones.
On CDMA mobile type SCRTN code and press enter it will reset your network connection. SCRTN means special code to reset mobile network it looks like *#*#8359*#*#
Turn off Airplane Mode
You may be finding this solution funny but it happens with lots of people. Sometimes by mistake, we tune on airplane mode.
In airplane mode, we can't use a mobile to call or surf the internet. While airplane mode is enabling your mobile phone is disconnected from the network operator. So, check whether airplane mode is turned on or off and if it is on then turn off it.
Disable WIFI
On the old iPhone cellular network not available error message shows due to WIFI and network connectivity miscommunications. In the old iPhone when WIFI is on then mobile data disconnect automatically whether WIFI is connected to any network or not. It will be good if you keep your WIFI off it is not connected to any network.
Remove and Reinsert Sim Card
Sim card is the main thing which is used to access the internet on mobile phones. You can try this trick to remove mobile data not working message.
First, turn off your mobile phone and remove the sim card from the phone. Now keep it turn off for some time and after that put the sim card again on the phone and restart it. This restart will change your mobile network setting and help to get a better network option.
Change The Network Into 3G or 4G
When you update your mobile phone or restart it then due to some software issue maybe your cellular data stops working.
Earlier mobile phones work on the 2G network. Now phone works on 4G but still some works on the 2G network so when you update or restart the phone then the network is chosen to 2G mode. So, go in setting and open a mobile network option.
Now open the network mode and choose a 4G option from it. If the 4G mode doesn't work then try to 3G mode.
Factory Reset
If all the above methods don't work then this is the last method you should try. But before trying this method one thing you should not that it will erase all the data from your mobile phone and your phone will be in the initial state.
When you do a factory reset phone then all the settings will be erased. So, if there was any mistake in setting then it will be erased. And when you start the phone after resetting then the all-new setting will be applied and your mobile data will start working.
Hardware Problem
If all these software solutions for mobile data now working works for you then the only option is left for you is to check the hardware of your mobile phone. If you are a mobile repair person then this is good but not all people have knowledge about how to repair mobile hardware. So, it would be better to go to an expert and let them check.
FAQ About Mobile Data Not Working
Why Mobile Network Not Available?
May be possible reasons for the mobile network not available are like network setting change, hardware problem, APN problem. Try all the above methods and your mobile network not available problem will be solved.
How to Check Network Connection?
There are two types of network connection in your mobile WIFI and cellular network. If you turn on the cellular network then the up and down arrow is shown in the top status bar.
Also, if WIFI is turn on then its icon is shown in the top bar of status. If the icon color is full white then the network connection is high and as the color goes down then the network signal strength is low.
What is Mobile Data?
Mobile data is a service by this you can access the internet. With mobile data on the internet, you can find anything. The network operator has different technologies to provide mobile data like 4G, 3G, and 2G.
How Do I Fix My Mobile Data Not Working?
There are many reasons why your cellular network state disconnected. Network issues, software issues, hardware issues, and more. First applied the above method one by one to your mobile phone and check whether mobile data starts working or not. It is not then going to any hardware expert.
Conclusion
the phone connected to wifi but no internet is a common problem in many devices this may occur due to software or hardware problem. In this article, I have described 15 reasons why are mobile data not working?
If your phone has a software problem you can resolve that with these methods but if you have a hardware problem then go to any mobile repair person.