Playlists are a main part of Spotify. Spotify gives you access to millions of songs from all over the world. You can create playlists of your favorite songs. Playlists create your own world of music. By creating playlists, you can group your favorite songs. People create playlists for high-intensity workouts, midnight charades, long drives, etc.
One of our readers sends a question why does Spotify add random songs to my playlist. People who use Spotify are aware of this situation but they don't know the exact reason for it. They delete songs from the playlist and sometimes new songs come into the playlist.
We did some research and find out the reasons Spotify adds songs to the playlist automatically. After reading the article, you would know the reason and also its solutions.
What Is The Playlist on Spotify?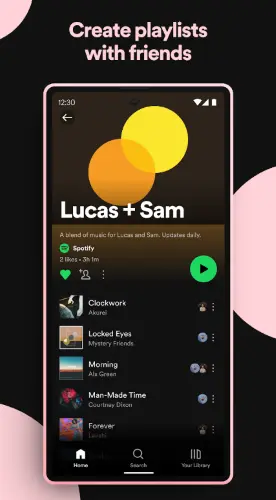 Like other music apps, Spotify allows you to create playlists. Playlists are music groups that contain songs that are added by you. You can set a name for a playlist such as GYM workout songs. Set a cover image for the playlist.
When Spotify plays music, it plays the next song based on the previous song genre, artist, etc. It's a high chance that all playing songs won't be liked by you. When a non-liked song plays, you take the phone in your hand and change it.
When you are taking shower, doing exercise, or traveling then skipping songs is not possible.
Spotify playlists come in handy in this situation. You have added only liked songs into the playlist so without changing songs, you can do your work.
Spotify Adding Songs To Playlist Automatically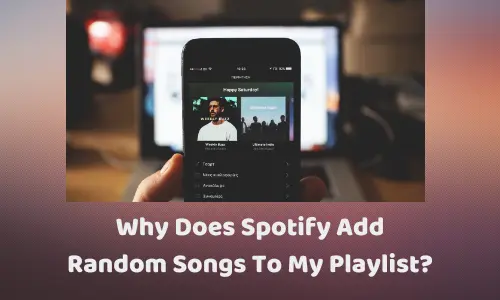 Spotify adds songs to the playlist without your permission. But why does this happens? When does Spotify add random songs to my playlists?
The main reason is the short length of the playlist. If Spotify sees that the number of songs in the playlist is less than 15 then Spotify adds songs from its side to make the playlist long.
If you have only 2-3 songs in the playlist, the music will stop after the completion of the playlist. So, for continuous music, Spotify adds more songs to the list.
Another reason for adding random songs to the list is the curated playlist on Spotify. If you don't create a playlist and add songs to the Spotify playlist then Spotify will add random songs to it.
When we talked to Spotify users then we noticed this issue was only with those people who are using the free version of Spotify. Premium users never face this issue. Maybe this is a trick that is used by Spotify to convert its free users into the premium.
How To Stop Spotify From Adding Random Songs To Playlist?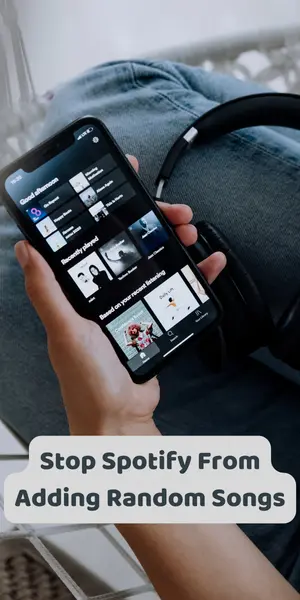 No one likes random songs in their playlists. Music makes people happy and works as therapy in a sad mood. But random songs in the playlist may ruin the beautiful moment.
The best way to stop Spotify to add random songs to the playlist is to keep a minimum of 15 songs in your playlist. When Spotify detects less than 15 songs in the playlist, it adds some random songs from itself.
In the playlist, you can see the "You Added" and "We Added" tags. "We Added" means those songs are added by Spotify. But don't worry, you can remove randomly added songs on Spotify.
The second solution is always to use your created playlist. If you use Spotify curated playlists then songs will be added. Create your own playlist and adds more than 15 songs to it to prevent Spotify from adding random songs to it.
How To Add Songs To Spotify Playlist?
Create Spotify Playlists On The Android or iOS Phone
Open the app on the phone and log into your Spotify account.
At the bottom bar, click on the "YOUR LIBRARY" section.
Here you will see playlists if you have any.
At the top right corner, there is a "+" sign, click on it to create a playlist.
Now enter the name for the playlist and press create.
Now by add songs button, you can add songs to the playlist.
Create Spotify Playlists On The PC
On the left side of the Spotify PC app, there is a create playlist button.
When you click on this button, it will create a playlist with the name "My Playlist" followed by a number.
Later you can change the name of the playlist by editing.
Conclusion
Spotify has a very large collection of songs. You can create playlists from those songs. Spotify adds random songs into the Playlist to make it more interesting but users don't like it. After reading the article, you know how to stop Spotify to add random songs to the playlist.
Check Other Spotify Aritcles