Promoting a business is a challenging task. Nowadays people prefer to watch videos instead of reading online advertisements. You can either do video editing for your business yourself or hire a freelancer who can do this job for you.
Viddyoze is one of the famous video editing software which people use to do video editing whether they have zero knowledge about video editing. In this Viddyoze review guide, we will review Viddyoze 3.0(The latest version) and tell you every detail about it with pros and cons.
Editing a video is not easy if you know nothing about video editing. You would get so much software for video editing, which makes big claims but when it comes to working, then they do not meet expectations. But with Viddyoze you don't need to hire a freelancer to edit video and the Viddyoze prize is under most people's budget.
People do not have enough time to edit videos, for this, it is perfect animation software. It has a lot of pre-set templates. Select the template you like, add photos and video clips and your video is ready in a few seconds. You can make videos like a professional without any effort. Let's find out in this Viddyoez review that is viddyoze worth it?
Short Summary
Viddyoze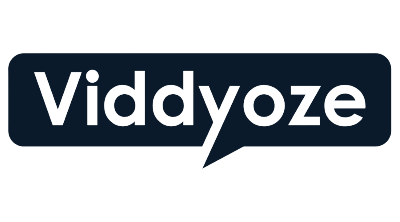 Rating – 4.7/5
Hundreds of templates
Easy to use
Smooth video creation
Affordable plans for personal and business use
Live, 3D, and 2D animations
Most IMP – Time saver
Regular Price – $97
Claim Discount (Get Deal)
(Special Lifetime Deal Only For Our Readers)
What is Viddyoze?
Viddyoze is an auto video editing software for the non-professionals and professionals of both users. Whether you want to create a video for your business or your client, with the help of Viddyoze video editing software, you can create a professional video in a few seconds. You can export videos in both video and GIF format.
Viddyoze is a cloud base software that means you can access it from any device, so you don't need to carry a laptop with you everywhere. This software is so simple so you can use it on your mobile phone also for video editing.
Read also – Postley review -Traffic generator software
Who Owns Viddyoze?
It was made by three friends in 2015, their names are Joey Xoto, David Chamberlain & Jamie Garside.
All three have been in the field of software development for a long time. They have made many types of software, which have proved very useful for the people.
While working with his clients, he found that people do not have knowledge of video editing and for this work, they have to hire professional freelancers and in return, they have to pay a big amount, for small work too.
To solve this problem, Joey Xoto, David Chamberlain & Jamie Garside started working, and finally, Viddyoze software was created as a result. Whether you know about editing or not, you can easily use Viddyoze software to create a good video for yourself in just 3 clicks.
With the help of Viddyoze, you can create a Video for your business advertisement, social media video, YouTube intro, a sales video, a video for a blog or website, and more. To use this software no need to learn video editing with zero editing knowledge does video editing like a professional with its pre-set templates. In this Viddyoze review guide, you also get to know how to create videos in Viddyoze?
Check also – Best Touchscreen Laptop in Budget

All Viddyoze Version History
Before starting the Viddyoze review let's see the brief history of the Viddyoze all versions.
Viddyoze 1.0 Review
The first version of its software came in 2015. This software became popular within a few days of its launch. The reason for it being popular. Anyone could use it and its price was also low, due to which it became the first choice of the people.
Another reason for being famous was its cloud server-based operation. You do not have to install it on the computer, so you can easily access it on a low-end computer device. When people gave positive Viddyoze reviews for its first version then the software became more famous.
Viddyoze Version 2.0 Review
The early model did not have many templates, due to which people were not getting all kinds of video editing options. Based on the reviews from the people, they made some more changes in their software, added new templates, and launched an updated version of it in 2016.
In the second version, they made the software more user-friendly. Many new templates were added to it. In Viddyoze version 2.0, the feature of videos was added for social media. By combining the new and old templates, a total of 90 templates were created in the Viddyoze version 2.0.
In this version, he added a new feature, which he named Viddyoze Template Club. People need a new template. Every month in Template Club, they add some new templates which its users can download.
Viddyoze Live Action Review
Every year Viddyoze developers come with new ideas for a video editor and in 2017 they change the animation industry with the launch of Viddyoze live action. This technology is specially built for those people who do animation works.
It takes an entire day to do the animation of something, but now with Viddyoze live animation, you can do it in a few hours. In this version, many types of new templates were added it and most of them were to do live animation.
Read also – Clickvio review – Latest email marketing tool
Viddyoze 3.0 Review
Viddyoze's latest video editing software is Viddyoze 3.0. This is a 3d animation software that is completely web-based. In Viddyoze 3.0 you can create normal and 3d animation for both types of videos. Templets for 3D animation are added in this version.
There are three types of pricing plans for Viddyoze 3.0 Agency, personal and commercial. Every plan has its different benefits which we will discuss later in the Viddyoze pricing section.
No need to install any type of software to access Viddyoze 3.0. This is a purely cloud-based wide editor. Just connect your pc or laptop with the internet and start your editing work. Even you can use your mobile to edit videos on the Viddyoze platform.
The benefit of cloud-based software is that it renders video easily because rendering doesn't depend on the computer hardware, so you don't feel any type of lag while rendering video. All the created videos are saved on the cloud so it will not take any storage on your computer. Whenever you need to use a video just download it, use it and delete it. The video will be saved on the cloud for a lifetime.
Viddyoze has 30 day of money-back guarantee on purchasing. If you don't like the software they will refund the money. So this was a Viddyoze review for its all version.

Check also – Is Doodly Good To Use?
Viddyoze Review From Real Customers
Below there is a screenshot that shows Viddyoze reviews from different customers. On various product review websites under Viddyoze review, section people have given positive reviews to Viddyoze. Almost 80% of people are happy with the quality and service of Viddyoze.
How to Create a Video in Viddyoze 3.0?
Viddyoze is one of the best and powerful video editors who do your editing work quickly. This software saves thousands of dollars by saving the expenses incurred on video editing. There are 4.5 stars rating on Trustpilot people for Viddyoze review. It shows how much people love Viddyoze. Let's see step by step process for how to create a video in Viddyoze.
Step 1 – Login
The first step is to login in Viddyoze account. Why login? Because it is web-based cloud platform video editing software. Viddyoze is online, you don't need to install any type of software to use it. Just log in to your account through their website and access all the tools.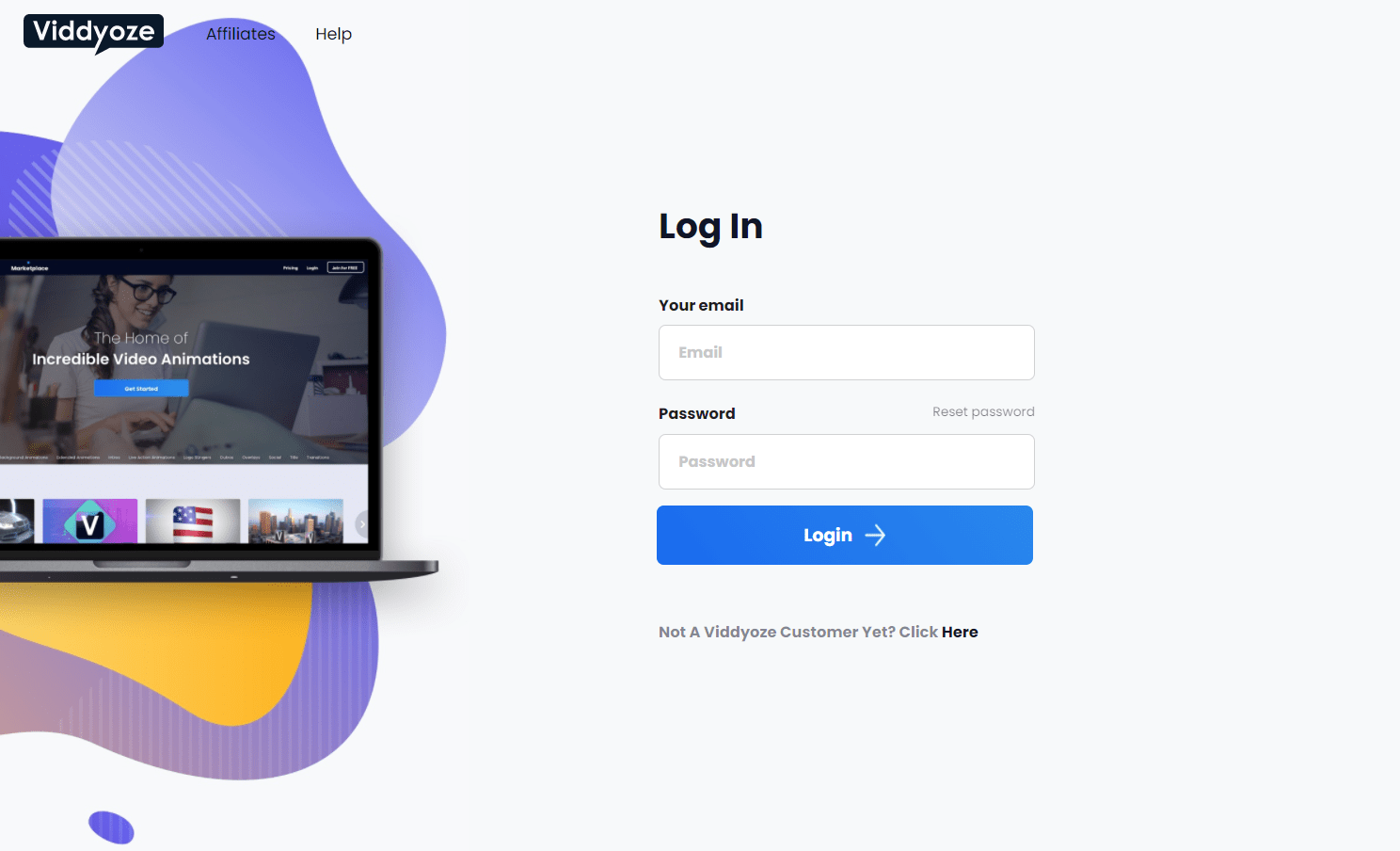 Step 2 – Dashboard
After login, the first screen which will appear will be Dashboard. It will show the videos you have made, which you have already saved. In this, 6 categories will appear for the video. These categories are All, Logo stinger, call to action, Misc, Social, Outro, and Rendering This makes it easier to find older videos.
Its specialty is that it gives you the option to download videos in different formats like Quick time, MPEG4, 3GPP, 3GPP2. After creating a video in one format you can download a video in other formats.
Step 3 – Choose The Template
It has a Create tab to create a video. By clicking on it, you can start the process of making a new video.
When you click on the Create tab, you will see 5 categories to create a video – Logo stinger, call to action, misc, outro, and social.
There are different templates in all categories, like if you want to make videos for social media, then select the social category or logo stinger category to create a logo. Due to the category-wise template being split, your time to choose the right template is saved.
Step 4 – Edit Templet
After selecting the template, the important task is to edit it according to your need. You can add photos, text, and logos related to your product to it. The user will get complete information about your product from the text. You can also change the color of the video to make it more attractive.
Step 5 – Render Video
This is the last step. When you are done with editing then click on the build video button and it will start the rendering process of the video which will be completed in a few minutes according to the size of the templet. When rendering will be completed then the video will be saved in your cloud account so you can access it anywhere from the world.
What is a Viddyoze Render?
In Viddyoze when you edit any templet and create a video with it then in the last step you need to render the video. When you click on the render video option then it will be saved in your account. Render is a process to save the video.
Viddyoze Specifications
Product name

Viddyoze Version 3.0

Founder

Joey Xoto, David Chamberlain & Jamie Garside

Launch year

2019

Personal plan price

$97

$77

(For our readers only) Get Exclusive Deal

Commercial plan price

$127

$97

(For our readers only) Get Exclusive Deal

Money-back guarantee

Yes

Official Website

https://viddyoze.com/

Customer care support

24X7 support

Bonus material

$300 Free bonus material

Video format

Quick time, MPEG4, 3GPP, 3GPP2

Software requirement for computer

Nothing required, fully cloud-based

Customer Viddyoze rating

4.7/5
Viddyoze Features
Create Live-Action Animations Video
Viddyoze allows you to create live animation videos. There are lots of templates for live animation videos. Viddyoze allows you to create videos for social media, YouTube intro, ads, and for many more purposes. This is most likely animation video software among marketers because of its ease of use.
Hundreds of Designer Templaets
On Viddyoze you will never run out of templates. There is a lot of templates for every category. They have only high-quality templates because they have a dedicated team that approves only those templates which pass their tests.
Custom audio added option – This Viddyoze feature allows you to add your audio in the Viddyoze templet. If you don't like the audio of the templet or want to do a voice-over or want to use any other music, you can change it.
Various Video Formats
You will never face any problem playing Viddyoze video in any format because it has Quick time, MPEG4, 3GPP, 3GPP2 video format. These formats make it possible to play video on any device.
Mobile Compatible
If you don't have a computer then don't worry still you can use Viddyoze. Viddyoze is accessible from the mobile phone also.
Cloud Server
Many famous video editing software will only run on your computer if you have a high-end pc otherwise your pc will lag but thanks to Viddyoze this problem you will never face due to its cloud server.
Zero Video Editing Experience Required
It has pre-made templates in which you only have to add text and photos, the rest of the editing is done in advance. It can also be used by a person who has zero knowledge of video editing.
No Watermarks
No watermark on the final version of the video. So, you can use it anywhere without any copyright issues.
24X7 Customer Care Support
Whenever you face any problem with Viddyoze its customer care executives are ready to help you. Whether you have a login problem, editing problem, or any other they always help you.
Regular Updates
Its developers always try to make the product good. For this, they update the product periodically, so that the product can become more user-friendly. Once you become a member of it, you will get lifetime updates of Viddyoze.
Check also – iMyFone AnyTo Fake Location Changer App Review
Viddyoze Coupon Code and Price
Viddyoze offers two types of plans for users Personal and commercial. To get a discount on Viddyoze our readers don't need any type of Viddyoze coupon code. Viddyoze coupon code is already used in our link. Just click on the buy button and you will get on the discounted page of Viddyoze. Let's see each plan in detail.
Viddyoze Personal Plan
The cost of the Viddyoze personal plan is $97 BUT for our readers, it has a special discounted price of $77. Things you get in Viddyoze personal plan are
Cloud-based video animation software
For fast and powerful editing, it offers a live-action video engine.
It has a limit of 30 renders per month.
For personal video, you get unlimited usage rights.
170+ different types of templets
60 days money-back guarantee
Anytime customer care support
Viddyoze Commercial Plan
The cost of the Viddyoze personal plan is $127 BUT for our readers, it has a special discounted price of $97. In the Vidyooze commercial plan, you get all the features of the Viddyoze personal plan but in the commercial plan, you get some extra features also.
All the features of Viddyoze personal plan
Free $197 sales method
Free $97 YouTube accelerator
Unlimited rendering
For client's videos also you get unlimited usage rights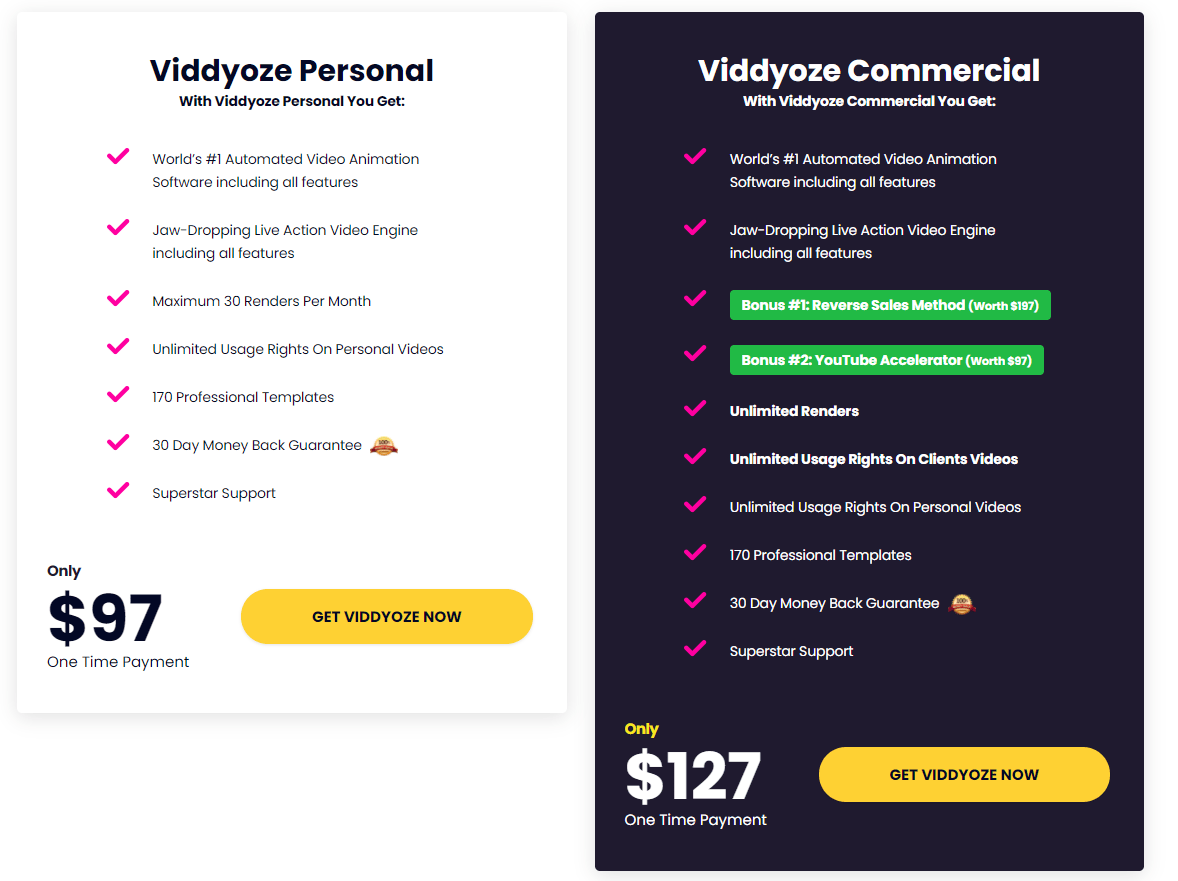 Original Price
Price For Our Readers – Claim Your Discount
Where to Buy Viddyoze?
You can buy Viddyoze from its official website where they are running a huge discount on lifetime purchases of Viddyoze.
Viddyoze Bonuses
There is no bonus with its personal license, but if you take its commercial license, then you get a product of $300 as a bonus.
Viddyoze Bonus 1
This Viddyoze bonus is related to those people who do freelancing. It teaches you that how can you sell your video, how to get a new client, how to earn $10k per month. This is a very important guide for freelancers and helps them to grow their businesses. The price of this bonus is $197 but it is free for commercial users.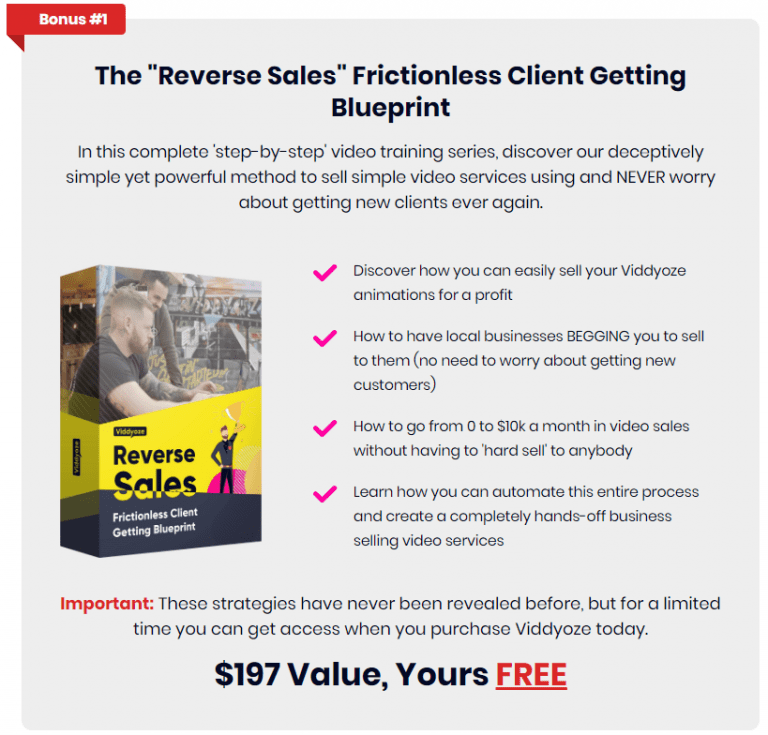 Viddyoze Bonus 2
If you are a YouTuber or your most client from YouTube then this product will help you to grow your YouTube carrier. This $97 worth of course is free with the commercial license of Viddyoze.
For normal use, this commercial license costs $127 but for geekymr's reader's price is $97. Grab this offer before the price goes high.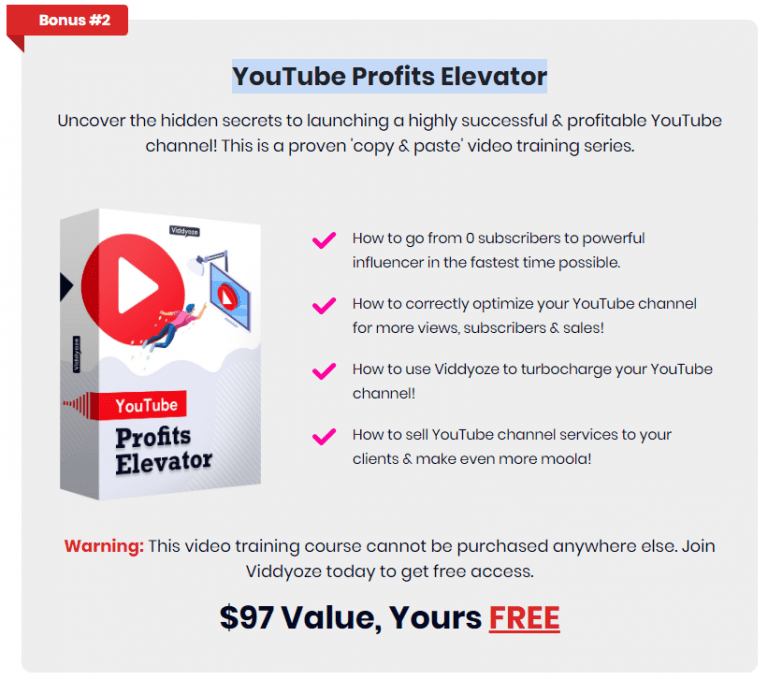 Viddyoze Pros and cons
Viddyoze Pros
170+ pre-made templets
The video will be ready in 3 simple clicks
$300 bonus item free
Fully auto video animation software
People with zero video editing knowledge can use it
User-friendly interface
Easy to use
Fully cloud-based, no software required to download in computer
Price is budget-friendly
Creates seamless transitions between two scenes
Viddyoze cons
The personal plan doesn't include any bonus
The personal plan has a 30 render limit per month
This is cloud-based software so you need a good internet speed
Doesn't provide any trial for free
FAQ About Viddyoze Review
How To Make Money With Viddyoze?
Video editing is a profession. Many people make money from it. Video editing is easy with this, but many people pay freelancers to make videos. For this, he pays more than $100 for a video. If you are a video editor, it is very easy to earn money from it, make a video in minutes from its pre-made template and give it to the client.
Is Viddyoze a Scam?
Not at all. Viddyoze is a shot video editor. They have their pre-made templates to create animation videos. They don't do any promise that they will edit big-size videos. They offer bonuses for commercial users and they give these bonuses in reality and don't do any false claims of bonuses.
I am Not a Video Editor Can I Use Viddyoze?
Yes. Viddyoze is specially made for those people who don't have any editing knowledge. Just select templet, add text, add music and your video is ready. In 3 simple clicks, anyone can do video editing with Viddyoze.
Can I Get a Viddyoze Trial?
No. At this moment the company is not offering any trial.
Is Viddyoze Any Good?
Viddyoze was launched in 2015 and since then thousands of users of this product have been created. Someone who is using viddyoze if you ask him about the Viddyoze review? So, they will give only one answer that a good video editor cannot be found in this budget. It can compete with editors of many big brands.
How Do I Get Viddyoze For Free?
There is no free version of Viddyoze is available. You have to buy a personal or commercial license to use it. If any friend of yours is using Viddyoze then you can ask them for trial use. This is the only way to use it for free.
What is The Cost of The Templet Club Subscription Plan?
$37 per month, at this price you get to access all the templates of Viddyoze which you don't get with the Viddyoze editor.
Where Do I Keep Save Viddyoze Clips?
In Viddyoze clips are saved on the cloud server of Viddyoze. So you can access it from anywhere at any time from any device.
How Do I Cancel Viddyoze?
Viddyoze cancel policy is simple. Viddyoze offers 30 days money-back guarantee. If you feel that the product is not fulfilling all your needs or you are not satisfied with the Viddyoze then simply email the Viddyoze team and they will return your money without any question.
What Types of Video Does Viddyoze Make?
Vidyyoze is an animation video makes. In Viddyoze you can create an animated intro for your or your client's business. Viddyoze has 190+ pre-designed templaets that make your work simple.
Where Do I Keep Save Viddyoze Content?
Viddyoze is an online animation maker. Whenever you create a video in Viddyoze it is saved in the Viddyoze cloud server so you can access your video content from any device and also can download it anytime.
What is Template Club Viddyoze?
Viddyoze template club is a collection of different templates. You need to take a subscription to the viddyoze template club to get access to all the Viddyoze templates.
How Install Viddyoze?
To access Viddyoze you don't need to install Viddyoze. Its online cloud servers are accessible from any device or any location. Just log in to your account and create videos.
Final verdict
In one word, it is an awesome product. In the Viddyoze review article, we gave you every detail about it. It takes people days to create an animation video, but with the help of its pre-made templates, you can create a perfect video for yourself or a client in just minutes. Where other video editor monthly subscriptions come on base, you can use this product only on one-time payment forever.
With the Viddyoze video editor, you can convert your audience to your customer. $97 for the one-time Viddyoze commercial license, and with one client you get this money in return, and from the next client, your earning will be started.
Before doing the Viddyoze review, I tried Viddyoze software, and believe me I have zero knowledge of editing but when I started editing the video in it then in few minutes I got my first video for my blog promotion.